SHRESHTA NETS Syllabus 2023 - Students studying for the SHRESHTA NETS exam 2023 should be aware of the most recent syllabus. NETS follows the NCERT Syllabus of Class 8th for admission to class 9th and the NCERT Syllabus of Class 10th for admission to class 11th.
For admission in class 9, the NETS syllabus includes English, Mathematics, Science, Hindi, and Social Science as major topics. For admission in class 11, the NETS syllabus includes English, Social Science, Math, and Science as major subjects. Students should also be aware that NCERT does not provide a specific syllabus for the NTSE exam. Read this article to know more on SHRESHTA NETS syllabus.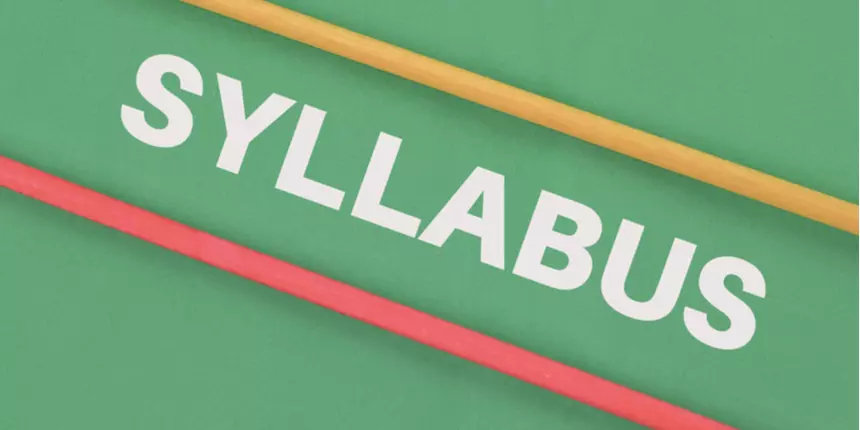 SHRESHTA NETS Syllabus 2023- Check NETS 2023 Syllabus, Exam Pattern Here
SHRESHTA NETS Syllabus 2023
SHRESHTA NETS 2023 is scheduled for June 18, 2023, and students preparing for the exam should have a thorough understanding of the topics to cover. For a better understanding, we've given below an outline of the syllabus for NETS 2023:
SHRESHTA NETS Syllabus for class 9
For admission to class 9, NETS has mandated that students follow the NCERT class 8 syllabus. The following is a description of the syllabus:
SUBJECT

BOOKS and CHAPTERS

Maths

Rational Numbers

Linear Equations in One Variable

Understanding Quadrilaterals

Practical Geometry

Data Handling

Squares and Square Roots

Cubes and Cube Roots

Comparing Quantities

Algebraic Expressions and Identities

Visualizing Solid Shapes

Mensuration

Exponents and Powers

Direct and Inverse Proportions

Factorization

Introduction to Graphs

Playing with Numbers

Science

Crop Production and Management

Microorganisms: Friend and Foe

Synthetic Fibres and Plastics

Materials: Metals and Non-Metals

Coal and Petroleum

Combustion and Flame

Conservation of Plants and Animals

Cell - Structure and Functions

Reproduction in Animals

Reaching the Age of Adolescence

Force and Pressure

Friction

Sound

Chemical Effects of Electric Current

Some Natural Phenomena

Light

Stars and The Solar System

Pollution of Air and Water

English

It So Happened

How the Camel got his hump

Children at work

The Selfish Giant

The treasure within

Princess September

The fight

The open window

Jalebis

The comet - I

The comet - II

Ancient Education System of India

Honeydew

The Best Christmas Present in the World

The Tsunami

Glimpses of the Past

Bepin Choudhury's Lapse of Memory

The Summit Within

This is Jody's Fawn

A Visit to Cambridge

A Short Monsoon Diary

The Great Stone Face–I

The Great Stone Face–II

Social Science

Our Pasts – III

Resources and Development

Social and Political Life- III
SHRESHTA NETS Syllabus for class 11
For admission to class 11, NETS has mandated that students follow the NCERT class 10 syllabus. The following is a description of the syllabus:
SUBJECTS

CHAPTERS

Maths

Real numbers

Polynomials

Pair of linear equations in two variables

Quadratic equations

Arithmetic progressions

Triangles

Coordinate geometry

Introduction to trigonometry

Some application of trigonometry

Circles

Constructions

Areas related to circles

Surface areas and volumes

Statistics

Probability

Science

Chemical Substances-Nature and Behaviour

World of Living

Natural Phenomena

Electric Current & Magnetic Effects

Natural Resources

Social Science

Geography

Economics

History

Political Science

English

A Letter to God

Nelson Mandela

Two Stories about Flying

From the Diary of Anne Frank

The Hundred Dresses –I

The Hundred Dresses –II

Glimpses of India

Mijbil the Otter

Madam Rides the Bus

The Sermon at Benares

The Proposal
SHRESHTA NETS Exam Pattern 2023
The SHRESHTA NETS 2023 test pattern details all you need to know about the exam, including the number of marks assigned to each part, the question paper type, the exam duration, and more. The NETS test pattern 2023 will be available in two languages: Hindi and English. From the table below, you can see the detailed test pattern for SHRESHTA NETS 2023:
| | | |
| --- | --- | --- |
| Subject | No. of Questions | Marks |
| Mathematics | 30 | 120 |
| Science | 20 | 80 |
| Social Science | 25 | 100 |
| General Knowledge | 25 | 100 |
| Total | 100 | 400 |
SHRESHTA NETS 2023 Preparation Tips
Following are a few common and effective strategies that students can use to maximise their NETS scores. Students can use the strategies below to maximise their efforts in a short amount of time and improve their SHRESHTA NETS results:
Make a study schedule and allot time to each section in order to cover the complete NETS 2023 syllabus.

Concentrate on the weaker areas of the NETS syllabus.

Make small handwritten notes; these will assist you in learning and revisiting the full syllabus quickly.

Keep practising sample papers, and mock tests in order to check your understanding and learning skills.

Evaluate your errors and learn from them; learn time management by completing sample question papers within the allotted time.