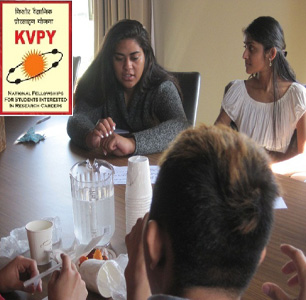 Department of Science and Technology (Indian Institute of Science) conducts KVPY generally in November each year and declares the result for the candidates appearing in the fellowship/scholarship programme. Candidates, who qualify and shortlisted on the basis of KVPY Rank List, are called in for KVPY Interview.




Careers360 brings you tips to crack KVPY Interview. You may find these interview tips helpful and easing your pressure.
Latest 
Check complete details of KVPY 2018 exam
To apply, click on KVPY Application Form

Download and practice KVPY Question Papers
Download KVPY Admit Card here
Tips to crack KVPY Interview is a guide which includes basic tips and suggestions to clear the interview session of KVPY which is the last stage to qualify KVPY.
KVPY Interview Process
Interview Session of KVPY may focus on strategy to determine personality of candidates and analyze candidates holistically.  The interview session shall be based on applying concepts on real life scenarios and situations.
Interviewers may ask the candidates some basic questions including their names, hobbies and subject of interests. During KVPY Interview session, the experts may ask for reacting to some situation and will analyze you with your reactions.


They may ask you to calculate some complex identities to examine your calculating power. Further, they may test your scientific temperament and aptitude by asking you some basic questions based on science of daily life.
Focus areas of KVPY Interview Session – Below are some focus areas of KVPY Interview session, which you need to keep in mind while attending the session.
Presence of Mind
Conceptual understanding of subjects (Physics, Chemistry and Mathematics)
Screening the nerves: How the candidate explains and briefs
Opinion of candidate on non-academic topics.
Confidence, alertness and expression
3 Basic Mantras to Crack KVPY Interview – Read below the three basic points to clear KVPY Interview. Your interview strategy shall lead you to your goal.
You are in KVPY Interview session because you have qualified KVPY Written Exam. There is no reason to doubt your capabilities and potential. You need not feel de-motivated at all. Just give it your best shot with energy and confidence!
Interview is much more about an exam. This might be among your very first interviews but do ensure you attend it with full intensity and present the best of you. Believe in yourself. You need to be panic and feel restless. All those who are there are like you.
An interviewer won't be able to comprehend who you are and how good you are until you speak up in the interview. Keeping silent in the KVPY Interview won't help. Practice well at home and throw away the shyness before attending the interview session.
Kishore Vaigyanik Protysahan Yojna (KVPY)
Kishore Vaigyanik Protysahan Yojna (KVPY) encourages young minds to develop a niche for science and evolving technology in this domain.
KVPYfellowship grants under its various categories by the Department of Science and Technology is given in the table below. These amounts of scholarships to the students are provided until their pre-Ph.D level:
| | | |
| --- | --- | --- |
| Basic Sciences | Monthly Fellowship | Annual Contingency Grant |
| SA/SX/SB - during 1st to 3rd years of - B.Sc./B.S./B.Stat./B.Math. / Integrated M.Sc. /M.S. | Rs. 5000 | Rs. 20000 |
| SA/SX/SB  - during  M. Sc. / 4th to 5th  years of Integrated M.Sc. /M.S | Rs. 7000 | Rs. 28000 |
Students of class X and XII of both government and public schools are eligible for KVPY scholarships. The students of class XI to first year of undergraduate programme in Basic Sciences namely B.Sc. /B.S./B.Stat./B.Math./Int. M.Sc./M.S. in Mathematics, Physics, Chemistry and Biology are selected for this coveted National level fellowship/scholarship examination.  
KVPY Cutoff – IISc shall be declaring KVPY Cutoff. However you can look below for cutoff of last year to have an overview of the same.
Questions related to KVPY