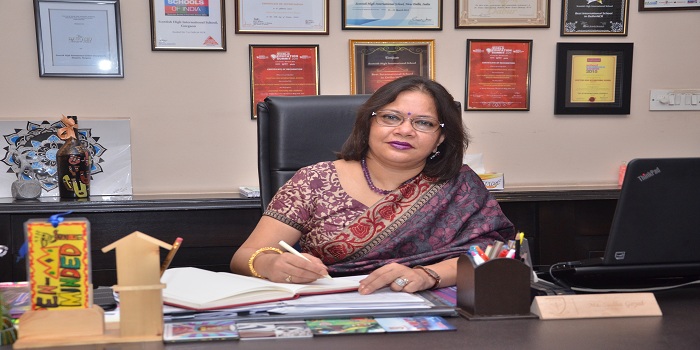 Sumita Vaid Dixit, 14 Nov 2017
Sudha Goyal, director, Scottish High International School, in an interview with Careers360 how IB students are given credit points in TOEFL/IELTS. In the interview, Sudha Goyal also tells us how IB Board help students become better professionals.
Interview-
Careers360: How will the students of your school make the world a better place?
Sudha: IB education enables the students develop various profiles. The major stress is on becoming inquirers, communicators, reflective, balanced, principled, open-minded, risk-taking and knowledgeable individuals with a great element of compassion and creativity.
Careers360: How does IB help students become better professionals?
Sudha: The trans-disciplinary approach to education develops in the student, a balanced approach and diverse aptitude of learning which is different from the mundane approach of the national or state curriculum. This is why students pursuing IB are balanced and open-minded. They are critical thinkers and do not hesitate to challenge the dogmatic conventions or theories. IB curriculum and assessments install in the students a healthy sense of academic honesty wherein they learn the thin line of separation between coordination and collusion; acknowledgement and plagiarism.
Careers360: How does your school have an edge over the other IB schools?
Sudha: One of the major advantages of pursuing education at Scottish High is our professional approach. The student-teacher ratio is 5:1, which is minimal. And for certain programmes it could come down to as much as 1:1. The cosmopolitan environment where in all cultures are respected and given to nurture adds to the zeal of kinship. Students carry the beautiful experiences of this integrated-education into their lives and this has created an everlasting learning and memories which the students will always cherish throughout their lifetime.
Careers360: When a CBSE student can also get through a foreign university, how does IB give a special advantage?
Sudha: Most selective universities look for students that excel in both academics and beyond academics. When a student is selected in a university/college, she/he is selected not only for skills, but also for the ability to survive—and thrive—in unfamiliar circumstances. This is made possible by the IB Learner's Profile. Simultaneously, as the students join their respective programmes in institutions of higher education, IB students are given concessions in credit points and if a student has scored five grade point in English Language and Literature then she/he is exempted from writing TOEFL/IELTS.