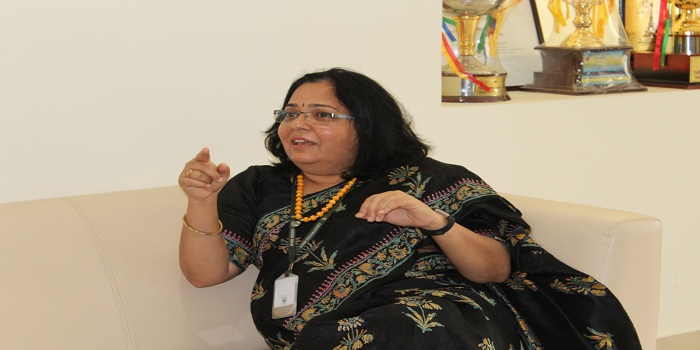 Kavita Sinha, Vice Principal of Greenwood High, Bangalore, which has two accreditations, CISCE and IB speaks to Careers360 on the most obvious queries about IB schools in India. In the interview, Kavita Sinha also speaks on difference of content in an IB curriculum. Read the complete interview below.
Interview-
Careers360: What significance does the international curriculum hold?
Kavita: Due to the burst of information, it is not channelized properly among parents and students. Confusion holds with respect to what will be taught, is methodology international, who would teach, will I get a place in an Indian institute after IB, if scholarships will be available and so on. It is not that the curriculum does not have regional or Indian essence. In fact, the schools can design their own modules which are locally sound and globally supportive, and that is a challenge. For instance, we have modules in the local language Kannada in Grade 1 to 5 and on the other hand, we also have special sessions on communicative English for personnel who interact with the small kids on a day-to-day basis. 
Students are free to choose a local industry for their case study or any language or culture. Second challenge is about teachers. If the school is following IB accreditation, it is mandatory to have trained teachers (structured workshops, online and classroom platforms). For other accreditations, much emphasis is given on in-house training, which is a school's prerogative.
Careers360: How is the content different in an IB curriculum?
Kavita: Every subject has a 7-year cycle and apart from the periodic minor changes, it goes for a revamp in 7 years and the curriculum changes which is very pragmatic. Let me give you an example, in higher level mathematics, we have different levels – you have higher level and standard level and further there is additional maths, international level, extended or further maths. So it is opening an opportunity for students who are not good at maths but can opt for a level that suits them.
Also if you wish to study engineering you have to study Calculus which is not segregated at class XI and XII, but there is a bridging between levels across different years. There is a huge difference in teaching methodology and assessment too. There is a lot of discussion around the topic which is dealt in depth and the outcomes are assessed in the form of 'theory of knowledge' (how do you know what you know; how do you justify the belief) and 'extended essay' (a research paper of 4000 words).
Careers360: How would you relate any unique practice of your school to the freedom that IB offers?
Kavita: There are 1,013 students and 112 full-time teachers in IB at different levels. The results of the DP candidates have been way above the average level grades. We have subject specialists right from Grade 1 to the Diploma Programme, who are also responsible for vertical mapping of the course curriculum, including Arts, Drama and Music. Extra-curriculum, for instance, gardening comes after that. We thus have concept-based learning. Many of our students are NRIs and they do not know about Indian freedom struggle, the Indian Constitution and like, which is made known through specially designed presentations. These steps lead to a holistic learning experience.