JAC 9th Syllabus 2020-21 - Download Jharkhand Board Class 9th Syllabus Pdf
JAC 9th Syllabus 2020-21 - Jharkhand Academic Council has adopted JAC class 9 syllabus and books from NCERT. Students should refer to Jharkhand board 9th syllabus to prepare for the upcoming exams. They can also use NCERT class 9 syllabus for national level entrance and scholarship exams. The direct links to download subject-wise JAC 9th syllabus 2020-21 are given in this article. JAC board 2021 class 9 syllabus comprise the topics and sub-topics to be studied for Maths, Science, Hindi, English, Social Studies and other subjects. They are suggested to go through JAC class 9th syllabus 2020-21 and make a strategy to finish the entire syllabus at least two months before the exams. Then, they should revise the Jharkhand board 9th syllabus to grab the topics and prepare efficiently.

JAC 9th Syllabus 2020-21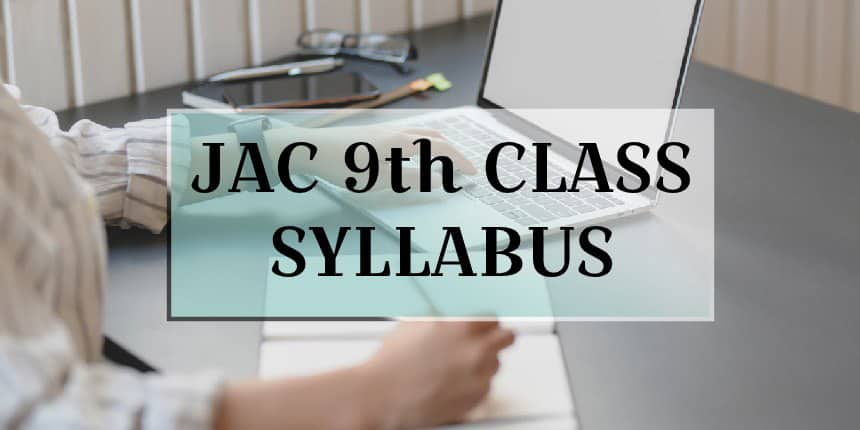 Students must note that the JAC board has adopted NCERT class 9 books and syllabus. They can download Jharkhand board 9th syllabus for maths, science, Hindi, English and Social studies using the links given below. Here, we have provided the glimpse of JAC class 9th syllabus 2020-21:
Check the following table to know about the chapters which are to be studied while preparing for the exam. Download NCERT class 9 maths books to understand the concepts and practise with questions given in exercises:
JAC Class 9th Syllabus 2020-21
Units

Chapters

Unit 1 - Number Systems

Real Numbers

Unit 2 - Algebra

Polynomials

Linear Equations in Two Variables

Unit 3 - Coordinate Geometry

coordinates of a point, graph of linear equations, notations, etc.

Unit 4 - Geometry

Introduction to Euclid's Geometry

Lines and Angles

Triangles

Quadrilaterals

Area

Circles

Constructions

Unit 5 - Mensuration

Areas

Surface Area and Volumes

Unit 6 - Statistics and Probability

Statistics

Probability

Appendix

Proofs in Mathematics

Introduction to Mathematical Modelling
The topics mentioned in JAC 9th syllabus 2020-21 have been tabulated below. Science is a scoring subject. Students should refer to NCERT class 9 Science books to cover all the topics very well and get good marks.
Jharkhand Board 9th Syllabus 2020-21 for Science
| | |
| --- | --- |
| Matter in Our Surroundings | Force And Laws Of Motion |
| Is Matter Around Us Pure | Gravitation |
| Atoms And Molecules | Work and Energy |
| Structure Of The Atom | Sound |
| The Fundamental Unit Of Life | Why Do We Fall ill |
| Tissues | Natural Resources |
| Diversity in Living Organisms | Improvement in Food Resources |
| Motion | - |
Students will have to study the prescribed NCERT class 9 Hindi books as given below:
Kshitij Hindi textbook

Sparsh

Kritika

Sanchayan
The entire JAC class 9th syllabus 2020-21 for English subject is divided into two sections: literature section and grammar section. For the literature section, students will have to study NCERT class 9 English books as listed below:
Beehive textbook in English

Moments Supplementary Reader in English

Words and Expressions - 1
Syllabus for the grammar section
Tenses

Reported speech

Modal auxiliaries (those not covered at upper primary)

Non-finites (infinitives, gerunds, participles)

Conditional clauses

Complex and compound sentences

Phrasal verbs and prepositional phrases

Cohesive devices

Punctuation
Section

Units

History

Events and processes

Livelihoods and Economies

Culture, Identity and Society

Geography

India

Physical Features of India

Drainage

Climate

Natural Vegetation and Wild Life

Population

Economics

The Story of Village Palampur

People as Resource

Poverty as a Challenge

Food Security in India

Political Science

Democracy in the contemporary world

What is democracy? Why democracy?

Designing of democracy in India

Electoral politics in a democracy

Institutions of parliamentary democracy

Citizens' rights in a democracy
Download NCERT books for Class 9 Social studies to read all the chapters of JAC class 9th syllabus 2020-21 for Social studies.
Related Links
Frequently Asked Question (FAQs) - JAC 9th Syllabus 2020-21 - Download Jharkhand Board Class 9th Syllabus Pdf
Question: Can I refer to the JAC Class 9th syllabus 2020-21 for NTSE exam?
Answer:
Yes, students can refer to Jharkhand board 9th syllabus 2020-21 to prepare for NTSE exam. But they will be able to appear for NTSE exam in 10th class.
Question: Are NCERT and JAC 9th syllabus same?
Answer:
Yes, both syllabi are the same as JAC has adopted NCERT class 9 syllabus.
Question: What is the difficulty level of JAC class 9th syllabus 2020-21?
Answer:
The difficulty level of JAC board 9th syllabus is moderate as per students' learning ability.