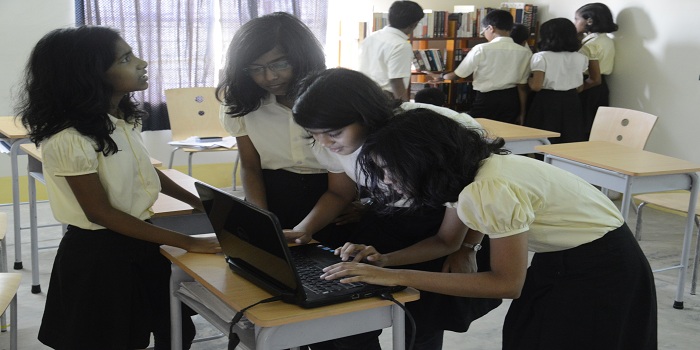 Arghya Banerjee, Founder, The Levelfield School in an interview with Careers360 speaks about the need to do away with rote learning process followed in our schools to bring them at par with international schools. Read the complete interview below with Arghya where he also speaks about the reason for bringing up the school at a remote location.
Careers360: The cost of education is going up specially at the school level, what would be your suggestion in this regard?
Arghya: In the private school space, there are many who are thought to be in the 'business' of education only for making money.
Now, there is nothing wrong with making money when you provide a high-quality service. But a lot of the profit-making in the private education space is really profiteering, where private players use monopoly powers to unreasonably hike fees. At the heart of this monopoly power is the affiliation system and the stifling regulations in the education sector.
So additional regulations like RTE act or fee-cap restrictions are not going to solve the issue. Those regulations are just going to drive out the last few idealistic educator or entrepreneur from this space. The crooks can go on abusing the system as before – they can fudge accounts, bribe officials and possibly can get the same high fees, now under the table.
The solution really lies in liberalization of the sector. As we know, market forces spur organizations to provide quality service, rather than detailed regulations. Privately held, profit-seeking firms try to provide good service in as low price as possible because they would otherwise lose customers.
We need a nationwide ranking of schools in terms of improvement they bring in their children. This ranking must be done based on standardized tests which assess skills, rather than rote-learning. If that happens, profiteering schools will lose a lot of their market power and truly high-quality schools will flourish. Cost of education overall will come down.
'Commercialisation of education' is not an evil force to be afraid of, rather it could be the magic wand that could drive up the quality and bring down costs.
Careers360: The Levelfield School is located in remote area, any specific reason behind it?
Arghya: This stems from my own experience. I come from the same small town, and based on my childhood experience in small towns I know that there is plenty of good talent in such areas who cannot flourish because of lack of high-quality English-medium education. One of the missions of The Levelfield School is to address this gap.
But other than being located in a small-town, there is nothing 'small-town'ish about the school. We have 100+ computers and 80+ tablets, where children work on learning apps developed in-house in the school itself. Children are completely fluent in English speaking, reading and writing. A few children last year became national-level champions in The Times of India Write-India contests. In terms of standardized tests like ASSET, Levelfield ranks very much among the top-5 schools all over India in skills like reading and problem solving.
Careers360: What changes would you recommend to be made in Indian schools to bring them at par with international schools?
Arghya: Indian schools cannot be at par with international schools if Indian boards and curriculum are not at par with the international boards. Our curriculum remains outdated; our exam-system is rote-learning oriented. So naturally schools too focus on unthinking memory-based learning and produce an army of unemployable future citizens.
So we need an exam system which is concept-based, skill-based. It should be uniform all over the country – something like SAT of the US. It should also be objective. Only through a skill-based objective paper you can eliminate rote-learning. We Indians are very exam-focused – if exams test skills, students will leave textbooks and will flock to learning reading and logical thinking!
But till the time such change happens, schools should start focusing on skills themselves. Till 8th standard, there is no interference by the boards. Why can't the schools focus on the basic skills of reading, writing, speaking, thinking till that time?
The reason is that these skills are difficult to teach. It is easy to get kids to memorize a 100-page textbooks than to develop her logical reasoning and reading skills. So schools take the lazy way out.
Careers360: What unique policies do you follow to give a rich learning experience to students?
Arghya: In our school, I decided to prioritize three skills – reading, logical thinking, and social maturity.
Let's take reading first. Our current method of teaching our children to read is all wrong. How can a student learn to read by reading a 70-page English textbook 15-20 times a year? We all learnt to read well by reading novels, newspapers, magazines – so why not replicate that process?
However, the challenge is to find so much of reading material appropriate for children of primary classes. Children's books available in the market did not fit the bill. Only large fonts and lots of pictures do not make a good children's book. Children love stories with richness and complication, as long as they are told in simple language.
Dissatisfied with what's available in the market, we set out to create our own library of reading materials by simplifying many classic stories like 'The Prince and the Pauper' or 'The Gulliver's Travels.' Our huge library of reading material now ensures that even our primary-grade children do around 1500-pages of reading a year.
Similarly, we try to build the thinking skills of the students by giving them exposure to new varieties of problems every day. Other than the thinking-oriented problems in math and science, we take inspiration from Japanese puzzles like Nonogram and Shikaku, and oriental board games like Go or Gomoku.
In maturity-building too, we take a different approach. Typical social science textbooks fall short in building a mature understanding of the world around. Many schools teach General Knowledge (GK), which is again a useless rote-learning driven approach. A better approach is to simulate the world within the four walls of the classroom – and nothing does it better than stories and cinemas. If you are discussing the history of Nazi Germany, why not screen Roman Polanski's 'The Pianist'? While teaching about revolutions, why not use George Orwell's 'Animal Farm'?
I strongly feel that movies could be excellent learning devices, and should be used much more in classrooms. At my school, a student of class VII or VIII end up watching 15-20 movies in a year! There are intensely absorbing movies about different periods of history (Gandhi, Downfall, Judgment at Nuremberg, for example), which should be used to create interest and learning appetite. Movies have many other benefits too – they transport us into other people's minds and situations – thereby teaching us empathy. They can familiarize us with distant lands and different cultures. Movies like Hotel Rwanda or Life is Beautiful can even teach students some aspects of leadership.
Careers360: What changes would you recommend to make the curriculum more robust?
Arghya: The curriculum must prepare our children for life. Rather than the standard subjects, most of which people do not use when they grow up, I suggest prioritising four areas: Work, Relationships, Society and Technology.
In the subject of 'Work', we should teach skills that are needed in today's workplaces. We should teach our children how to use computers to write, present, calculate and communicate. Instead of holding 'mock' parliaments or giving them copy-paste projects, we should give them real responsibilities inside the school.
At Levelfield, we get the students to manage the school canteen, maintain the school blog and Twitter handle, take care of the school's IT infrastructure, mentor younger children, and fully take charge of the annual events. Through all these, we guide them about how to behave in a team, coordinate a meeting, and to resolve conflicts.
Other than work, our 'Relationships' with our friends, spouse, parents and children form a critical part of our life – one that determines how happy we are. Yet, how little we are taught about how to handle those! We are never told that marriage is going to be an all-important decision in our lives, and we should not jump into it in a youthful impulse.
We are not taught to listen with empathy. We are not taught that building friendships in schools and colleges is more important compared to hiding that notebook containing teachers' notes. In teaching 'Relationships', movies and literature can play a very important role.
In addition to 'Work' and 'Relationship', the subject of 'Society' too, is becoming all important in today's world. Earlier, in a disconnected world, we were only subject to local influences. Now, people can spread their prejudices, hate and bigotry through social media. Schools must teach our children stop believing and start thinking.
We need to teach our children how religion came from our fear and our inability to explain the world through our limited knowledge in an earlier era. We must teach them that whites are white because they are adapted to a colder climate, not because they are superior. We must teach our children not just to read newspaper, but also to spot fake news.
The fourth subject, 'Technology' is inextricably linked with 'Society'. In the not-so-distant future, technology is going to reshape the society. Most of the current professions may not exist. Our current way of life may undergo such transformation that it may be unrecognizable.
Yet, most schools hardly deal with this all-important subject. They do not teach the students how to apply technology or how to code. They do not talk about how technology is going to impact society. They do not teach children to be safe in a connected world.
Overall, we must let go of our established beliefs about curriculum and need to approach it with a far more open mind. To start with, people with real-life success should design curriculum rather than the so-called 'educationists'.
Careers360: Any other topic that you feel is critical to Indian school education?
Arghya: Yes – an issue that's absolutely critical to Indian school education is the issue of teachers. And we are looking at this issue wrongly. The solution is not really more teacher-training or regulation.
We need to understand that the best people must be teachers. We need teachers who can blur the boundaries of subjects and the real-world. We need teachers who are not limited by specialist subject knowledge. We need teachers who are insightful, wise and experienced in the ways of the world. We need teachers who are not just dispensers of instruction, but a source of inspiration. In short, we need teachers who are the most talented, wise and experienced members of society.
People who are successful in various walks of life should become teachers. Teaching must not be perceived as a profession of last resort – rather, great teachers and school leaders should be paid as high as CEOs!