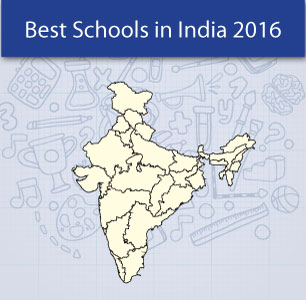 Top Schools in India 2016 - The Indian school system is plagued by many ills as the Annual Survey of Education Report reminds us regularly. But are the top 1% of the schools (best of the best) doing their jobs well? The annual best schools rating and ranking 2016 exercise by Careers360 brings you insights on this.

According the latest available information there are almost 1.53 million schools in India. Out of them nearly 1.04 lakh schools offer the entire gamut of classes from class 1 to 12. And these are spread over nearly 20-odd state education boards, the two known national boards; Central Board of Secondary Education (CBSE) and Indian Council of School Education (ICSE); and small but elite groups of Internationals boards like IB, IGCSE and even a few AP-based schools.
Top Schools in India 2016 - state-wise
Disparity is the name of the game here
Schools in India come in many sizes and shapes. There are schools that charge around 50-60 lakhs of rupees per annum as fees to schools that cost about 144 – 210 rupees per annum. Some of the high-end schools have helipads within the campus while there are those that do not even have basic facilities. Some are technological leaders with iPads for children and a learning management system (LMS) to hook up the entire ecosystem (students, teachers, administrators and parents), while most of the others struggle to get basic laboratory supplies. Some are large campuses with all conceivable amenities, while 1/3 of schools struggle to meet the minimum norms of RTE Act. Some engage international faculty while many do not even have qualified faculty.
As the latest Annual Survey of Education Report (ASER) suggests, just about 25 per cent of children could meet the educational attainments expected of them. Most lag behind. The scenario worsens as we move up the schooling system. And that makes any exercise at evaluating them difficult.
Pranab Mukherjee
President of India

Inspired teachers are the building blocks of a good education system. An inspired teacher links the individual goals of the students to the societal and national goals. Our teachers need to imbibe technology and new methodologies to create modern and effective approaches to teaching and learning. A spirit of innovation should be encouraged in the minds of students.
How we did it?
Rating and ranking of any institution is a difficult exercise since the outcome of education is a hazy concept. And with the level of diversity that India experiences it becomes almost an impossible exercise. What we have attempted to do is to critically look at about 8500 schools (8% of the universe) in terms of their infrastructure, faculty strength and number of students, and final results.
What do the ratings say?
Of the 2500 colleges rated, just about 100 of them could earn the highest ratings. Considering the fact that both IB-led schools and most public schools (as identified by the Indian Public School Conference), are exceptionally well endowed in terms of infrastructure and resources, this number is on the lower side. The biggest issue is that even though schools are well endowed their results do not correlate well with their endowments.
We are yet to look at the statistical correlation between outcomes and inputs. A cursory look at the ratings indicate that barring honourable exceptions, a certain threshold of resources is essential for a school to produce a reasonably good result and below that the school and the students actually under-perform. But the presence of over-the-top resources does not always contribute to corresponding levels of results. In the coming days we will critically look at these relationships and come out with more data and analysis.
How do you use the rank sheet?
For the first time we have attempted to rank the top schools in each state, in terms of different boards. In all, about 500 schools have been ranked. They are the best in terms or either results or resources and most of the times, both. The rating sheet is much more exhaustive. We have presented about 2500 schools in all. The listing is presented state-wise and grouped geographically; North, South, East, West and Central. We would be very happy to engage with the schools to make the ratings more robust and closer to realties so that children and parents can take informed decisions. After all, schooling is the most crucial factor that affects one's personality and future career.
What is in store for the future?
Though we have added another 1000 schools (we rated about 1800 last year), we are still just about covering 3 percent of the universe. We would hope to cover about 5 percent by next year. The list is completely inadequate when it comes to examining state board schools. Very few schools are represented. We intend to bring in at least 1000 top state-level schools in the coming years into the rating list. The current rating is just a composite. We will hopefully be able to present you individual scores for infrastructure, learning, outcomes (results, performance, mark scored, ranks) in coming years.  
Rating Schema
| | | |
| --- | --- | --- |
| Rating | Thresholds (in percentile) | Standing |
| AAAAA                        | 95-99 | Exceptional |
| AAAA+            | 90-94 | Outstanding |
| AAAA | 80-89 | Best |
| AAA+ | 70-79 | Very Good |
| AAA | 60-69 | Good |
| AA+ | 50-59 | Acceptable |
| AA | 40-49 | Average |
Rating Methodology
The objective of this research exercise was to arrive at the list of top 3000 good schools in the country by adopting a stringent process of shortlisting of data through questionnaire, interacting with school administrators and teachers and finally analysing quantifiable data. We gathered the basic data from the School Scorecard website maintained by the Ministry of HRD.
Careers360 is known for rating institutions across higher education domains on the basis of objective parameters and has continued the practice in case of schools, making use of data on students, faculty, infrastructure or performance indicators such as grades, pass and aggregate percentage.  Most the boards do not publish the pass percentage and scores in general. A team of researchers worked round the clock to download the data of individual schools by inputting their relevant codes.
In an attempt to understand the needs of parents and students, the listing of the country's top 10% schools excluding the state boards (barring a few exceptionally good ones)  is segregated in terms of region, curriculum followed, residential or day-boarding type and gender. In our first attempt to look at the outstanding schools, we have also ranked the top 500 in terms of academic performance. Our endeavour has always been to be better each year. So feel free to write to us with subject heading 'Schools' at [email protected] regarding errors, omissions and corrections.  
Note: In the Rating Sheet select IB schools also offer other curricula. Those offering CBSE are identified by an asterisk and ISC by two.
Stay tuned to school.careers360.com for more updates on Best Schools in India
Save
Save