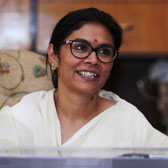 Careers360 interviews Priya Peter, Principal of Mussoorie International School who speaks about unique features of the residential school for girls.
Read the full interview to know what the Mussoorie International school principal shares on impact of assessment on overall development of a student.
Read below excerpts of interview.


Careers360: What all areas do you focus on as far as pedagogy is concerned?
Priya Peter: At MIS, the pedagogy is competent and contemporary. The programmes are designed to meet unique needs of each child by creating a personalized learning environment. The experience is tailored to the learning preferences and the specific interests of our students. The process we follow is: mapping unique needs, creating the learning environment, creating student grouping, curriculum delivery through quality teaching, goal setting and tracking, formative as well as summative assessment and constantly providing interventions.
Careers360: How should a parent choose a particular curriculum for his ward?
Priya Peter: I recommend that parents do a complete research and choose a curriculum keeping in mind the personality of the child.  At MIS, we invite the parents and children to meet the counsellor who takes them through the benefit of each programme, and helps the students choose between ICSE and IGCSE programmes.
Careers360: What options do your students consider for higher education?
Priya Peter: I feel proud when I see my girls making their passion their profession and that too in some really unconventional fields - from being a pilot in a leading international airlines to being one of the top designers in the country, to being a researcher in United Nations Programmes to being one of the best dentists in Nepal, our girls are busy making a mark and contributing to the world. I am proud of each MIStar!
Careers360: How does assessment impact the overall development of a student?
Priya Peter: Student assessment plays a crucial role in determining that we are achieving the defined goals and learning outcomes. We have a feedback mechanism for both the learners and the teachers. We constantly work on teacher training to equip them with best pedagogical practices to help students achieve the desired results. We celebrate and award the learner on achieving their goals and milestones, and this really keeps the overall environment very positive. This also motivates both students and teachers to go for the best.
Careers360: Does boarding schools have an advantage over day schools? 
Priya Peter: While this is an old debate, I have a very simple answer. At a boarding school, we are able to bring in the best efficiencies in life of a child, as all that a child needs is available under one roof – a great set of teachers, academics, state-of-the-art sports facilities, immense options in co-curricular as well as extracurricular activities etc.  
Careers360: How does your school help a student to select a stream after class X?
Priya Peter: Each one of our students undergoes an aptitude test which helps her identify her strong areas. We have a full-time career counsellor in the school that further helps the students in the selection process. MIS organizes career fairs in the school where we invite various Indian and as well foreign universities to guide the students about the various programmes across all fields.  
To have both positive academic and behavioural outcomes, children should feel connected to the school. MIS provides an engaging environment which is physically and emotionally safe. We provide relevant support to our girls to help them reach their personal best
Stay tuned to school.careers360.com for more updates on India's top schools