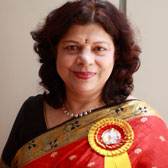 Careers360 interviews Renu Chaturvedi, Principal of Delhi Public School, Greater Noida who shares her views on India's school education system.
Read the full interview to know about critical issues India's education is facing
Read below excerpts of interview
Careers360: What is the best way to educate children?   
Renu Chaturvedi: I feel it is a continuous, cumulative and highly inter-dependent process. It is only when our aims to provide good education are well conceived, our processes and strategies are carefully and sensitively planned, that it becomes possible to see students learning optimally through such integration.
Careers360: What critical issues do India's school education face? 
Renu Chaturvedi: To run a school with a significant strength of students becomes a challenge every day. With changing times, greater attention is to be given towards their safety and security and towards shaping them into righteous and responsible students. The peer pressure on them has to be made positive and extraneous wrong influences whether through Internet or otherwise need to be consciously checked. The education policies that emphasize on the RTE need to be well implemented with sensitivity. Students have to be groomed as not only patriotic citizens but also globally-oriented for getting the best out of the technical advancement made by the society. We need to re-visit the curricula from time-to-time to make it relevant, effective and meaningful.  
Careers360: How does the selection of a particular Board impact students?  
Renu Chaturvedi: I don't feel the Boards make much difference apart from the curriculum they follow. The teachers need to be equally diligent and devoted, and the students need to be equally laborious. CBSE is at par with the topmost educational Boards across the globe and with its student-friendly and innovative methodologies and the implementation of CCE, CBSE has catapulted itself as a great force to reckon with in the international arena.
Careers360: How do you look at the shift from exam to continuous assessment? 
Renu Chaturvedi: I think it has made students a bit complacent. Keeping records and evidences and documenting their work have been quite a challenging task. Many find it tough to switch to academic-centric format in class 11 and 12, where focus is back to scholastic performance in the exams. Of course, CCE approach enhances academic learning along with personality development. What matters is how schools and students make the most of it. 
Careers360: On a personal note, your reactions on bagging the 2015 CBSE Teacher's Award?   
Renu Chaturvedi: It is a great feeling to get this coveted award. Developing the personality of a child in all dimensions - physical, intellectual, social, ethical and moral is what really matters. Students must not only be academically proficient, but also morally upright, emotionally stable, culturally nourished, socially responsible, globally aware and technologically equipped. An average student is helped through remediation and extra coaching. We provide ample opportunities to get involved in cultural activities – exposing students to music, dance, theatre, national and international excursions, foreign language exchange programmes, in a way enabling them to become responsible citizens through experiential learning.   
It is only when our aims to provide good education are well conceived, our processes and strategies are carefully and sensitively planned, that it becomes possible to see students learning optimally through such integration
Stay tuned to school.careers360.com for more updates on India's top schools