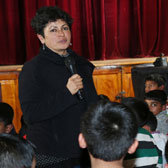 Careers360 talks to Sangita Chima headmistress of Lawrence School, Lovedale about crucial role of evaluation in schools. In this interview she also shares her views on CCE (Continuous and Comprehensive Evaluation).
Read the full interview to know about her views on student evaluation.
Read below excerpts of interview
Careers360: Lawrence was established in the 19th century and has passed the test of time. What unique academic practices do you follow?
Sangita Chima: The Lawrence School Lovedale has got a very grounded learning experience which is completely holistic. We completely do not go by theory and adopt lot of tools and techniques in our teaching-learning process. Basically we are a group of learners, what and how of the curriculum is transacted by our teachers, which is very creative.
We have got outstanding robotics programme and have won awards nationally and internationally. We also have a programme in which students learn Math by individual practices and it is also game-based. We also have a Career Development Centre; it is funded by the alumni.     
Careers360: How do you look at no retention till 8th standard?
Sangita Chima: I look at it differently, as when the children is in a particular class it is the responsibility of the teacher, school and the curriculum transaction to make sure that the child learns well. You can't say that your learning is not complete so you have to remain in the same class, it is an indication of an unsuccessful learning programme. You can't push a child back and say that this is the solution, the solution is to teach the child in a better manner.
Careers360: How do your students choose higher studies?
Sangita Chima: Most of the students get a lot of assistance from the Career Development Centre. Since we are a boarding school and parents are not here, each child is directed through a series of steps. Their aptitude is gauged and we don't get them to suddenly decide what he or she has to do. It is done over a period of time and we direct them where they want to go. We don't block them into medicine and engineering, we give them various options and we also connect with the parents so that they are on the same page.       
Careers360: How crucial is the role of evaluation in schools? 
Sangita Chima: The CCE introduced by CBSE is a brilliant thing; it is a very progressive, worldwide accepted mechanism of teaching because if you are a learner it must be evaluated to know whether learning is happening or not.   
Careers360: Are students focused only on weekly exams since CCE came into effect?
Sangita Chima : That is a wrong concept. First of all, in the CCE there are two main assessments, one is SA1 and the other is SA2, which is a summative assessment where at the end of six months you get assessed, in between there are 3-4 formatives. Many of the schools make a big mistake of having unit tests. That's wrong. I don't think there should be any unit test and a test should be just the class work, it should not have a drag on effect. 
Careers360: What kind of EdTech tools are you using at your school?
Sangita Chima: We are one of the few schools that has got a clear-cut IT vision, which incorporates the idea of blended learning. We are not totally dependent on ICT products. Every classroom has got audio-visual tools and are digitally updated. Teachers can go back to what they have taught, it is a very quick and smart way of teaching.   
All our staff, parents and students are in harmony and we send out teachers to all over the world to get the best training. We are a school that has direct link with all the best universities in the world.
Stay tuned to school.careers360.com for more updates on India's top schools