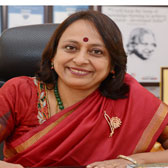 Harshita Das, 18 Nov 2016
Careers360 interviews Revathi Srinivasan, Director of Smt. Sulochanadevi Singhania School who shares her views on education for life. She also talks about role of education in bringing out best citizens for society.
Read the full interview to know what director of Smt. Sulochanadevi Singhania School shares on Indian education system
Read below excerpts of interview.
Careers360: In what way would you define the success of a school?
Revathi Srinivasan: To me schooling is not half as important as education. I think education plays a priority role in bringing out the best citizens for the society. If I want to look at a school and if I would have to look at children, I would say the best school is one, which provides a kind of environment where the child grows; where they provide them wings to fly very high, yet roots to be firmly grounded no matter how high they fly. If you get them roots I think you have done a good job. Second, if every Friday evening a kid says, 'Oh I just have this weekend and I am waiting for Monday to get back to school that I can have fun', that's a good school. 
Careers360: What are the major challenges that Indian education system faces now?
Revathi Srinivasan : One on hand, we as schools are trying to get experimental, getting more innovative, going more creative. On the other hand, there is still on marks. At the end of the day, what is your score in your 10 or 12 standard? So what happens is that passion is left behind and they are pursuing something quite dispassionately only because they are trying to follow the beaten track and not wanting to venture out. Second, parents have grown up in a previous generation and that was a very set pattern in which they grew.  The fabric of society is changing so therefore it is important for parents also to be able to guide these children a little more or even keep their minds open to the fact that new careers would come in. The students should not adopt to finish schools, crack entrance. Keep your minds open by pushing them for professional degree and not traditional degree.
Careers360: Do you help students select a stream. How do you access their capabilities?
Revathi Srinivasan: Counselling is need of the hour today because children need guidance. We have tied up with 43 universities that take turns to come over and brief students. We also have lots of people from various occupations who come and speak to the students. I also have a proposal where I have students who have just entered a field, for example journalism, we have some from the middle management, some from top most line having 25 years of experience. So children are able to gauge better what they plan to choose. We also have career counsellors in school for students of both 10th and 12th as a part of our faculty. They discuss with them- what kind of career is available. Individual students can walk in, check out the kind of courses they would like to do. They have psychometric tests and one-on-one interaction. Career counsellors make presentation first. Then interested children come across and discuss all the possible universities in India and abroad. 
Careers360:Any faculty improvement programmes?
Revathi Srinivasan : I believe any organization has to be a learning organization and learners are not just the kids but the teachers, and the staff. All my teachers are completely tech-savvy and they use lot of technology in classrooms. We also do continuous innovations and that happens only with discussions. So we have a lot of these discussion groups in the evening. We innovate consciously and our primary school methodology is very different that it is a case study in IIM Ahmedabad as an innovative method of teaching because it has produced the best of the results.   
If I were to look at children I would say that the best school is one, which provides a kind of environment where the child grows; where they provide them wings to fly very high, yet roots to be firmly grounded no matter how high they fly.
Stay tuned to school.careers360.com for more updates on India's top schools