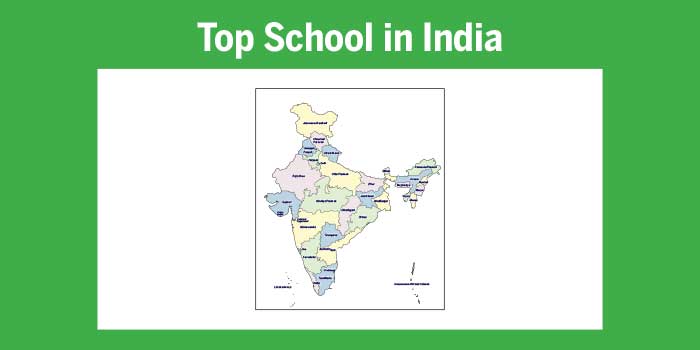 Top schools in India 2017: School education in India is poised for tremendous growth in the coming years and as we race towards 100% GER, the struggle to identify the top schools in India is only going to increase manifold. India would continue to have a majority of young demographic for the next few decades before our population growth stabilises. As the quest to give the best education to our youngsters continue, the search for identifying the India's top schools also continues. The process of finding the best schools in India is as taxing as it is crucial. To smoothen this process, Careers360 brings an indicative list of some of the top schools in India 2017.
List of Top Schools in India
Here is the list of the top schools in India across the States. The list includes the best day schools in India and the Boards they are affiliated to. For the complete list of day schools, day-cum-boarding schools, international schools across each state in India, scroll down. 
Top Schools in India
| | | |
| --- | --- | --- |
| State | Top Schools (Day schools) | Board |
| Andhra Pradesh | Kendriya Vidyalaya No 1, Sri Vijayanagar | CBSE |
| Arunachal Pradesh | Kendriya Vidyalaya, Kimin | CBSE |
| Assam | Delhi Public School, Numaligarh | CBSE |
| Andaman and Nicober | Navy Children School, Port Blair | CBSE |
| Bihar | DAV Public School, Patna | CBSE |
| Chandigarh | Bhavan Vidyalaya, Sector 27-B | CBSE |
| Chhattisgarh | Ambuja Vidya Peeth, Raipur | CBSE |
| Daman | Coast Guard Public School, Daman | CBSE |
| Delhi | Sardar Patel Vidyalaya, Lodi Estate | CBSE |
| Goa | Kendriya Vidyalaya No 1, Vasco Da Gama | CBSE |
| Gujarat | Ahmedabad International School, Ahmedabad | IB |
| Haryana | The Heritage School, Gurgaon | IB |
| Himachal Pradesh | Sacred Heart Senior Secondary School, Sidhpur | ISC |
| Jammu & Kashmir | Heritage School, Jammu | CBSE |
| Jharkhand | Delhi Public School, Ranchi | CBSE |
| Karnataka | Stonehill International School, Bangalore | IB |
| Kerala | Sadhbhavana World School, Kozhikode | CIE |
| Madhya Pradesh | Delhi Public School, Indore | CBSE |
| Maharashtra | Dhirubhai Ambani International School, Mumbai | IB |
| Manipur | Kendriya Vidyalaya, Loktak | CBSE |
| Meghalaya | Army Public School, Shillong | CBSE |
| Nagaland | Jubilee Memorial School, Mokokchung | ISC |
| Odisha | DAV Public School, Unit VIII, Bhubaneswar | CBSE |
| Pondicherry | Amalorpavam Higher Secondary School, Puducherry | CBSE |
| Punjab | BCM Arya Model School, Ludhiana | CBSE |
| Rajasthan | Neerja Modi School, Jaipur | IB |
| Sikkim | Kendriya Vidyalaya, NHPC Singtam | CBSE |
| Tamil Nadu | M.Ct.M.Chidambaram Chettyar International School, Chennai | IB |
| Telangana | International School of Hyderabad | IB |
| Tripura | Ramakrishna Math and Ramakrishna Mission, Viveknagar | CBSE |
| Uttar Pradesh | City Montessori Inter College, Aliganj | ISC |
| Uttarakhand | Brightlands School, Dehradun | ISC |
| West Bengal | Calcutta International School, Kolkata | IB |
Why do we rate and not rank the top schools in India?
The Indian schooling system is large, diverse and has multiple boards of education. It is impossible to bring a nation with over 4 lakh schools, two national-level boards and about 20+ State boards under one evaluation mechanism. And to complicate matters, many schools also offer different boards at 10th and 12th. For example, a host of schools in Tamil Nadu are called Matriculation Higher Secondary Schools wherein the schools follow ICSE board until 10th and switch to Tamil Nadu State board during 12th. So the ideal way forward would be to look and provide a cluster of some best schools in India of 2017 for the consideration of parents.
Is 3,000 a sufficient number?
At about 4 lakh schools, it is not even a blip. But considering other ranking and rating that is available in the market, it is a much better number. What we seek to provide is an indicative tool for parents to assess multiple offerings and decide what is better for their wards at a particular price point. The rating process is robust and primarily based on the performance of the school in the board level exams wherever possible. They are further validated by other factors like infrastructure, teacher quality, and school performance in other co-curricular activities. The rating criterion is such that we would be able to say with authority that for a particular rating, the educational experience would be ecumenical in the list of top schools in India 2017. This is not a perfect measure. But it does come closer.
How have the schools fared?
Out of 3,000 schools rated, not more than 66 could earn the highest rating of AAAAA. This also includes well-endowed public residential schools as well as international schools. The primary reason is that, schools with enviable infrastructure do not perform well when it comes to academic performance. The next rating AAAA+ is earned by over 250 schools indicating that the challengers are much larger in volume than leaders and that is a very good sign for the nation. Of the top schools in India 2017, about 500+ have gained the AAAA rating indicating that most schools that have data sufficient to rate have a basic level of delivery capabilities. What can be inferred from the ratings is that a basic level of infrastructure is essential for good academic performance. But there is absolutely no correlation between over-the-top infrastructure or five-star level facilities and student performance. This is a good thing to keep in mind when the school you approach for your child speaks about fully air-conditioned campus and 34 different co-curricular activities. This was one of the best findings of our journey to find top schools in India 2017. 
What next for us?
We have stabilised at about 3,000 top schools in India and we intend to look deeper into  them in the coming years. We also intend to add about 2,000 more State board schools and look at the ranking of 5,000-odd schools in the coming years. The development of a ranking methodology that will account for the vast differences in the schooling system is also on the agenda. Until then, we hope the ratings of India's best schools 2017 are of use to you in deciding the future of your child. 
Rating Methodology for top schools in India 2017 
The objective of this research exercise was to arrive at the a list of top 3,000 good schools in the country which could be termed as top schools in India of 2017. We adopted a stringent process of shortlisting data through questionnaire, interacting with school administrators and teachers, and finally analysing quantifiable data. We gathered the basic data from the School Scorecard website maintained by the Ministry of HRD.
Careers360 is known for rating institutions across higher education domains on the basis of objective parameters, and has continued the practice in the case of schools, making use of data on students, faculty, infrastructure or performance indicators such as grades, pass and aggregate percentage. Most of the boards do not publish the pass percentage and scores in general. A team of our researchers worked round the clock to download the data of individual schools by inputting their relevant codes. The tables below list the top schools in India 2017 across the States.
Top Schools in India 2017 - State-wise List
In an attempt to understand the needs of parents and students, in terms of academic performance, our endeavour has always been to get better each year. 
Rating Schema
| | | |
| --- | --- | --- |
| Rating | Thresholds | Standing |
| AAAAA | 95-99 percentile | Exceptional |
| AAAA+ | 90-94 percentile | Outstanding |
| AAAA | 80-89 percentile | Best |
| AAA+ | 70-79 percentile | Very Good |
| AAA | 60-69 percentile | Good |
| AA+ | 50-59 percentile | Acceptable |
| AA | 40-49 percentile | Average |
* Note: In the Rating Sheet select IB schools also offer other curricula. Those offering CBSE are identified by an asterisk and ISC by two asterisks.