Essay on Shivaji Maharaj - Shivaji was the founder of The Maratha Empire and was known for his excellent knowledge and interest in the arts. He was profoundly devout and had grown up hearing Hindu texts read aloud by his mother, Jijabai. Here are 100, 200 and 500 word essays on Shivaji Maharaj.
Chhatrapati Shivajiraje Bhosale, also known as Shivaji Maharaj, reigned in significant parts of India between 1646 - 1680. He was the founder of The Maratha Empire and was known for his excellent knowledge and interest in the arts. Chhatrapati Maharaj is famous for his insane tactics in war. He was a brave king who didn't fear any dynasty at that time. Here are a few sample essays on Shivaji Maharaj.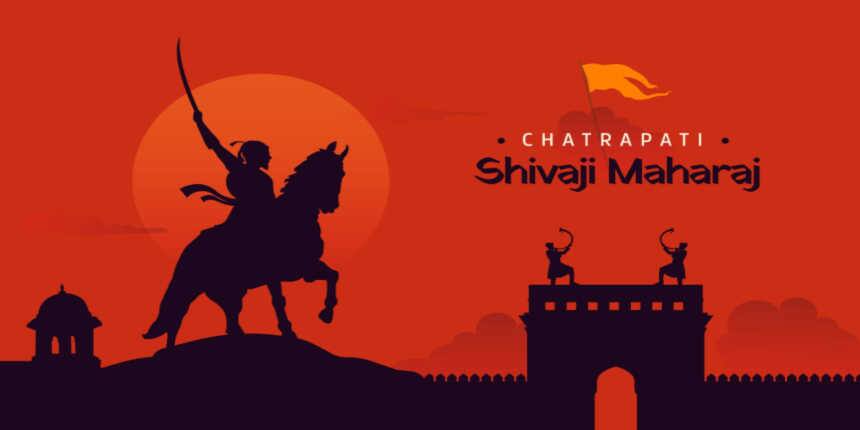 100-Word Essay on Shivaji Maharaj
On 19 February 1627, Shivaji Maharaj was born in a Maratha family at Shivnari Fort, Maharashtra. His steadfastness, bravery, and dominance served as examples for all who came after him. His courage knew no limits. He was a combatant who fought against injustice to promote the welfare of the populace.
Shivaji Maharaj was regarded as a brave warrior who employed novel military strategies and was a skilled administrator. When he was a child, he used to read the glorious stories of Mahabharata and Ramayana. He not only internalised the solid and robust traits of the ideal Hindu's character but also adhered to their teachings from these two epics. He never learnt to submit to authority figures.
200-Word Essay on Shivaji Maharaj
The Maratha emperor, Shivaji Maharaj was a courageous and resilient ruler. When the Mughals ruled India, he came as a gleam of hope to help people. He was viewed as an equal and fair ruler who would go to extreme lengths to help people in need.
Shivaji Maharaj and his Empire
He quickly mastered the varieties of survival and combat techniques and adjusted them to world reality. In order to build a larger and more powerful empire, he began to fight and subdue the adversaries who were in close proximity to his realm. Every day, the Maratha Empire got more potent thanks to his power and bravery. He liberated regular people from oppressors, earning him a reputation as a freedom fighter. He concentrated his efforts on destroying the dictators of the modern age.
Shivaji Maharaj as a Child
Shivajiraje received a good education from his parents when he was a little child. His knowledge and calm spirit were unmatched. Along with religious instruction, he studied all the techniques for combat. He inherited his mother's assertive personality traits. He learned as a child that everyone is created equal, regardless of caste or religion. He engaged in several wars and liberated humanity from the oppression of numerous tyrants. This is how he came to be known as "Chhatrapati Shivaji," or the ruler of the people.
500-Word Essay on Shivaji Maharaj
The history of India is replete with tales of the bravery of its men and women. Chhatrapati Shivaji Maharaja of the Maratha Empire was one of them. Shivajiraje's parents had a significant influence on his life. His mother was Jijabai Bhosale, and his father was Shahaji Bhosale. Shivajiraje was courageous; at the age of 15, he managed to take three forts. In the year 1674, Shivaji was crowned Chhatrapati Shivaji in the Raigad fort.
Life of Shivaji Maharaj
Shivaji was profoundly devout and had grown up hearing Hindu texts read aloud by his mother, Jijabai. Despite being a devoted Hindu, Shivaji was liberal and supported other faiths.
Raigad served as the capital when Shivaji established the Maratha Empire, which he later expanded by seizing successive forts. To build his empire, he engaged in conflict with the Mughal Empire, the British Empire, and other feudal powers.
Battles | He fought many battles, like the Battle of Pratapgad. On November 10, 1659, he engaged in combat with the Adilshahi commander Afzal Khan and the soldiers of the Maratha ruler Chhatrapati Shivaji Maharaj at the town of Satara in Maharashtra, India. This battle was majorly fought on foot and with artillery like camels, elephants, horses etc.
Another example would be the Battle of Kolhapur. It was a battle fought on December 28, 1659, between the Maratha Chhatrapati Shivaji and the Adilshahi armies close to Kolhapur, Maharashtra. It is estimated that both armies had an equal number of soldiers in the battle. But Shivaji used smart tactics to fight and win this battle and conquer Kolhapur.
Also, the Battle of Pavan Khind, fought on July 13, 1660, near Fort Vishalgad, close to Kolhapur, Maharashtra, India, between Siddi Masud of Adilshah and the Maratha Sardar Baji Prabhu Deshpande.
Shivaji Maharaj and Mental Warface
Shivaji had an intelligent way to carry out mental warfare. Shivaji kept a little but capable standing army. Shivaji was mindful of his army's limits. He realised that traditional military tactics were unable to deal with the Mughals' large, well-trained cavalry, which was armed with field artillery. Shivaji thus employed guerilla strategies called Ganimi Kawa. Shivaji was a pro at guerrilla fighting.
Armed forces sent to stop him were routinely baffled and routed by his techniques. He understood that supplies were the weakest link in the then-current huge, sluggish armies. He cut off the enemy's supplies by using his local terrain expertise and his light cavalry's superior mobility. Shivaji declined to engage in physical combat. Instead, he used his selection of treacherous hills and jungles to draw the adversaries, trapping them there and then routing them.
Shivaji Maharaj and Indian History
Shivaji was well known for his steadfast adherence to a warrior's code of ethics and his moral excellence. During the Indian Independence Movement, he was honoured as a national hero. While some versions of Shivaji claim that the Brahmin guru Samarth Ramdas had a significant impact on him, others argue that later Brahmin writers overemphasised Ramdas' influence in order to strengthen their position. By defending Swarajya's beliefs and Maratha heritage and using his administrative abilities, Shivaji created a royal name for himself in history.