Sarojini Naidu Essay - 100, 200, 500 Words
The "Nightingale of India" or "Bharat Kokila" are other names for Sarojini Naidu. She was a well-known political figure in India and a talented poet. She rose to fame due to her significant contribution to Indian women's emancipation. Here are a few samples on Sarojini Naidu Essay.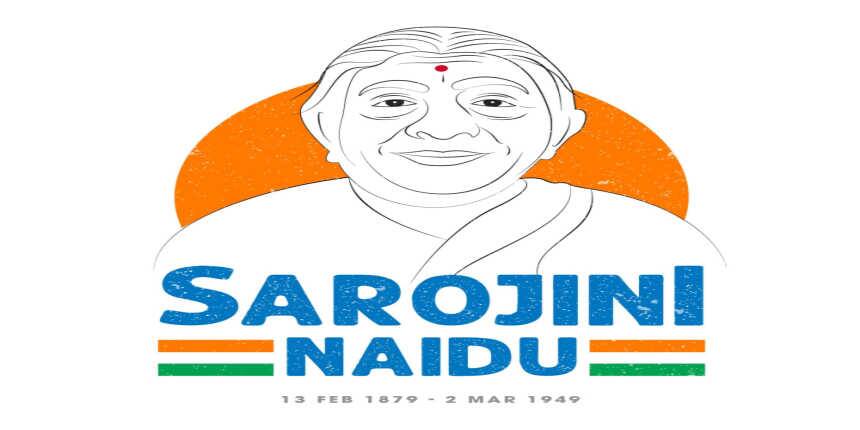 100 Words Essay on Sarojini Naidu
On February 13, 1879, a Bengali family in Hyderabad, India, welcomed Sarojini Naidu into the world. She started at a young age penning poetry. She continued her education by enrolling in courses at King's College and Girton, both in Cambridge. When she was a child, few Indian households encouraged their daughters to participate in the independence protest. However, Sarojini Naidu's family had consistently espoused liberal values. She grew up believing in the effectiveness of protest in the fight for justice. The Nightingale of India, as Sarojini Naidu is sometimes called, received this moniker in recognition of her outstanding contributions to poetry. Her poetry, which was vivid in imagery, covered many topics, such as separation, love, and death.
200 Words Essay on Sarojini Naidu
The "Nightingale of India"
Sarojini Naidu was both a well-known poet and an Indian political activist. She played a crucial role in Salt Satyagraha and India's fight for independence. She also spearheaded the Quit India and Civil Disobedience Movement activities. She never stopped advocating for women's and civic rights. She earned the moniker "Bharat Kokila," or "the Nightingale of India," for her outstanding poems. Mahatma Gandhi gave her this name because of the poetry's poetic beauty, vivid imagery, and colour. The Bird of Time: Songs of Life, Death, and the Spring, a collection of her poems, was released in 1912.
My Inspiration
Sarojini Naidu made an exceptional and unparalleled contribution to the freedom struggle in India. She inspired me greatly. I was incredibly motivated by learning about her in History and English books. I've always aspired to be like her and positively contribute to my nation. At the height of the liberation struggle, she served as a vast source of inspiration for young people across the country, and she still does now.
Sarojini Naidu poems, stories and other pieces of literature leave a mark behind, from which I always get my inspiration to be like her. Her concepts of integration laid the groundwork for unity. India's Nightingale will always serve as an appreciation to people of all ages.
500 Words Essay on Sarojini Naidu
Education and Early Life
On February 13, 1879, Sarojini Naidu was born in Hyderabad, Andhra Pradesh, India. Her father, Aghori Nath Chattopadhyay, graduated from Edinburgh University as a science engineer. Since she was a little child, she had displayed evidence of extraordinary talent. She became known as the "Nightingale of India." She aced her high school examinations and enrolled in King's College London and Girton College at the University of Cambridge to continue her education.
She was one of the select few people who married outside their caste. Before independence, inter-caste unions were unusual, but Sarojini Naidu disregarded the convention at the age of 19 and wed Pandit Govind Rajulu Naidu.
Sarojini Naidu's Work
Sarojini Naidu started writing when she was pretty young. While still in school, she wrote the Persian play Maher Muneer, and even the Nizam of Hyderabad praised it. The Golden Threshold, her debut collection of poems, was released in 1905. Even today, the range of her poems is recognised. She has written poetry for children and more critical poems that explore topics like patriotism, tragedy, and romance.
Additionally, numerous lawmakers praised her work. Her most well-known poem, In the Bazaars of Hyderabad, may be found in The Bird of Time: Songs of Life, Death, & the Spring, which she published in 1912. This poem has received high recognition from critics for its superb imagery. Her daughter published her collection The Feather of the Dawn after her passing as a tribute to her.
Sarojini Naidu's Contribution
Following the partition of Bengal in 1905, Sarojini Naidu joined the Indian independence movement. She made several trips around India between 1915 and 1918, giving talks on nationalism and social welfare and inspiring people. The Women's Indian Association was founded in 1917 with assistance from Sarojini Naidu.
She joined the Satyagraha movement founded by Mahatma Gandhi in 1920. She was detained for participating in the 1930 Salt March with many other well-known leaders and freedom fighters.
She was one of the key leaders who spearheaded the Quit India and Civil Disobedience movements. She persisted in her campaign for India's independence despite being detained numerous times. She became India's first female governor when she was chosen to lead the United Provinces when India eventually attained that goal.
My Patriotism
Sarojini Naidu made a tremendous and unparalleled contribution through her writings to fight for Indian independence. She awoke a sense of patriotism in me. Through her, I understood how important it is to be patriotic and how important it is to have loyalty. She will always be my role model and my inspiration.
The entire nation and I will always be indebted to her. I shall look up to her and her poems and do something my country would be proud of as it was of her. All women continue to find inspiration in Sarojini Naidu. She accomplished everything she set out to do as a woman and never let anything become a weakness. She gave women agency and set a standard that is still followed today.