Technology In Education Essay
Essay On Technology In Education- Technology makes education very easy. Technology is now essential to maintaining society, and it will definitely have an impact on education. In today's life, technology has made study easier. Here are 100, 200 and 500 word essays on Technology In Education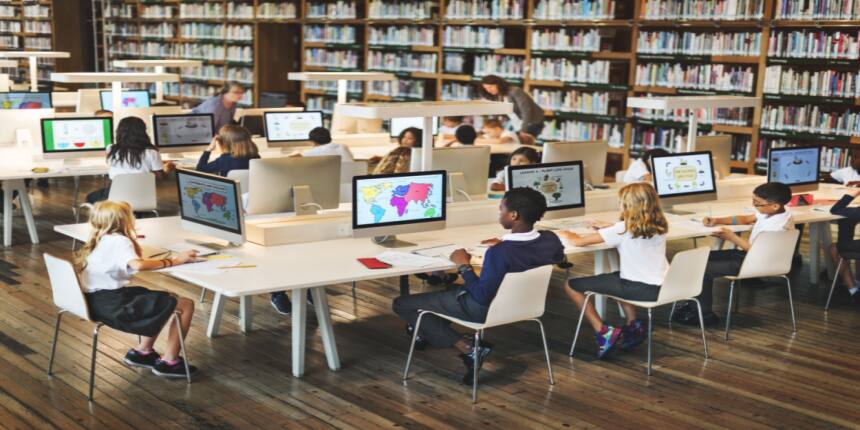 Technology plays a huge part in education. The students' learning process gets simpler as technology advances. Students can easily learn the concepts thanks to technologies utilised in schools and universities, such as computer labs and high-end equipment and instruments. In today's life, technology has made study easier. Here are some sample essays on Technology In Education
100 Words Essay On Technology In Education
Technology makes education very easy. Technology is now essential to maintaining society, and it will definitely have an impact on education. Previously teachers didn't allow students to use technology in education. Today's everything is connected to technology including education,communication, etc. Although technology has been a part of our lives for many years, the development and use of technology in education have only lately started to take shape. One of the most crucial things we have now that can help students perform better academically is technology. As technology advances, it creates new opportunities for students to interact and learn through a variety of sources. Online classes are the best example of technology.
200 Words Essay On Technology In Education
The word "technology" is derived from the Greek word "tekhnologia," where "tekh" signifies an art, a skill, etc., and "logy" defines a subject of interest. Technology makes our tasks easy and makes life easy. Today, technology plays a significant role in our lives and offers a digital platform. The term "smart classes" is being used increasingly in schools and colleges, and these classes are the best use of technology.
Technology And Education
Technology made education easy and attractive. Students study because of technology with their mobile phones and laptops.
By using technology, online classes have started, and students love doing smart classes.

Technology keeps students updated on the world and shows the right direction to do good in education.

Through technology, students can read newspapers daily wise. Technology made education easy and attractive.

From technology, schools make their app and take attendance online, which helps the environment also by not using paper and pen.

Technology attracts children more, which helps them to choose their path.
Education should not be done with only books; students should get a chance to explore their knowledge and try something new. Technology is the best thing to explore. By using technology, students' knowledge will grow faster than before.
500 Words Essay On Technology In Education
Technology has become an integral part of education because of different apps and websites. Nowadays, if you want to clear your doubts or to know your syllabus, everything is available online. Nowadays, education is nothing without technology.
Is Technology Helpful In Education?
Yes, technology is helpful to education. Nowadays, you will see the difference in how technology has changed teaching. In older days, students read from their books, and if they faced any problem, they would ask their teachers the next day at school or for tuition.
But nowadays, students clear their doubts by using apps and websites. Due to technology, they can also ask a question or can have live interaction with their teachers personally. Education has progressed a lot.
Technology has made education easy, and today we have multiple options to clear our doubts and interact online with our teachers. Nowadays, we have easy access to the internet, and other helping apps have made education accessible and exciting.
Technology is essential for students. Parents and teachers should permit their children to use technology for their students because time has changed, and the mode of education should also be changed. Students should be given a chance to learn something new and exciting and technology makes it possible.
Different Technologies for Education
Many devices make education easier for students and clear students' doubts. Some of them are-
Laptops | One of the best tools for learning is a laptop. You can obtain information on the Internet either in written form, video form, or audio form. On several applications and websites, you can find tutors who can give you a thorough explanation. Students can acquire extensive information and have their questions answered thanks to it. You may effortlessly visit several educational portals using a laptop.
Smartphone | Smartphones are smaller versions of laptops; you can use them more easily than laptops and take them with you wherever you go. It is user-friendly due to its compact size and simple internet connection. Students can speak with their teacher about questions using a smartphone. Many students have smartphones, which they use for academic purposes. Numerous apps were available for students on mobile devices.
Kindle for Textbooks | Kindle Textbooks are a type of online book. Kindle books are available at half the price of paper books. This helps to reduce the production of paper, which allows our environment and online books to be easily stored. Kindle Textbooks are popular these days. Many students use them.
My Experience
From the 12th standard, I used a smartphone and laptop for education. Technology makes study easier. When I didn't understand something from school, I used to look for those online and try to clear all my doubts by watching topic specific videos. In my school days, I learned different crafts and drawing skills by watching videos online. I used to take help from online videos to understand many science experiments and easy tricks to solve various mathematical questions. Technology in education is perfect for the future because the use of technology in education will bring a drastic change in our education system.