Environmental Pollution Essay
Pollution is the presence of unwanted items in the environment. The state of the environment is altered when it has become contaminated with potentially dangerous compounds as a result of human activity. Water, air, and land are the natural areas most affected by pollution. Here are a few sample essays on environmental pollution.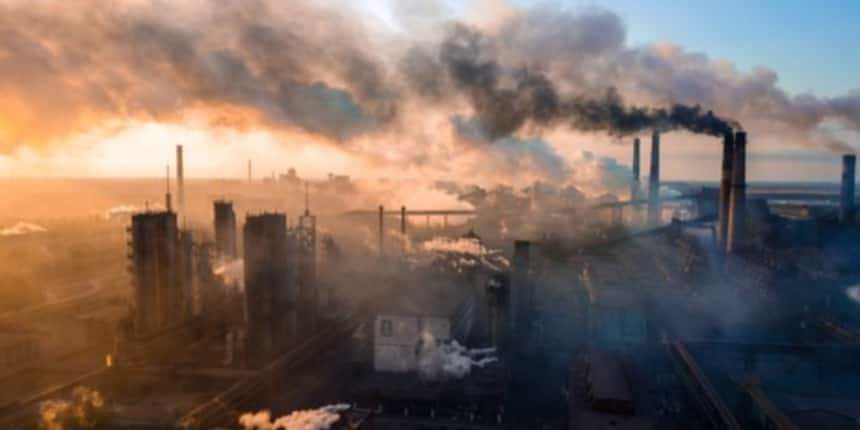 100 Words Essay on Environmental Pollution
When it comes to protecting the environment, education is key. As more and more people become aware of the causes, types, and impacts of environmental pollution, they are more likely to take steps to prevent it. Air pollution is created as a result of burning fossil fuels, such as coal, oil, and natural gas. Water pollution results from industrial activities, such as the dumping of chemicals into rivers and lakes, as well as from agricultural runoff. Land pollution is caused by the misuse of land and improper disposal of waste. The causes of environmental pollution are numerous and varied. Some of the main culprits are industrial activities, burning of fossil fuels, use of pesticides, and deforestation.
200 Words Essay on Environmental Pollution
Education is essential when it comes to protecting the environment from the causes, types, and impacts of environmental pollution. By teaching people the importance of taking steps to prevent environmental pollution, we can ensure a brighter future for our planet. We must understand the causes of environmental pollution, the types of pollution, the impact it has on the environment, and how we can prevent it.
Causes | Environmental pollution is the contamination of the environment through the emissions of pollutants including harmful gases, chemicals, and particulate matter. It is caused by human activities such as burning of fossil fuels, deforestation, and industrial pollution. These activities have caused global warming, acid rain, and water and air pollution, leading to global environmental degradation.
Types | There are different types of environmental pollution. The most common type is air pollution, which is caused by burning of fuels and other industrial activities. Water pollution is another common type caused by sewage and industrial waste. Soil pollution is caused by overuse of pesticides and other chemicals. Noise pollution is caused by traffic, construction activities, and industrial noise. Light pollution is caused by the emission of artificial light.
Impact | The impact of environmental pollution is far-reaching and devastating. Air pollution can lead to respiratory diseases, while water pollution can contaminate drinking water and cause health issues. Land pollution can cause soil erosion and destruction of natural habitats. In addition, it can lead to the destruction of ecosystems, which in turn leads to a decrease in biodiversity.
500 Words Essay on Environmental Pollution
Environmental pollution has serious impacts on both humans and the environment. It affects air quality, water quality, soil fertility, and public health. Poor air quality affects the respiratory system, leading to respiratory illnesses like asthma and bronchitis. Water pollution can lead to the spread of diseases like cholera, typhoid, and dysentery. Soil pollution can reduce crop yields, leading to food insecurity.
Types of Environmental Pollution
Air | Air pollution is the introduction of dangerous compounds into the atmosphere, which has a negative influence on the environment and humanity. Air pollution simply makes the air impure or contaminated. It happens when noxious gases, scents, dust, or fumes are discharged into the air in concentrations that endanger human and animal comfort or health or even kill plant life.
Water | The act of contaminating water bodies, such as rivers, oceans, lakes, streams, aquifers, and groundwater, is known as water pollution. It happens when foreign, dangerous substances—such as chemicals, garbage, or polluted materials—are released into bodies of water, either directly or indirectly.
Land | When the quality of the earth's land surfaces in terms of use, landscape, and capacity to support life forms is compromised or destroyed, this is referred to as land pollution. It is frequently brought on by human activity and the misuse of land resources, both directly and indirectly.
Soil | Chemical pollutants can pollute soil or cause it to degrade through activities like mining, clearing vegetation, or topsoil erosion. Typically, it occurs when human activities bring harmful chemicals, substances, or items into the soil.
Noise | Noise pollution is an unpleasant sound or a sound that causes excruciating ear pain. Noise pollution is described as unpleasant and unwanted sound levels that cause significant distress to all living beings. It is measured in decibels (dB).
Factors Responsible For Environmental Pollution
Environmental pollution has a variety of causes. One of the most prominent is the burning of fossil fuels, such as coal, oil and gas by power plants, factories and automobiles. This produces large amounts of carbon dioxide, which is a major contributor to global climate change. Other sources of environmental pollution include agricultural practices, such as over-fertilization and the use of pesticides, and industrial processes, such as mining, manufacturing and waste disposal.
What Can We Do
To prevent environmental pollution, we must reduce our emissions of pollutants. We can do this by switching to renewable energy sources like solar, wind, and hydroelectric power. We should reduce our reliance on fossil fuels and use more efficient transportation methods. We should also reduce our emissions of harmful industrial chemicals and practise sustainable agriculture. Additionally, we should increase public awareness of environmental pollution and its impacts, and promote eco-friendly lifestyles.
By understanding the causes and effects of environmental pollution, we can work towards preventing it and ensuring a cleaner, healthier environment for all. Education is essential in this regard, as it helps us to become more conscious and informed citizens. It helps us understand the importance of protecting and preserving the environment and make us more responsible citizens.
The world is facing an ever-growing threat from pollution, which if left unchecked will have catastrophic consequences. Education and taking conscious action can play a key role in helping to reduce environmental pollution.