Essay on Earthquake - An earthquake is a natural disaster that occurs when two tectonic plates collide. The force of the collision creates seismic waves that travel through the earth's crust, causing the ground to shake and buildings to collapse. Here are some sample essays on earthquakes.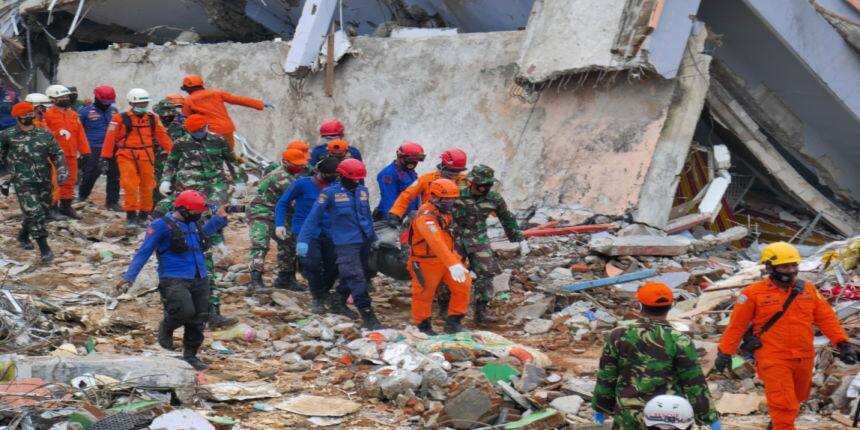 100 Words Essay on Earthquake
Earthquakes can happen anywhere in the world, and although their occurrence is not predictable, there are some things you can do to make yourself more prepared in case one does strike. This includes having an earthquake kit ready to go, knowing how to drop, cover and hold on, and staying informed about any potential risks in your area. Make sure you have an emergency kit stocked with food, water, and other supplies, and know what to do when an earthquake hits. If you're not sure what to do, it's best to stay away from windows and other objects that could fall on you, and head to a safe place.
200 Words Essay on Earthquake
Earthquakes are a natural disaster that come with a lot of dangers. The shaking and movement of the earth can cause buildings to fall down, trapping people inside. The shaking caused by such a sudden change is usually very minor, but large earthquakes sometimes cause very large shaking of the land. The shaking waves spread from the spot at which rock begins breaking for the first time; this spot is called the center, or hypocenter, of an earthquake.
If you're inside when an earthquake starts, drop to the ground and cover your head. The earthquake's magnitude is related to the amount of earthquake energy released in a seismic event.
Different Types of Earthquakes
There are three types of earthquakes:
Shallow | A shallow earthquake is when the earthquake's focus is close to the surface of the Earth. These earthquakes are usually less powerful than the other two types, but can still cause a lot of damage.
Intermediate | Intermediate earthquakes have a focus that's located between the surface and the Earth's mantle, and are usually more powerful than shallow earthquakes.
Deep | Deep earthquakes have a focus that's located in the mantle, which is the layer of the Earth below the crust. They're the most powerful type of earthquake, and can even cause damage on the surface.
500 Words Essay on Earthquake
An earthquake can cause damage to buildings and bridges; interrupt gas, electrical, and telephone services; and occasionally trigger landslides, avalanches, flash flooding, wildfires, and massive, destructive waves of water over oceans (tsunamis).
The Dangers Associated With Earthquakes
The shaking of the ground can cause objects to fall off shelves and injure people. If you're outside when an earthquake starts, move away from tall buildings, streetlights and power lines.

An earthquake can also cause a tsunami, or a large wave, to form and crash onto the shore. Tsunamis can be very dangerous and can reach heights of over 100 feet.
How to Prepare for an Earthquake
When an earthquake is imminent, your first step should be to find a safe spot. The most ideal spots are under sturdy furniture or inside door frames. It is best to stay away from windows and anything that can fall over.
Once you've found the safest place, it's time to prepare for the shaking. Grab some blankets, pillows and helmets if possible – all of which can provide extra cushioning against falling objects.
Additionally, you should always keep an eye out for debris that could cause injuries, such as broken glass and sharp objects.
Finally, stay calm until the shaking stops, and monitor local news reports for additional information on how best to handle the situation.
What to do During an Earthquake
The moment an earthquake hits, it is important to stay as calm and collected as possible. Safety is the first priority so you must stay away from windows and furniture that can fall on you, and protect your head with your arms if needed.
If an earthquake occurs while you are indoors, stay away from anything that could fall or break such as windows, mirrors, or furniture. Do not run outdoors as shaking can cause glass and other materials to fall from the building structure. Instead, seek shelter under sturdy tables or desks. If there is no furniture available, move to a corner of the room and crouch down protectively with your arms over your head and neck.
It's also important to take note of any gas lines that could be affected during an earthquake and shut them off if necessary in order to prevent fires from breaking out due to exposed pipes.
After the Earthquake: Recovery and Assistance
When the shaking stops, there will be a period of recovery.
Don't enter any building if it has visible damage due to the earthquake - it's better to be safe than sorry.

You should contact local aid organisations like the Red Cross for additional help with sheltering, water, food and other essentials.

Stay in touch with local officials about any services provided for those affected by the earthquake.

Make sure you also have a plan for what to do if you're stuck in an earthquake, and know how to get in touch with loved ones in case of an emergency.
By being prepared and knowing what to do, you can help ensure that you and your loved ones are safe in the event of an earthquake.