A Visit to a Hill Station Essay
Visits to hill stations can be full of fun and new experiences. Travelling is a great method to gain a lot of life experience and also meet new people. Every year, a large number of people travel all across the world. Some people travel to expand their knowledge, while others go to escape the daily hassle of their lives and take a break.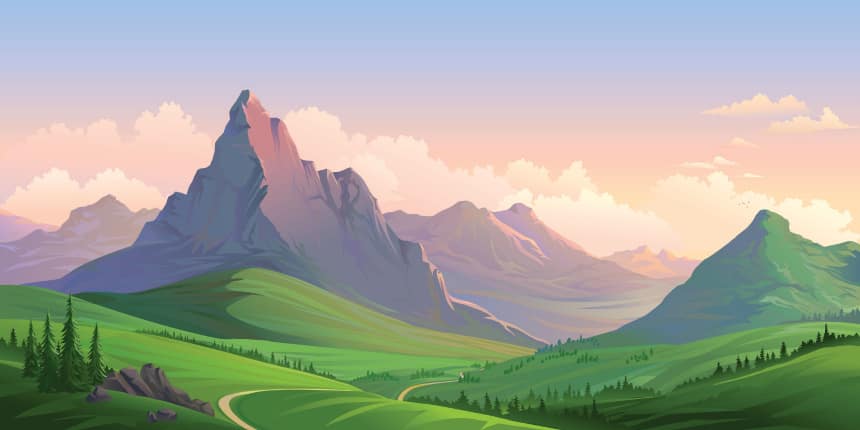 The following essays on a visit to a hill station can help you come up with new ideas and write creative essays for your school projects and also improve your vocabulary, grammar and writing skills.
100 Words Essay on A Visit to a Hill Station
My family and I took a holiday to Mussoorie for my summer holidays. We took a train to Dehradun and then took a bus to Mussoorie from there. We arrived in the late afternoon and checked into a beautiful hotel. Mussoorie is one of India's many hill stations. It is also known as the "Queen of Hill Stations." It has lots of lovely places. The following morning, after breakfast, we visited the town. We went to the Landour, Library, and Kulri markets. They were all crowded with tourists. We took a stroll along the Mall and CamelBack Road after lunch. We also visited Kempty Fall the next day—the weather was amazing. The tall, green trees that cover the mountain slopes make for a lovely spectacle at dusk making Mussorie a wholesome place to visit.
200 Words Essay on A Visit to a Hill Station
Last December, I travelled with my family to Manali. It is a great place with lovely hills, lovely surroundings, and active streets. We were treated to a beautiful wonderland. Snow enveloped the picturesque town of Manali. We drove to the hotel, rested for a little, and then headed to the Manu temple. Its location is renowned for providing beautiful views of the valley. We then visited another well-known Hadimba temple. There were many sights to view in Manali, and some of them and some events had a greater emotional impact on us than others, such as paragliding and parachuting was an eye opening experience for me and made me see the beauty in the world.
I also had my first ever ice-skating experience where I kept falling but it was still a lot of fun. On the way back to our hotel, it started snowing and I was in a complete awe of it. We stayed in Manali for another two days and stopped by in Shimla on our way back. We visited the temples there and also took a leisure walk on the mall road and enjoyed the street food. This was one of the best and most treasured trips of my life.
500 Words Essay on A Visit to a Hill Station
Every summer, a quick vacation to a hill station is exciting and highly alluring. Everyone seeks to escape the harsh heat in order to relax and revitalise. During my summer holiday, my entire family and I travelled to Shimla. Shimla is the capital of Himachal Pradesh, which during the British era also served as the summer capital of India for six of the country's hottest months.
My mother, brother, and sister were all looking forward to the journey to this lovely hill station. We decided to take the train because we love taking rail trips. Early in the morning, we boarded the train headed for Shimla, passing through these beautiful green spaces, tunnels, and picturesque mountains. We were completely captivated by the scenery of numerous other hill towns, like Solan, Jakej, Kumarhatti.
Places We Visited
Since the Shimla railway station is practically at the bottom of the town, it turned out to be quite a hike to the hotel. But it was absolutely worth it because our view from the hotel was breathtaking. We rested for a while and chatted with the hotel manager about our options for sightseeing.
Mall Road | We then went to the Mall Road in the evening and enjoyed street food, coffee shops and vintage book stores. We also saw upscale stores, elegant hotels, restaurants, a few bars, coffee shops and a Post & Telegraph office along the Mall road route.
Hanuman Temple | We went to visit Hanuman Temple the next morning— it is a well known temple for devotion and sightseeing and is frequently visited by both locals and tourists. It's a good spot for a picnic as well. There were a lot of monkeys who were being fed bananas and peanuts by the visitors to keep them from acting hostile. My little sister became rather frightened of them but they were harmless.
Lakkar Bazaar | In the late evening we saw a winding road leading to a beautiful small Lakkar Bazaar beyond the ridge. There were numerous stores that offered and showed wooden crafts. For my grandfather, my mother purchased a stylish walking cane. She bought my grandmother a woollen shawl from a bazaar shop. We ended our night with a light meal and walked back to the hotel.
Mashobra Village | Towards the end of our trip, we decided to go to Mashobra—a small village north of Shimla. It is popular for its apple orchards and a horticulture research facility. The village's population was only around 900 people. They were friendly to tourists and held small businesses and shops to earn a living. We also visited Shimla airport, and the Anadale grounds that have a helipad.
Our week-long trip to Shimla came to an end sooner than I expected. We took a car back to Delhi. I met new people and got to know about their experiences of living in small cities and hill stations. This trip was not just fun but also educational in many ways. I'll always cherish the memories I had of my trip to Shimla.