2 Minute Speech on Covid-19 (CoronaVirus) for Students
The year, 2019, saw the discovery of a previously unknown coronavirus illness, Covid-19. The Coronavirus has affected the way we go about our everyday lives. This pandemic has devastated millions of people, either unwell or passed away due to the sickness. The most common symptoms of this viral illness include a high temperature, a cough, bone pain, and difficulties with the respiratory system. In addition to these symptoms, patients infected with the coronavirus may also feel weariness, a sore throat, muscular discomfort, and a loss of taste or smell.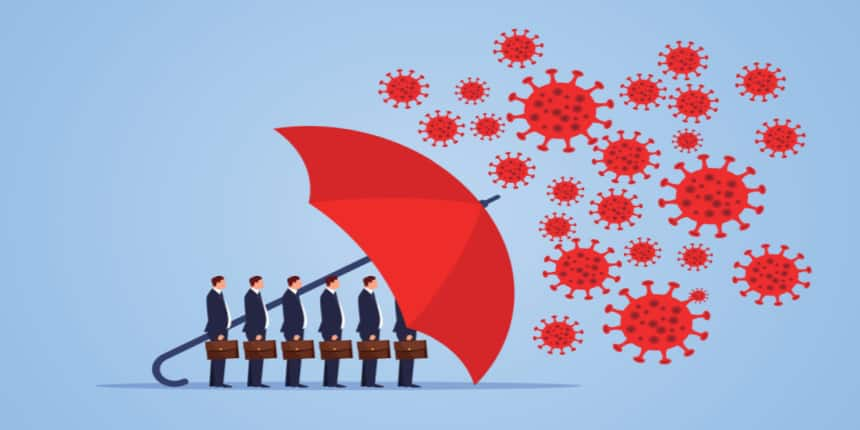 10 Lines Speech on Covid-19 for Students
The Coronavirus is a member of a family of viruses that may infect their hosts exceptionally quickly.

Humans created the Coronavirus in the city of Wuhan in China, where it first appeared.

The first confirmed case of the Coronavirus was found in India in January in the year 2020.

Protecting ourselves against the coronavirus is essential by covering our mouths and noses when we cough or sneeze to prevent the infection from spreading.

We must constantly wash our hands with antibacterial soap and face masks to protect ourselves.

To ensure our safety, the government has ordered the whole nation's closure to halt the virus's spread.

The Coronavirus forced all our classes to be taken online, as schools and institutions were shut down.

Due to the coronavirus, everyone was instructed to stay indoors throughout the lockdown.

During this period, I spent a lot of time playing games with family members.

Even though the cases of COVID-19 are a lot less now, we should still take precautions.
Short 2-Minute Speech on Covid 19 for Students
The coronavirus, also known as Covid - 19, causes a severe illness. Those who are exposed to it become sick in their lungs. A brand-new virus is having a devastating effect throughout the globe. It's being passed from person to person via social interaction.
The first instance of Covid - 19 was discovered in December 2019 in Wuhan, China. The World Health Organization proclaimed the covid - 19 pandemic in March 2020. It has now reached every country in the globe. Droplets produced by an infected person's cough or sneeze might infect those nearby.
The severity of Covid-19 symptoms varies widely. Symptoms aren't always present. The typical symptoms are high temperatures, a dry cough, and difficulty breathing. Covid - 19 individuals also exhibit other symptoms such as weakness, a sore throat, muscular soreness, and a diminished sense of smell and taste.
Vaccination has been produced by many countries but the effectiveness of them is different for every individual. The only treatment then is to avoid contracting in the first place. We can accomplish that by following these protocols—
Put on a mask to hide your face. Use soap and hand sanitiser often to keep germs at bay.

Keep a distance of 5 to 6 feet at all times.

Never put your fingers in your mouth or nose.
Long 2-Minute Speech on Covid 19 for Students
As students, it's important for us to understand the gravity of the situation regarding the Covid-19 pandemic and the impact it has on our communities and the world at large. In this speech, I will discuss the real-world examples of the effects of the pandemic and its impact on various aspects of our lives.
Impact on Economy | The Covid-19 pandemic has had a significant impact on the global economy. We have seen how businesses have been forced to close their doors, leading to widespread job loss and economic hardship. Many individuals and families have been struggling to make ends meet, and this has led to a rise in poverty and inequality.
Impact on Healthcare Systems | The pandemic has also put a strain on healthcare systems around the world. Hospitals have been overwhelmed with patients, and healthcare workers have been stretched to their limits. This has highlighted the importance of investing in healthcare systems and ensuring that they are prepared for future crises.
Impact on Education | The pandemic has also affected the education system, with schools and universities being closed around the world. This has led to a shift towards online learning and the use of technology to continue education remotely. However, it has also highlighted the digital divide, with many students from low-income backgrounds facing difficulties in accessing online learning.
Impact on Mental Health | The pandemic has not only affected our physical health but also our mental health. We have seen how the isolation and uncertainty caused by the pandemic have led to an increase in stress, anxiety, and depression. It's important that we take care of our mental health and support each other during this difficult time.
Real-life Story of a Student
John is a high school student who was determined to succeed despite the struggles brought on by the Covid-19 pandemic.
John's school closed down in the early days of the pandemic, and he quickly found himself struggling to adjust to online learning. Without the structure and support of in-person classes, John found it difficult to stay focused and motivated. He also faced challenges at home, as his parents were both essential workers and were often not available to help him with his schoolwork.
Despite these struggles, John refused to let the pandemic defeat him. He made a schedule for himself, to stay on top of his assignments and set goals for himself. He also reached out to his teachers for additional support, and they were more than happy to help.
John also found ways to stay connected with his classmates and friends, even though they were physically apart. They formed a study group and would meet regularly over Zoom to discuss their assignments and provide each other with support.
Thanks to his hard work and determination, John was able to maintain good grades and even improved in some subjects. He graduated high school on time, and was even accepted into his first-choice college.
John's story is a testament to the resilience and determination of students everywhere. Despite the challenges brought on by the pandemic, he was able to succeed and achieve his goals. He shows us that with hard work, determination, and support, we can overcome even the toughest of obstacles.