Holi is known as the festival of colours. It is one among India's most significant celebrations. Hindus celebrate Holi every year in March, and it is a time of enthusiasm and excitement. People celebrating this festival eagerly anticipate it each year so they can enjoy delicious food and colourful games. Here are a few sample essays on Holi festival.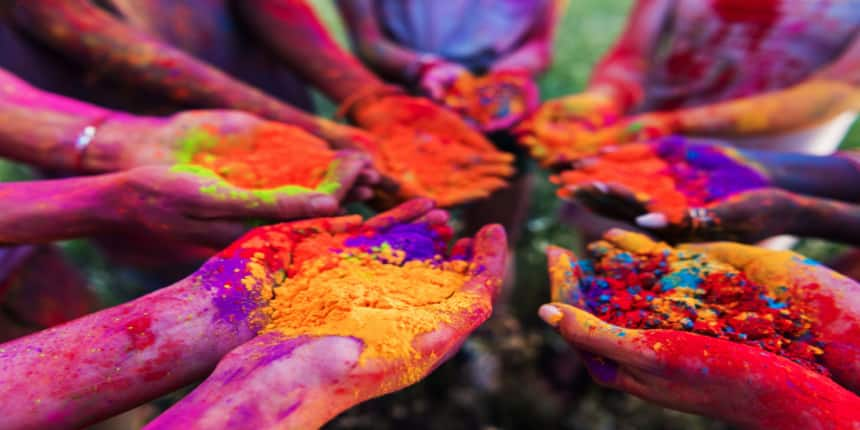 100 Words Essay on Holi Festival
Every spring, the celebrated Hindu festival of Holi takes place. It is a celebration of colour when people, buildings, and streets are all painted in different shades. Because people play with colours, forget old resentments, and restore relationships, it is also known as the festival of love.
A large bonfire is set on fire in the streets as a depiction of Holika Dahan (the burning of the demon Holika), which symbolises the victory of good over evil. Choti (small) Holi, the first day of the two-day event, begins the night before the main festival. The next day, individuals engage in colour-related activities and spend the evenings visiting one another while exchanging sweets. People spend almost a week visiting friends and relatives.
200 Words Essay on Holi Festival
Holi festival is one of India's most important holidays, celebrated with energy, zest, and excitement. It is also known as the festival of colours because people play with colours and splash colours on one other during this time. Holi also represents the victory of good over evil since it was on this day that the wicked monarch Hiranyakashyap was slain by Narsimha, the half-man and half-lion avatar of Lord Vishnu who also rescued Prahlad, a follower of him.
Holi celebrations begin several days before the holiday when people begin purchasing colours, balloons, food supplies for the production of cuisines, and so on. Children are the ones that become the most enthusiastic about Holi and begin enjoying it early by showering colours on their pals with water guns called 'pichkaris'. Markets in towns and villages are adorned with gulals, colours, and pichkaris, among other things.
Holi is also a celebration of peace, with friends and relatives gathering in the evenings or visiting friends, family, and neighbours to welcome them with colours and sweets. The mouthwatering Holi sweets such as 'gujiya,' 'laddoos,' and 'thandai' give flavour to the festive season. During Holi festival, people embrace each other and make a fresh beginning by erasing all their hatreds and sorrows.
500 Words Holi Festival Essay
India's most significant celebration, Holi festival, is vibrant and colourful. Hindus commemorate it every year on Purnima, also known as "pooranmashi," which falls in March (Falgun). People anxiously anticipate this celebration and take pleasure in eating delectable delicacies and experimenting with colour. Early in the morning, kids leave their houses with coloured chalk and pichkari to play with friends. People begin preparing food for the Holi festival, particularly delectable meals, sweets, chips, and namkeen to welcome their neighbours, friends, and family.
Story of the Holi Festival
Holi festival has been celebrated for years in India, and there are numerous myths and traditions surrounding it. It is a significant occasion. According to Hindu legend, the festival of Holi is said to have begun long ago when Holika was burned in the flames while attempting to burn her nephew to death.
When Prahlad refused to serve the demon king Hiranyakashyap since he was a great devotee of Lord Vishnu, Hiranyakashyap allegedly attempted to murder his son in the fire. When Hiranyakashyap's attempts to murder Prahlad were unsuccessful, he told his sister, Holika, to sit in the fire while holding Prahlad on her lap as punishment for never being burned by fire.
This tactic, however, was equally unsuccessful since Prahlad was a follower of Lord Vishnu and was rescued by his God. Prahlad escaped the fire unscathed, but Holika was burned. Hindus have been celebrating Holi every year since that time.
A Look into Holika's Customs
People create a pile of wood on the crossroads the day before Holi and burn it as a symbol of Holika as part of the "Holika Dahan" festival. Additionally, people worship the burning Holika by circling it repeatedly to burn away their sins and illnesses to get blessings of wealth and good health. Another tradition in north India is to massage the body with mustard paste before burning it in the Holika fire to purge the body of all illnesses and ills.
Celebration of Holi
After "Holika Dahan," people get together the next morning to celebrate the colourful holiday of Holi by hurling colours at one another in good fun. One week before the major event, Holi preparations get underway. A week before the event, people—especially kids—start purchasing various colours with great enthusiasm.
They begin using "pichkari" and little water balloons to play colour games with their friends, neighbours, and family. The festivities begin early in the morning when individuals visit their friends and family and colour them. Holi treats include "gujhiya," "sweets," "pani puri," "dahi bade," and chips, among other things, which are loved by both the visitors and the hosts.
Holi festival is a celebration of colour that is cheerfully observed. Prepare to get wet and colourful, but take care to keep both yourself and others safe. On this day, people let go of their inhibitions, meet new people and mend broken connections. We should be jovial, yet also considerate to others and avoid bothering others needlessly, and have a calm demeanour at all times. Last but not least, we should play Holi with only natural colours.