Clean India Green India Essay
100 Words Essay On Clean India Green India
Clean India and Green India are national programmes aimed at improving the country. In 2014, a campaign called "Clean India" was started—Swachh Bharat Abhiyaan or the Clean India Movement were the other names for this campaign. The programme was launched by Prime Minister Narendra Modi by cleaning the streets. With numerous people taking part, this campaign was the biggest one ever. Garbage poses a serious danger to a country's growth and success in the modern economy. Industrialization and commercialization have only served to aggravate this issue. Therefore, as responsible citizens of this country, it is our responsibility and duty to do everything to keep our environment clean and green.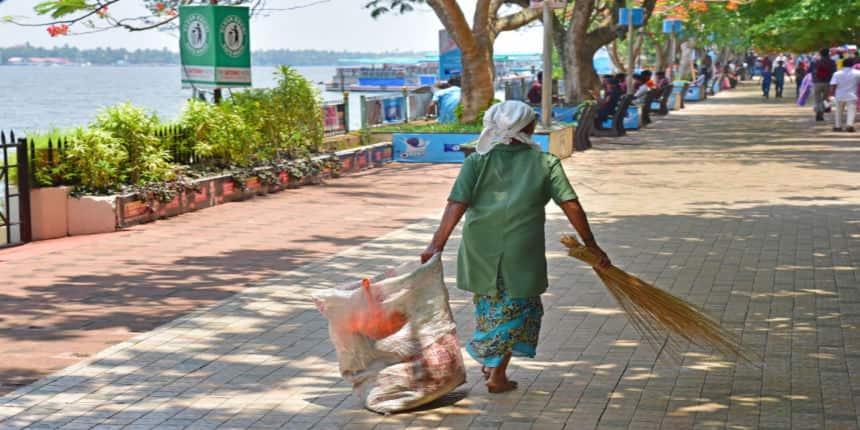 200 Words Essay On Clean India Green India
Our carbon footprint has significantly grown since the Industrial Revolution. Greenhouse gases include carbon dioxide and other exhaust gases from cars and factories. Ironically, life depends on the greenhouse effect, which is a natural occurrence. If this phenomena didn't exist, the earth would swiftly lose heat and freeze. However, if substantial amounts of these gases continue to exist, the greenhouse effect will be amplified.
This may lead to an increase in global average temperatures and the melting of the polar ice caps. As a result, both individuals and the ecosystem suffer from this. The ecology may become unbalanced and endangered animals may go extinct. It can also have negative effects on the climate, often leading to loss of life and property destruction.
It is our duty to keep our surroundings clean, especially any public areas like parks, tourist attractions and restrooms. We should refrain from dumping trash everywhere, whether on the ground or in public spaces. Dustbins should be used in their place to maintain such areas clean. The ideal method to develop this habit is to launch a cleaning campaign in our home, kitchen, living space, and community. It is imperative that we preserve the natural splendour and purity of our surroundings before it is too late.
500 Words Essay On Clean India Green India
Clean India Green India is a nationwide effort launched by the Indian government. Mahatma Gandhi, father of the nation, also had a vision for a clean India. People are what make up a nation. Therefore, it is essential to alter public perceptions of the fight against sanitation. Change ought to be implemented logically. Budgets and programmes that prioritise Panchayats and rural communities' sanitation needs should be sufficient. Every Indian citizen should have the vision of a Clean India, Green India. The mission is the ideal development movement for India since it promotes sustainable growth in the nation.
Benefits Of Clean India Green India Campaign
We are less prone to get sick if we maintain ourselves and our surroundings clean. The unclean atmosphere around us promotes diseases like malaria, dengue fever, and others. We must maintain a clean, healthy atmosphere if we want to reduce our risks of becoming ill.

Cleanliness is beneficial to the mind—stress and despair are decreased. It keeps us energised and inspired.

The campaign has lessened open defecation by building individual, group, and public restrooms.

There has been a transform from the unsanitary restrooms into flush restrooms.

A promotion of healthy sanitation habits through behavioural changes and connecting people to sanitation and public health programmes has taken place.

People are now utilising solid waste disposal, reuse, and recycling techniques.
What We Can Do
So, the following are some methods that we use to go green and go clean—
Plastic is one of the main causes of environmental degradation, so it is crucial that we stop using it and replace it with materials based on wood in our houses. To lessen the impact of plastic on the environment, we must also use jute or paper bags rather than plastic ones.

We can always recycle and reuse objects to cut down on waste and pollution in the environment. For example, worn-out and discarded items can be utilised as décor and other things in homes and workplaces.

We can help save trees by printing on both sides of the page, utilising hand dryers in place of paper towels, and using reusable goods instead of toilet paper and throwaway towels. Additionally, we need to grow trees and other plants around our homes to maximise the amount of greenery there is.

We must utilise dustbins effectively if we are to achieve cleanliness. We should dispose of our trash in dustbins rather than on the roads and streets.

Awareness-raising campaigns must be performed in order to achieve community cleanliness and greenery. We must inform the public of the advantages of cleanliness and nature.
Since the Swachh Bharat Mission was established, many Indians have given cleanliness considerable consideration. People started doing daily cleanups of their surroundings and proper rubbish disposal. Additionally, Green India addresses the issue of climate change. The government wants to minimise greenhouse gases, which are the cause of climate change and global warming, by encouraging the growth of trees. In addition, the Indian government changed its energy and economic policies to be more environmentally friendly.