Wheatstone Bridge - Definition, Working Principle, Formula, Application, FAQs
Scientists employ a variety of techniques to examine the world around them. They make observations and collect data using their senses. Some observations are as easy as determining an object's texture and color. Scientists may need to conduct measurements if they wish to learn more about a chemical. One of the most crucial components of science is measurement. Without the ability to quantify, conducting tests and formulating ideas is difficult.
What is
Wheatstone

bridge class 12? Or define

Wheatstone

bridge or state

Wheatstone

bridge :-

A Wheatstone bridge is a set-up for measuring resistance that is unknown. A Wheatstone bridge has four arms (resistors), with two of the resistors having a fixed ratio. The other two arms are balanced, with one arm having an unknown resistor and the other arm's resistance being variable. The balance or null condition is used to calculate the unknown resistance. The Wheatstone bridge circuit provides a very accurate resistance measurement. For AC circuits, various variations of the Wheatstone bridge are employed. Meter bridges, Carey Foster bridges, Wien bridges, and other instruments based on the Wheatstone bridge idea exist.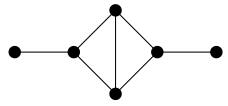 Wheatstone bridge formula:
The formula for constructing a Wheatstone bridge is as follows:
R= (P.S)/Q
Where,
R stands for "unknown resistance."
S is the bridge's standard arm.
P and Q are the bridge arm ratios.
Also read -
Principle of Wheatstone bridge class 12-
Wheatstone bridge derivation
The Wheatstone bridge circuit is seen in the diagram above. R1, R2, R3, and Rx are four resistors placed in a quadrilateral ABCD pattern. Through the key K1, the points A and B are connected to a battery E.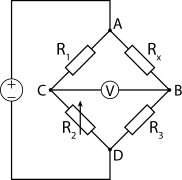 Through the key K2, the points B and D are connected to a galvanometer G.
The resistances are chosen in such a way that the galvanometer needle does not deflect and the current IG. flowing through it is zero. This is referred to as the bridge's null condition or balanced condition. R1/R2 Equals R/S in this situation.
Instead of S, an unknown resistor is attached, and the resistor R can be changed. The ratio arms are sometimes referred to as the resistors R1 and R2. The R1/R2 ratio is kept constant, and R is set to a value that meets the null condition. The unknown resistance comes from,
(R2.R1)/R3=Rx
Application of Wheatstone bridge-
An ideal ammeter should have zero resistance, and an ideal voltmeter should have infinite resistance, however this is impossible to achieve in practice. As a result, this circuit is unable to provide precise readings. In such instances, a Wheatstone bridge circuit can be used to get extremely exact measurements. The Wheatstone bridge circuit has been adapted in two ways for experimental purposes:
Box at the post office
Bridge with meter
Some materials (such as semiconductors) have temperature-dependent resistance. When compared to typical resistors, the variances are rather considerable. Thermistors are what they're called. The Wheatstone bridge system wheatstone bridge uses thermistors to detect small temperature changes.
The unknown resistor in a Wheatstone bridge circuit can be replaced with a photoresistor to measure changes in light intensity. A photoresistor's resistance is proportional to the amount of light it receives.
Strain and pressure can also be measured using the Wheatstone bridge.
Limitations of Wheatstone bridge-
The Wheatstone bridge is a delicate device. In an off-balance situation, measurements may not be precise.
Wheatstone bridges are commonly used to measure resistances of a few ohms to a few kilo-ohms.
If the four resistances are not equivalent, the circuit's sensitivity is reduced.
Some important points-
Samuel Hunter Christie devised the Wheatstone bridge circuit, which was later refined by Charles Wheatstone.
In AC circuits, many variations of the Wheatstone bridge can be used to measure impedance, inductance, and capacitance.
Maxwell improved the Maxwell bridge circuit, which is used in AC circuits.
Also check-
Frequently Asked Question (FAQs) - Wheatstone Bridge - Definition, Working Principle, Formula, Application, FAQs
Question: What is the Wheatstone bridge principle, and how does it work?
Answer:
The Wheatstone bridge operates on the null deflection principle, which states that their resistance ratios are equivalent and that no current flows across the circuit.
Question: When do you think the Wheatstone bridge will be balanced?
Answer:
When no current passes through the galvanometer, the Wheatstone bridge is considered to be balanced. By modifying the known and variable resistances, this condition can be attained.
Question: When is it reported that the Wheatstone bridge is unbalanced?
Answer:
The bridge is unbalanced under normal conditions, with current flowing via the galvanometer.
Question: What are Wheatstone bridge's limitations?
Answer:
The resistance of the leads and connections becomes significant when measuring low resistance, introducing an inaccuracy.