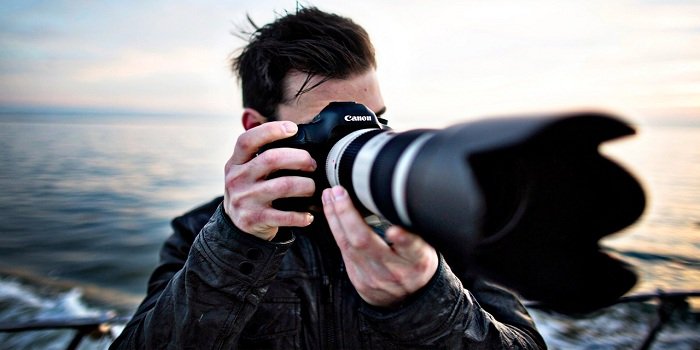 Career as a Photographer – Have a camera and love clicking pictures? To take your creativity to the next level and make a living out of it too, a career as a photographer is what you need. A career in Photography blends both artistic and technical acumen, and like in most other arts, needs practice and perseverance. Photographers produce and preserve images that paint a picture, tell a story, or record an event. With demand for photographers rising in every arena, demand for a career in photography is bound to rise in the coming times. Although making a career as a photographer does not require any specific academic qualification, its advisable to complete bachelors and masters degree after school to get acquainted with the basics and advanced of camera, apertures, gaining confidence with regards to communication and knowledge. To know more about making a career in photography, read the complete article below. 
Skills required to make a career as a photographer
Whether a photographer decides to work for someone else, or freelance, in addition to technical proficiency, a photographer needs certain soft skills or personal qualities listed below. 
Artistic Ability: Photographers are artists who must have the creativity to come up with ways to tell stories using images. They must have the knowledge of using colour, light, and composition.

Interpersonal Skills: You must be able to understand your client's needs, read their body language, and coordinate your actions with theirs.

Communication Skills: Excellent listening and speaking skills allows photographer to understand others and help explain things to them.

Customer Service: Photographers must provide excellent service to their clients in order to attain repeat business and positive word-of-mouth which are essential to success.

Business Skills: A photographer must know how to market himself/herself. 
A photographer must develop a portfolio to showcase his or her work. He or she will be required to show it to potential employers and clients. A portfolio is an accumulation of photographs taken over the years. It does not only include an artist's best work but should also include pieces that demonstrate the process he or she took to create a final product. 
Career as a photographer: Education Requirements
You must be wondering as to what kind of education do you need to become a photographer? Well, a career as a photographer can be made without any specified qualification but to ensure an easy and confident entry and to prove yourself early in career, one must go for a bachelors or masters degree in Photography after school. You can complete your schooling in Arts, Science or Commerce though many photographers opt for Arts stream for photography is also a form of Art. Mentioned below are different colleges/institutes that offer programmes in photography.
Colleges/Institutes for Photography
| | |
| --- | --- |
| College | Programme |
| College Of Art, University of Delhi, New Delhi | BFA, MFA |
| Sri Aurobindo Centre for Arts & Communication (SACAC), New Delhi | Diploma in Photography |
| The Indian Institute of Digital Art and Animation, Kolkata | B.Sc. and M.Sc. program in photography and cinematography |
| Jawaharlal Nehru Architecture and Fine Arts University, Hyderabad | BFA, MFA |
| Sir JJ School of Applied Art, Mumbai | BFA |
| Osmania University, Hyderabad | BFA |
Career Options in Photography
Photographers use cameras to capture an image. Choosing a career in photography will require one to work in many different areas and often choose an area to specialize in. Photographers may work for a company, but many freelance. They find assignments by advertising or networking.
Portrait photographers take pictures of people and events. They work out of a studio that people visit. and also travel to events like weddings and meetings.
News photographers, or photojournalists work for magazines, newspapers, websites and television stations. They photograph current events and use images to convey information to the public.
Commercial and industrial photographers take pictures for books, magazines and advertisements.
Fine arts photographers sell the pictures they take as art. Their work may be featured in a museum or gallery.
Fashion photographers photograph models in order to highlight a designer's clothes.
Scientific photographers may use specialized equipment to take pictures of cells, bacteria, internal body parts and faraway planets. They may need additional scientific training and may specialize in a specific type of scientific or medical photography. 
Salary of a Photographer
According to Payscale.com, a photographer earns an average salary of Rs.3,45,727 per year initially. A skill in fashion photography is associated with high pay for this job. Most people with this job move on to other positions after 10 years in this career.
 Here is a list of other career options after +2 that you can choose from:
| | |
| --- | --- |
| Career as a Social Worker | |
| Career as an Interior Designer | |
| Career as a Wildlife Photographer  | |
| Career as a Game Designer | |
| Career as a Content writer | |
| Career as a Banker | |
| Career as a Police officer | |
| Career as a Fashion Photographer | |