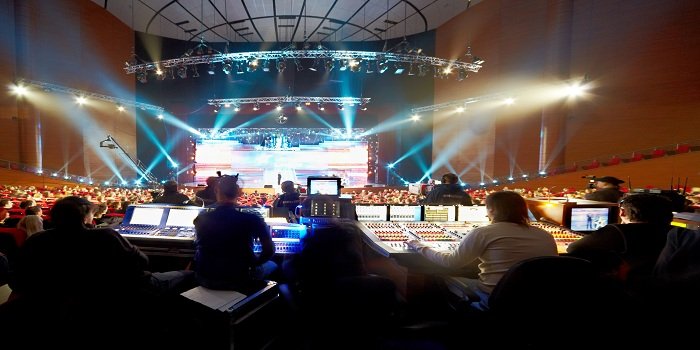 Ranjini Basu, 22 Feb 2018
What goes into the making of an event manager, and how is the profession changing India? Read the complete article below to know more about making a career in event management. Association with all the glamour and glitz, a fast-growing vocation with its all-pervading effect across industries, event management has grabbed the social world and its presence is felt due to the elements of style and panache. It is all about managing a focused and professional event for a certain target audience. Organizing an event means visualizing concepts, planning, executing and budgeting. Priyakshi Goswami, an event manager working with Infinite
Events, says, "Planning is the nucleus to delivering a winning event".
Event Management - How it all began?
Events, big or small, catalyze change and influence the thought process and behaviour of participating members. Business exchanges strengthen alliances resulting in lifelong friendships. Meetings generate 'nouveau' ideas and facilitate learning and are essential both to prevent and respond to a crisis. The very thought of hosting these meetings in an orderly manner by catering to all the physical requirements evolved the idea of dedicating the task to a specific group who would be solely responsible for the accomplishment of the task.
Event Manger - An undercover artist
A true piece of art is the product of an irresistible urge and untiring efforts of an artist. This statement is much akin to the motto of the event planning industry. It is indeed a work of art to organize an occasion, keeping in mind multiple parameters. Career in event management requires one to understand the intricacies of the client brand/company, identify the target audience, devise the event theme, plan the logistics, and coordinate the technical aspects. This industry has spread over events of all shapes and sizes from the Olympics to breakfast meetings for just ten business people. Every industry, charity, society and group make plans in order to market themselves and build business relationships, raise funds for a cause or just to celebrate. Ranajoy Ganguly, a professional event manager working at Idols Communication says, "This job is demanding and primarily requires creative and artistic elements clubbed with planning, technical and logistical elements."
Modus operandi
 Corporates bank on event management companies to help them communicate with the clientele and potential clients. They might target their audience by using the news and social media, hoping to generate overall coverage that will reach thousands of people. They can also invite their audience to their events and reach out to them. Events can broadly be classified into four categories based on their purpose and objective: leisure (leisure sports, music, recreation), cultural (ceremonial, religious, art, heritage), personal events (weddings, birthdays, anniversaries), and organizational events (commercial, political, charitable, sales and product launch). Some of the organizations of repute are Wizcraft, Percept, Tafcon, Pegasus, 70 EMG, Encompass Events, and WOW Events. No event management company organizes all type of events. There are companies, which organize only corporate events; some organize only trade shows while some other may cater only to fashions shows, concerts and wedding events. Therefore, firstly, a decision must be taken as to which events catch your eyes and suit your temperament; then join the company, which is specialized in organizing those events. If you like music concerts, then you can join the company which is specialized in organizing music concerts; if you are interested and closely follow sports, then join a company which organizes sports events. Selecting the right event industry is vital.
How to grow in Event Management?
Aspirants of career in event management do not have to have any minimum qualifying parameters and can choose to join any event management company as a trainee/apprentice. Knowledge, judgement, training, experience, and the ability to plan and manage a successful event take an individual to the pinnacle of success. Degree and certification can act as a head start for candidates desiring to excel in this field. The advantage of the latter option proves beneficial as things are learnt faster. What other people learn over several years through work experience, you can learn in 6 to 12 months through certified event management courses. The minimum qualification required for attaining an event management diploma course, a student is required to have passed 10+2 irrespective of discipline and for pursuing a postgraduate diploma in event management, a bachelor degree in any stream is must. Additional qualifications apart from event management training programmes like MBA, Sports Management and Digital Marketing would aid to fetch a job in the industry. "If you want to have a good career in event management, you should pursue MBA after completion of the graduation degree in any field," adds Roy. Event management companies and media houses are slowly but gradually recognizing the value of certified event professionals.
Colleges/institutes which offer diploma and degree programmes in Event Management are:
National Institute of Event Management (NIEM)

National Academy of Event Management and Development (NAEMD)

National Academy of Media and Events (NAME)

Amity Institute of Event Management

International Institute of Event Management (Maharashtra) - They offer DEM (Diploma in Event Management).
Pecking order in business
The presence of event managers is often behind-the-scenes; seen running around to manage the event. Career in event management may not only be involved in planning and execution of the event, but also in brand building, marketing and communication strategy. An experienced manager exhibits his/her expertise through event design, audio-visual production, scriptwriting, logistics, budgeting, negotiation and client service. The hierarchical ladder of this industry has several layers and it is dependent on the type of events one caters to. It starts (from top) with the event manager/event coordinator followed by his/her team consisting of budget manager, creative team, technical management, talent relations, marketing/PR and catering.
Compensation in Event Management
The remuneration of those who pursue career in event management depends on the company, its nature of work and its clientele. As a fresher, one can earn up to Rs. six lakhs per annum. A person having five to six years of experience can draw Rs. nine to Rs. ten lakhs per annum.