How to become SEO Analyst ?
Want to get your content on a website easily searchable and visible? You can do that if you choose a career as SEO Analyst. The role of an SEO analyst is one of the hottest careers in India at present and looks to grow even further. Read the complete article by Careers360 below to know more about making a career as SEO Analyst. A joke goes 'Where do you bury something you don't want anybody to find out?', 'In the second page of Google' replied a wise man. No matter how informative the content or perfectly functional a website is, all efforts and resources fall flat if it fails to reach the target audience. Of all the jobs and careers which spawned from the rise of the Internet- one such newly created job and career are that of SEO Analyst. SEO analysts are those who make sure that a website shows up on the first page of Google results when users search for it.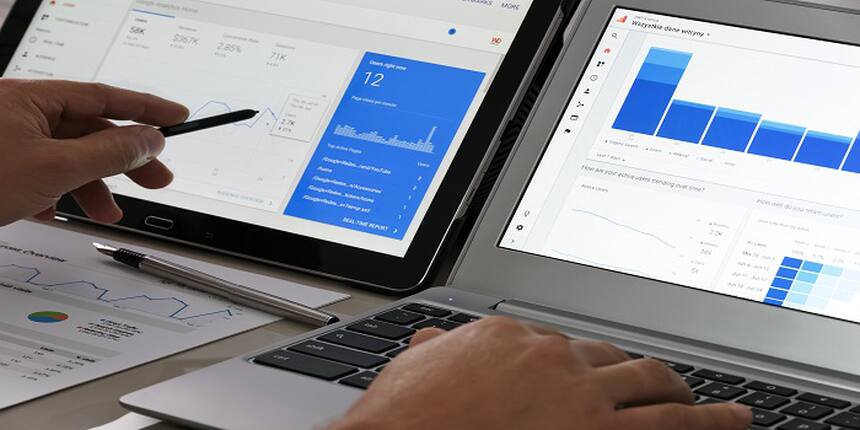 Today's generation not only trusts Google results but also relies on them for its day-to-day decisions. A person with a career as SEO analyst decodes the technical aspects of Google and other search engines to help businesses boost their online visibility and grow the business.
Who is an SEO Analyst?
Search Engine Optimization (SEO) requires that the content on a website is found easily and is visible online. Those with a career as SEO analysts diagnose how a website can improve its ranking on popular search engines like Google, Bing, and Yahoo. Their main goal is to get eyeballs of those consumers who are searching online for the same products or information as offered by the businesses.
SEO Analyst job responsibilities
SEO is a technical-cum-creative field which involves finding most-searched keywords, running paid and organic marketing campaigns, suggesting remedial measures and preparing future strategies for improving online visibility. SEO analysts gather, analyze and compare data about competitors and their own website to determine the volume and traffic on them. They evaluate why a customer is spending more/less on different web pages and recommend how they can be improved in terms of structure and content to serve consumer utility. SEO Analyst monitors and administer web analytics dashboards, reports and key tools of reporting, and point out key areas in accordance with client goals, communicate to team and management on project development, timelines, and results
SEO Analyst designations
A significant number of the SEO/SEM firms, especially the bigger firms, have representatives in these job/categories:
Organic Search Engine Optimization
Local SEO Expert
SEO Guarantee Expert
Social Media Analyst
Offline Marketing/Advertising
Public Relations/Reputation Management
Link Building
Paid Search/PPC Management
SEO Resellers
SEO Analyst qualification
Talking to most SEO professionals reveals that none of them planned their formal education with an aim to become SEO experts. Pursuing the career as an SEO analyst doesn't necessarily call for acquiring particular qualifications, but it is desirable to at least have a graduation degree. Possessing graduation in advertising, marketing, IT and computers may prove more useful in learning SEO skills. Those who don't have a technical educational background can complete certification or diploma courses in digital marketing or SEO, to gain required technical exposure.
SEO Analyst Skills
| | |
| --- | --- |
| Soft skills | Hard skills |
| Curious | Knowledge of HTML, CSS, JavaScript, CMS, etc. |
| Data-driven | MS Excel, MS PowerPoint and MS Word. |
| Analytical | Google Analytics, Google Webmaster, Google Keyword Planner, Google Adwords, etc. |
| Continuous Learner | Pay-per-Click (PPC) and Organic campaigns. |
| Multitasking | Copywriting and content writing. |
| Time Management | Budgeting and Scheduling. |
| Creative | BS/BA degree preferred. |
SEO Analyst Certification
There is a general consensus in the industry that acquiring SEO certifications aren't as important as having a proven experience in executing strategies. SEO experts today started out as practitioners. Beyond that, it has not become possible as yet for industry stalwarts (like Google) to agree on a common curriculum for learning SEO as the dynamics of search engines keep changing. Currently, there is no single certification which is considered standard in SEO. However, candidates can consider below-given resources and SEO certifications to develop their understanding.
Enroll in online courses related to Google Analytics, Webmaster and Social Media Analytics on Coursera, EdX, and others.

Course by Udemy- SEO 2018: Complete SEO Training + SEO for WordPress Websites

Google AdWords Certification

Google Analytics Certification

Inbound Certification by HubSpot Academy

Certification by Digital Vidya
SEO Analysts Interview
Sankar Gopinath
SEO Analyst
India A Haven for SEO Professionals
Careers360: How can one become an SEO Analyst?
Sankar: Career as an SEO Analyst is nearly independent of the education stream one chooses. However, a basic knowledge of HTML, CSS, and JavaScript can give you an edge as SEO has a dual face of technical and non-technical aspects. Technically optimized websites are more receptive to both search engines and humans.
I often suggest learning all Black/Grey hat techniques, and then proceed to White Hat techniques. This will help you to understand when you get into shady areas. Participate in SEO forums for gathering in-depth knowledge, attend live webinars from SEMRush and Whiteboard Friday from Moz and get familiar with tools like Google Analytics, Webmaster and Yoast, among others.
Careers360: What is the scope of SEO Analyst career in India and abroad?
Sankar: India is a haven for those who make a successful career as SEO analyst. Outsourced projects are very common.
Content creation and SEO are more linked today than before. Once Artificial Intelligence (AI) becomes prominent in indexing content, SEO professionals with up-to-date knowledge, technical expertise, and creative lens will be required. Those who are currently in the profession might have to upgrade their skillsets towards content and social media to stay relevant to the industry.
SEO Analyst Salary
With a career as SEO analyst, beginners can expect to earn in the range of Rs. 1.5 to Rs. 4 lakhs annually, while more experienced professionals can look for a salary of Rs. 3 to Rs. 7 lakhs per year and experts with the right knowledge may earn up to Rs. 8 to Rs.13 lakhs per annum.
SEO Analyst Key responsibilities
Analyzing Data and Improving Webpages
Keyword research
On-Page and Off-Page optimization
Running Paid and Organic Campaigns
Keeping track of Google updates