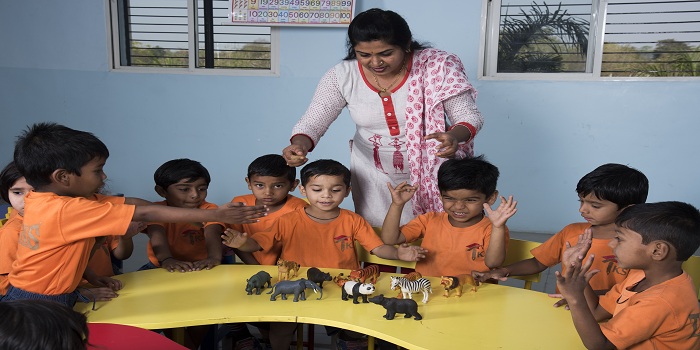 Ranjini Basu, 13 Apr 2018
Remember your favourite teacher in school? Do you wish to become like her/him? What does a career as a teacher promise to those who want to take up this noble profession? Read the complete article below to know more about making a career as a school teacher. If you have an interest in imparting knowledge and are willing to dedicate yourself to others, career as a school teacher is the profession you should go for. After completing education with a consistent academic record, one can opt for a career as a school teacher in schools, colleges, universities, coaching centres, training agencies, as well as in government and private institutions.
Pramod Sharma, Director, Genesis Global School, says, "It can be a rewarding profession both in terms of compensation and social recognition if one has the right skill set and an urge
for continuous progression. School teaching is a rewarding journey in itself and I feel privileged to be a teacher and mentor for those naïve and beautiful minds." Picture of Promod
The approach
Teaching is a noble career in a country like India where education is the ground necessity for growth and inculcating intellectual insights among the young generation. The demand for qualified teachers across levels is high as they are the driving force of the entire education system. Globalization has had a strong impact on the educational standards all over the world. Cultural exchange programmes, international internships, researcher fellowship programmes have led to the international exposure.
Sandhya Sandhya Mukundan, a teacher at New Horizon Gurukul, Bangalore, says, "A career as a school teacher is as it is challenging, yet rewarding because school teachers are tasked with preparing their students with the knowledge that will see them through into adulthood and make them responsible adults."
Where and how can you make a career as a school teacher?
In accordance with the National Council for Teacher Education Act, 1993, the following are the recognized boards of education across all the Indian states:
National–CBSE- Central Board of Secondary Education
ICSE- Indian Certificate of Secondary Education
State Board- 29 State Boards
Chetna Goswami, a B. Ed student from AIE, who wants to pursue a career as a school teacher says, "I was always passionate about teaching, therefore, I chose B. Ed. programme as it is the prerequisite for all private, government and government-aided schools."
Know the basics of becoming a School Teacher
Nursery school teachers are expected to have a Diploma in Teaching Education (Ted)/ Montessori Training Programme.

Primary school teachers are expected to have a Diploma in Education (D.Ed.) which is a course that can be done after XII.

Middle school teachers are expected to have a Bachelors in Education (B.Ed.) which can be pursued only after completing a Bachelor degree in any discipline.

High school and Higher Secondary school teachers are required to complete Masters Degree programme along with Bachelors in Education (B.Ed.)
To add to the given standard qualifications, TET (Teacher Eligibility Test) is a state-based test that needs to be cleared. Post qualification, one becomes eligible for the post of a primary teacher exam or equivalent. However, we have CTET (Central Teacher Eligibility Test) as well.
International Boards
The predominance of two foreign boards, namely International–Cambridge University Programs- Cambridge Program- currently focuses on IGCSE in grades nine and ten and A Level at grade 12. IB (International Baccalaureate) has taken a step forward in terms of recognition. It has three levels. PYP (Primary Years Program - Grade 5), MYP (Middle Years Program – Grade 6 to 10) and IB Diploma (Grade 11 and 12). IB conducts an external exam only for obtaining the diploma. School assesses other programs. Currently, there is a plan for the introduction of the external exam at Grade-10 level (at the completion of MYP).
"There are no formal qualifications to be able to teach IB programmes; it is up to the individual school's recruitment policy. They hunt for competent teachers with minimum six-seven years of experience in the concerned subject," added Sandhya.
The IB Educator Certificate recognizes the experience and commitment of all IB teachers to enhance their pedagogic competencies and deepen research into best practices. The IB certificate in teaching and learning offers teachers the opportunity to examine principles and practices associated with one of the three IB programmes.
Salary of a School Teacher
Government and aided school teachers get a justified compensation. After the implementation of 7th Pay Commission, the salary structure of trained graduate school teachers is around Rs. 29,900 – Rs. 1,04,400 as basic, along with a grade pay of Rs.13,800. This will increase the net salary of a teacher to Rs. 51,420. They will be eligible for other allowances as well. Private school teachers' salary doesn't follow any particular scale. It is dependent on the management of the school. Most private schools begin with a starting salary of Rs. 25,000-35,000 for a trained graduate, whereas international schools pay between Rs. 50,000-60,000. However, international schools look for extremely qualified and experienced teachers.
Scope abroad for School Teacher
Indian teachers are in demand in Singapore schools with increasing number of teachers being recruited to teach not only Indian languages but also other subjects. For international schools, a TEFL (Teaching English as a Foreign Language) certification of an accredited program is compulsory.