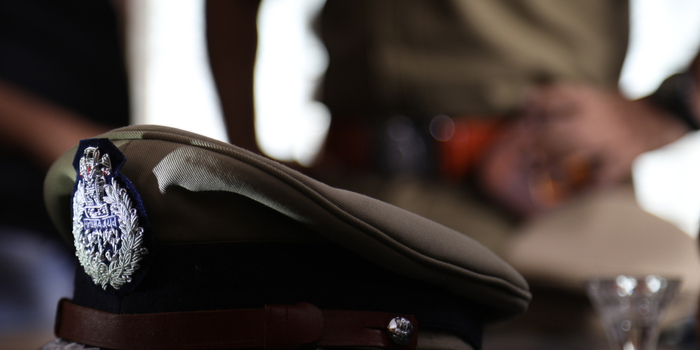 Khushboo Verma, 28 Jun 2018
Career as a Police Officer: Police officers wear many hats as they are responsible for public safety, upholding law and order, prevention of crime and enforcement of law. In a nutshell, the main job of a police officer is to enhance the quality of life for all citizens. This is the reason a career as a police officer requires a good deal of physical and mental strength. A range of technology is used by police to shield individuals, discover the perpetrators and ensure prosecution against the violators. A team of police is appointed by every state to curb the rate of crime and maintain law and order in the state. If you are looking for challenging career and want to serve the society, police officer as a career will definitely appeal to you.
A career in a police officer is meant for people who thrive on challenges. To become a police officer, one has to be 21 years of age and pass competitive exam. Being proactive, agile and good in shape are the important attributes in police officers as they have to be fast on their feet. What exam a person has to take to become a police officer? What are the skills and educational requirement to become the same? What kind of training one has to undergo? All these questions might be cropping up in your mind. Go through this article to get answer to all your questions and some more information that you must know if you have decided on a career as a police officer. 
Career as a Police Officer: Responsibilities
Police officers undergo vigorous training, sworn to maintain law and order with honesty. Basically, the job of a police officer includes sending a drunk driver to a detoxification facility, intervening in a domestic assault, spotting underage drinkers, apprehending a shoplifter, handling a traffic accident, investigating burglaries and executing search warrants. Below is given a detailed list of responsibilities that a person looking for a career as a police officer has to perform:
Respond to calls and requests from public to assist them at incidents

Carry out initial investigations, gather evidence, take statements and abide by the relevant legal requirements

Take action on information received from members of the public

Behave sensibly when dealing with situations such as delivering news of a sudden demise or dealing with sexual crimes

Conduct patrol duties on foot, by car and bicycle

Submit internal crime reports and criminal intelligence reports

Attend road-related incidents including collision scenes, vehicle check points and traffic offenses

Interview suspects, victims and witnesses in accordance with relevant legislation 
How to become a Police Officer: What after 10th?
Students who have completed their class 10 from CBSE, RBSE or West Bengal or any other recognized education board and wish to pursue a career as a police officer can opt for any stream- Science, Commerce and Humanities in their 10+2. The stream doesn't make any difference to candidates who aspire to pursue career as a police officer. Participating in sports and physical education classes, however, can prepare one to fulfill the physical requirement for a job of police officer. In addition, developing interpersonal skills is a plus as you always have to interact with public. Candidates can apply for police constable after completing 12th provided they clear the competitive exam. 
How to become a Police Officer: What after 12th?
Aspirants can become a police constable after passing class 12 from TBSE, JAC or any other recognized education board. The job of constable is same as police officer, but their powers and salary are limited. They, however, have to clear certain competitive examinations that are conducted for the recruitment of police constables. The exam for police constables is conducted by Public Service Commission (PSC) in each state of the country. Those who pass the written test and the personal interview will be selected and will have to undergo vigorous training program. On completion of the training, they can join the police service as a constable and go on to make a career as a police officer. The minimum prerequisites to apply for a police constable post is given below:
Aspirants must be 12th pass

Should be a citizen of India

They must have completed their higher secondary education from a Certified Board.

Applicants should be between 18 to 22 years of age

Besides, they have to qualify some physical set of standards

Individual must have a height of 167 cms

They should also have 81 cms chest with a maximum increase of 5 cms.
Career as a Police Officer: How to prepare for constable exam and interview?
The test includes objective type questions on GK and Current affairs. Aspirants must be updated with current affairs. Also, questions on English language and numerical aptitude are also included in the test. Aspirants must go through specialized books and practice sample papers to prepare for the test, which will help in preparation and boosting their confidence. Solving the sample papers will help them evaluate their performance and discover their weak areas.
Those who wish to pursue their graduation before choosing to make a career as a police officer can opt to specialize in any field of their interest.
How to become a Police Officer: What after graduation?
After completing graduation in any discipline, you can apply for higher post in the police department through promotion by passing department tests. Indian Police Service (IPS) is one of the top designations in the police department. If you desire to become an IPS officer, you have to appear for Civil Service examinations conducted by the UPSC. Besides, you have to meet the fitness requirement to apply for any posts in police service.
Career as a Police Officer- Eligibility criteria for IPS
Nationality
Candidates must be a citizen of India

Candidates looking for a career in police officer must have completed graduation in any stream

Candidates who are in their last year of graduation are also eligible to apply

The bachelor's degree must be from any UGC approved or any state University

Candidate's age must be between 21 to 32 for General category

Candidates belonging to SC/ST and OBC get age relaxation of five and three years respectively. 
Career as a Police Officer-Eligibility to meet all the physical standard
Candidates after clearing the civil services exam have to meet certain physical requirement when appearing for the personality test to be eligible for career as a police officer.
Height: Candidates must have height of 165 cm for men while 150 cm for women. The minimum height relaxation for men and women is 160 and 145 cm, respectively in the case of candidates belonging to ST and to races such as Gorkhas, Garhwalias, Assamese, Kumaonis, Nagaland Tribals, etc.
Chest: The minimum chest measurement should be 84 cm for men while 79 cm for women.
Eyesight: A distant vision of 6/2 or 6/ 9 for worse eye and 6/6 or 6/9 vision for good eye. Near vision of J2 for worse eye and J1 for good eye.
Candidates have to perform physical activities that include weekly run of 10kms in 60 minutes, rope climbing, and horse riding among others. Those who stammer while speaking can not opt for a career as a
police officer. At the time of medical test, ladies should not be pregnant.
Career as a Police Officer: Procedure of entrance examination
There are three steps involved in the selection procedure of IPS officer. Go through below to get the details about the exam
Step 1: Preliminary exam
Step 2: Mains exam
Step 3: Interview
In preliminary exam, candidates have to prepare for two papers-Paper I (General Studies) and Paper II (Civil Service Aptitude Test). To prepare for the exam for a career in a police officer, you have to first clear the preliminary exam . Once you pass the preliminary exam, you will be eligible for mains exam.
The topics that you have to cover in General studies are:
Economy

History

Geography

Current Affairs (Ecology, Environment, Bio-Diversity, General Science)
These aforementioned topics are important for preparation of General Studies. You have to make a time table and revision is essential for Civil Service Exam. Refer more than one references is essential to clear your concept.
Career as a police officer: Salary of an IPS officer
The salary of IPS officers are fixed by the Government of India. When any change occurs in new pay commission, the salary is revised. The current pay scale of IPS are as follows: 
| | |
| --- | --- |
| Rank | Pay Scale |
| Deputy Superintendent of Police | 15600-39100 rupees plus grade pay of 5400 rupees |
| Additional Superintendent of Police | 15600-39100 rupees plus grade pay of 6600 rupees |
| Superintendent of Police | 15600-39100 rupees plus grade pay of 7600 rupees |
| Senior Superintendent of Police | 15600-39100 rupees plus grade pay of 8700 rupees |
| Deputy Inspector General of Police | 37400-67000 rupees plus grade pay of 8900 rupees |
| Inspector General of Police | 37400-67000 rupees plus grade pay of 10,000 rupees |
| Additional Director General of Police | 37400-67000 rupees plus grade pay of 12,000 rupees |
| Director General of Police | 80,000 rupees (fixed) plus grade pay -nil |
 Here is a list of other career options after +2 that you can choose from:
| | |
| --- | --- |
| Career as a Social Worker | |
| Career as a Blogger | |
| Career as a Wildlife Photographer  | |
| Career as a Game Designer | |
| Career as a Content writer | |
| Career as a Banker | |
| Career as a Social Worker | |
| Career as a Fashion Photographer | |