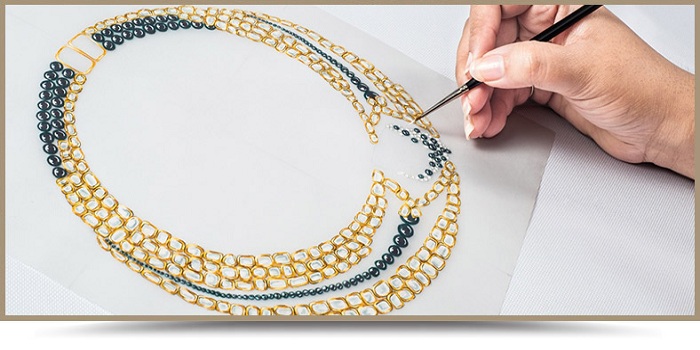 Career as a Jewellery Designer – Hema was always attracted towards beautiful jewellery worn by her mother and her friends. She eventually started taking interest in this art and decided to make a career as a jewellery designer. Jewellery designers work with precious metals, gemstones, diamonds and beads to create wearable pieces of art. A person with jewellery designing as a career may create one-of-a-kind pieces for high-end jewellers or an entire line for a mass-market fashion designer. He/She may also sell his/her own jewellery. Jewellery designers can create beautiful jewellery entirely by hand or they can begin the design process by using computer-aided design (CAD) software. As with many artists, jewellery designers are often freelance workers and must continually seek assignments or customers in a competitive market. With rising living standards and higher disposable income, designing jewellery can be one of the most rewarding careers in the art world. With the vast opportunities provided by internet marketing, you can look forward to seeing your jewellery designs worn and displayed by people around the world. This article shares with you the career path, academic requirements, colleges/institutes, courses, career options and much more to make a career as a jewellery designer. To know more about how to become a jewellery designer, read the complete article below.
Skills needed to become a jewellery designer
To be successful in a career as a jewellery designer, one must possess certain skills/traits below.
One must be creative and possess artistic ability. As one is required to work intricately with gems, he/she must have good hand-to-eye coordination and the practical skills for using tools and materials. One also must be accurate and pay attention to detail. As person with a career in jewellery designing knows how much it takes to design gems and stones, one must have the ability to negotiate with buyers and suppliers, have good business skills, if he/she is self-employed.
Jewellery designer work description
Work of a jewellery designer includes many roles to be played. One can find them listed below:
Discuss a design (brief) with client

Produce designs by hand or using CAD software

Make up models of jewellery for mass production

Source gemstones, precious metals and other jewellery parts

Use equipment like jewellery saws and soldering irons

Cut, polish and set gemstones or other materials

Use different metals in jewellery making like silver, gold or platinum

Use materials like polymer clays, resins, wood or glass

Market and sell your work (if you're running your own business)
Career as a jewellery designer – What after 12th?
Students can choose any stream from arts, commerce and science at intermediate level to become a jewellery designer. There are many institutes offering undergraduate and postgraduate courses in jewellery design. Students can find below the colleges and courses to make a career as a jewellery designer.
While pursuing a programme in jewellery design, students learn things like:
Basics of Jewellery Design which includes various sources of inspiration in jewellery designing along with certain principles.

Jewellery Techniques which is all about metal and goldsmith techniques practiced around the country.

One also learns about Production which mainly talks about major manufacturers of jewellery, and export & import houses. This will also cover aspects like methods of production, storage, scales of production – mass production, small-scale production, etc.

All institutes offering jewellery designing courses teach the art of creating amazing portfolios. It is very important to develop good portfolios.
Colleges and Courses for a career as a Jewellery Designer
| | |
| --- | --- |
| College | Programme |
| Vogue Institute of Fashion Technology | UG Diploma in Jewellery Designing with CAD |
| GD Goenka University, Gurgaon | B.Des in Gemology |
| JD Institute of Fashion Technology, Bengaluru | Diploma in Jewellery Design |
| ARCH college of design and business | B.Des Jewellery Design |
| JD Institute of Fashion Technology, Kamla Nagar | Diploma in Jewellery Design |
| Arch College of Design & Business, Jaipur | Postgraduate program in Lifestyle Accessories Design |
Career Options for a jewellery designer
The fast growing jewellery business in the country has tremendous employment potential and offers excellent career opportunities to professional executives in the industry. Graduates with specialization in Jewellery Design and Management are in great demand globally for managing the jewellery business.
There are many areas of employment for a jewellery designer. Some of them are given below:

Beginners usually work as junior designers with jewellery design firms.

With experience jewellery designers find employment in large jewellery production industry

Entrepreneurship

Freelancing

Trainers or researchers.
Salary of a jewellery designer
The initial salary of a jewellery designer on an average is Rs.3,30,000 per year. It increases and goes in lakhs with years' of experience and creativity.