Career as an Interpreter and Translator - Communicating at the next level
Interested in language and translations? Interpreters and translators are some of the most promising careers around the world. Read the complete article below by Careers360 to know more about making a career as an interpreter and translator. Interpretation and translation have, of late, become one of the most flourishing vocations. To facilitate understanding of a spoken language, interpreters convert speech from one language to another. The focus of an interpreter is to have people hear the interpretation as if it were the original. Translators have a different approach; they convert written materials from one language into another. Sakie Ariyawansa, fluent in six different languages, and an ace translator and interpreter in Sinhalese language, says, "Prospects
of career as an interpreter and translator are immense but lack of awareness leads to apprehension and insecurity."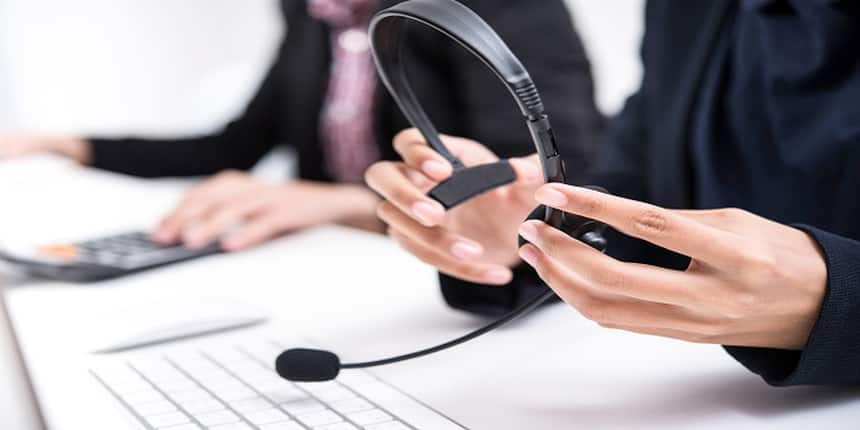 Fluency needed by Interpreter and Translator
Interpreters must be fluent speakers of both the languages because they communicate back and forth the ideas and plans between two people or groups who do not share a common language. Translators convert the written word from one language to another, ensuring the original meaning is retained. Translators must be able to write sentences that maintain or duplicate the structure and style of the original meaning.
Pathway to growth for Interpreter and Translator
The phenomenon noticed amongst students aged between 15-24 years since last decade is to learn a foreign language. Languages that are popular among the youth are French, German, Japanese, Spanish and Mandarin. If interested, one can think of becoming a professional in interpreting and translating. There are three types of courses to pursue a career in foreign languages; certificate, diploma and degree courses. Post education, it is advisable that aspirants should clear the proficiency tests for the respective foreign language.
For example, if an aspirant of career as an interpreter and translator looks at the Chinese language from the career point of view, he/she has to become a certified professional. Chinese Proficiency Test (HSK), an international standardized test of Chinese language proficiency, assesses non-native Chinese speakers' abilities in using the Chinese language in their daily, academic and professional lives. HSK consists of six levels, namely HSK (level I), HSK (level II), HSK (level III), HSK (level IV), HSK (level V) and HSK (level VI). If one has to secure a job of a Chinese translator in a corporate job, he/she has to clear HSK (level III).
Facts
Bachelor's is often a mandate to become an interpreter, especially for government jobs. Jawaharlal Nehru University asks candidates to take an entrance exam and on its basis selects candidates for the BA, MA and MPhil courses in the desired language. Attending a formal interpreter training conducted by Foreign Language Institute and qualifying certificate exams will aid in job search and increase opportunities. Translators should be fluent in at least two foreign languages and they should be able to translate materials such as textbooks, instruction manuals and research papers. Fluency is the level of competency that goes beyond being able to only speak and write a language. It implies a comfort level as well as a cultural mastery. A Master's Degree in translation from a recognized college/university is an added qualification. Some training in the general philosophy of document translation and knowledge of the rigorous standards applied is essential. For the Japanese language, there is a language proficiency test conducted by the Mombusho Scholars Association of India or MOSAI and Alliance Françoise is the centre for conducting various French tests like the TEF or Test of Evaluation of French awarded by the CCIP (Chambre de Commerce et d`Industrie de Paris), TCF (Test de Connaissance du Français) and TEF (Test d'Evaluation du Français). Ritu Kochar Mishra, experienced interpreter and translator from Nagoya
University in Japan, says, "It is important to have good communication abilities pertaining to listening, reading, writing and speaking skills. You can first opt for diploma followed by a degree in the Japanese language." 
Training for Interpreter and Translator
In India, a large number of institutes and universities are offering both short and long terms courses in foreign languages. The courses range from certificate level to masters and Ph.D. level. Some institutes offer both basic and advanced level courses such as postgraduate and Ph.D. courses.
Some of the prominent universities and institutes for foreign languages are Banaras Hindu University, Varanasi; Symbiosis Institute of Foreign Languages (SIFL), Pune; The Ramakrishna Mission Institute of Culture, Kolkata; University of Delhi, New Delhi; The English and Foreign Languages University, Hyderabad; MOSAI Institute of Japanese Language, New Delhi; School of Languages - Jawaharlal Nehru University, New Delhi; Max Mueller Bhavan, New Delhi; Bharatiya Vidya Bhavan, New Delhi; Alliance Française de New Delhi; Amity School of Languages, Noida and Viswabharati University, Shantiniketan.
Job profile of Interpreter and Translator
Interpreters are required to conduct consecutive interpretation which is to interpret after the speaker has finished speaking. Simultaneous interpretation is also conducted where they interpret as someone is speaking. Likewise, there are different ways to become a proficient translator. Translating literary, legal, research, technical, scientific, educational and commercial documents will make you proficient.
Owing to the diversity of the people, languages, and cultures in contact with each other, and also the increasing demands for localization of content in multiple languages, the tourism industry has a high demand for translators.
Salary of Interpreter and Translator
Akshay Kumar, a Spanish language trainer, and interpreter, pursuing PhD in Spanish language, says, "One with a career as an interpreter and translator can draw up to Rs. 25,000 per day for an interpretation task. The freelancing job is equally rated, sometimes more in foreign language translation and interpretation. The tourism industry pay between Rs. 50,000 - Rs. 70,000 to interpreters depending on the brand of the company." Trainers may fetch between Rs. 50,000 - Rs. 70,000 per month. Individuals employed at embassies can expect to draw Rs. 40,000 per month. Industry remuneration solely depends on the competence of an individual. With globalization on the upswing, the demand for career as a translator and interpreter is bound to go up.