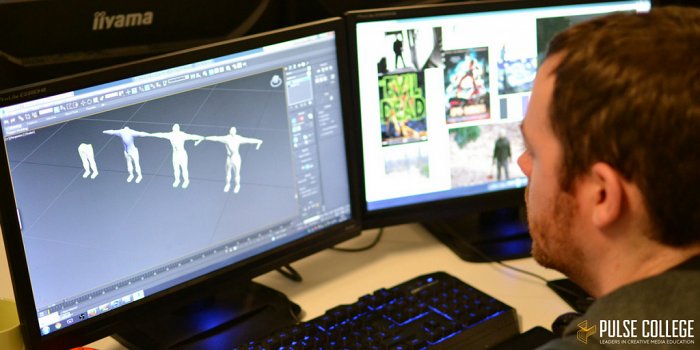 Career as a Game Designer - A career in gaming industry which was earlier seen as a pastime has turned into a serious profession thanks to the exponential growth of India's video gaming industry. As per NASSCOM, the Indian industry is estimated to be worth around $ 890 million and is expected to grow at the rate of 30% every year. With the increase in gaming industry, the demand for game engineers has been rising by leaps and bounds and so is the demand for students opting for Career in gaming. This article will provide information on how you can make a career as a Game Designer.
What is gaming?
Gaming is a highly competitive sector where a professional needs to have a fine balance of fun, creativity and technology. Gaming industry requires people from different segments but the most important aspect is passion and creativity. Designing, which is a key aspect of gaming demands qualified and artistic game designers, engineers, programmers, artists, writers, producers and other skilled staffs.
The gaming industry creates different types of games for different platforms like video games that utilize dedicated consoles to run the game. It is about computerized and electronic games played on TV and other display devices. Console games are those that are played on consoles like play station. Computer games are delivered on disks and played on PC and stored on DVDs or CDs. Multiplayer games are played with co-gamers logged on to the game and wireless games are primarily dominated by games played on mobile phones.
Career as a Game Designer – Who is a game designer
Game designers are an important part of a comprehensive team of designers and developers that coordinate the complex task of creating a new video game. Game designers have duties like designing characters, levels, puzzles, art and animation. They may also write code, using various computer programming languages. Depending on their career duties, they are also responsible for project management tasks and testing early versions of video games.
Career as a Game Designer – Skills needed
There are certain skills required for a career as a game designer. Candidates should have excellent IT skills and should be creative and imaginative. They should possess the ability to work under pressure and meet deadlines. They should be patient and pay attention to details. Game designers are designers, their skill sets must be varied and strong so their product appeals to their intended audiences. Gaming is just a part of it, and when game designers are gaming not for fun, but as part of their work, they often find themselves not playing as any other person, they are applying their analytical skills to leverage newer experiences.
Game Design Courses after 10th
Students who wish to pursue a course in gaming after completing their class 10th can apply for a certificate course in Gaming and Design from Arena Multimedia located in various cities, Picasso Animation College, Jaipur etc. Such a course will prove to be an advantage once a student completes his/her schooling or graduation and goes on to pursue a career as a game designer.
Undergraduate degree in Game Design
For a career in gaming industry one needs to have a sound understanding of how gaming technology runs and how people play games. For Game Design, one could consider undertaking a specialized course though most game designers are self-taught. Those who learn on their own would be well advised to enrol in a good Computer Science programme.
To pursue a degree programme in Game Designing, one needs to complete his/her class 12th in Science (some institutes also require Mathematics in 12th for admission). One can go for programmes such as B.Sc Animation and Gaming, B.Sc in Gaming etc.
Some of the institutes offering undergraduate degree in game designing are given below.
Institutes/Colleges offering programmes in Game Designing
Institute/College
Maya Academy of Advanced Cinematic (MAAC)
Arena Animations
Career Options as a Game Designer
Some of the prominent and in-demand career options for Game Designers are Environment Artists, Texturing Artists, Character Modelers, Animators, Game Designers, Level Editor, Game Programmers, Art Director. Gaming as an industry offers career opportunities in different functional areas such as Game Design, Game Art creation in 3D and 2D, Game Animation, Game Programming, Game Testing, Project Management, and other general management areas. If one has a love for art, creativity and innovation, and a deep passion for games, then a career in Gaming could be the perfect choice.
Salary of a Game Designer
The entry level salary for freshers in gaming studios is around Rs.12,000 to Rs.18,000 pm. Senior and Lead Artists in major Gaming studios earn nearly Rs.80000 – Rs. 1,00,000 pm. An average Indian game developer earns around Rs.25,000-30,000 per month after spending some time in the industry.
Video Games have become indispensable to modern culture and is one of the most popular forms of entertainment. Factors such as a large young population, rising disposable incomes, increasing smartphone users, 3G and now the roll-out of 4G services providing an efficient high-speed data networks to mobile gamers are all aiding the fast growth of gaming industry.