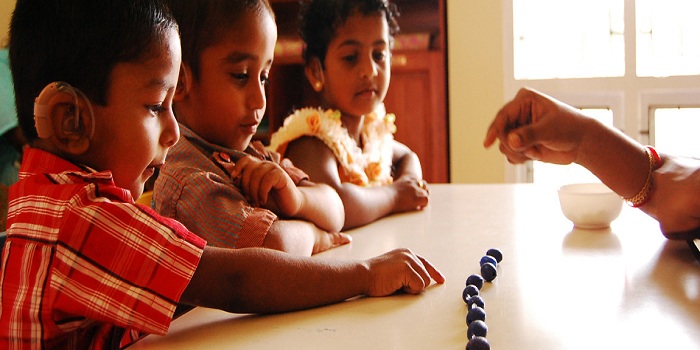 With a career as an audiologist, you can develop devices, work in a hospital set-up, work in research labs etc. As technology advances, audiology stands poised as a young field with a promising future to better the lives of people with hearing disorders. Many years ago, a profoundly deaf little girl was brought to the National Institute of Speech and Hearing (NISH), Thiruvananthapuram. Her family had knocked on many doors for help, but of no avail. It was only due to intervention at NISH that the three-year-old was able to join a mainstream school within a few years and enjoy her childhood to the fullest with her peers. Early intervention, special education, cochlear implants to improve her sense of sound and months of intensive training later, she is now a bright young student with a promising future. She topped her senior secondary exams with flying colours and is pursuing architecture in a college in Mumbai. Deafness did not stand in her way. That is the work of an audiologist. Stories of such transformation come by every day at NISH, according to the Director, Dr. Samuel Mathew.
So who is an Audiologist?
The person who makes a career as an audiologist is a professional who deals with all kinds of hearing disorders. Detection, assessment and rehabilitation of people who have hearing disorders are the responsibilities of an audiologist. Rugma Gopinath, a post-graduate student of Audiology at NISH asks the very pertinent question: "Can you imagine a day without communication? Definitely, the answer is 'no'. When hearing loss hinders communication, an audiologist can make a difference."
Growing demand for Audiologists
In earlier times, people would often overlook hearing disorders. Today, times are rapidly changing. People's outlooks have become hopeful thanks to increased awareness and attention to hearing disorders and their management. At the same time, science and technology have evolved at such a pace that the scope of audiology has growth with it. Hearing aid technologies are improving, testing methods are more efficient, solutions are more effective, therapies are being fine-tuned, and still, there is room for so much growth. More and more audiologists are required to meet the world's growing needs and bring phenomenal transformations into people's lives. Thus, more people are seen opting for a career as an audiologist.
Responsibilities of an Audiologist
Responsibilities include therapeutic management, fitting patients with hearing aids, doing assessment for cochlear implants, programming implants, developing auditory skills, training patients to listen using assisted devices etc. In a nutshell, the screening, prevention, identification and management of hearing-related disorders are some of the job demands of those who choose career as an audiologist.
Career in Audiology - A young field with a wide scope
"In the Indian scenario, the field of audiology started only in 1965. In the global context, it started with World War I. It is not a profession with a long history. Only recently did the Indian Speech and Hearing Association celebrate its 50th year," recounts Dr. Jeena Mary Joy, Assistant Professor & HoD Audiology and Speech Language Pathology, National Institute of Speech and Hearing (NISH), Thiruvananthapuram.
Dr. Ajimsha K.M.'s journey with audiology began in 2002. At the time, the field was still emerging in India. "Internship opportunities allowed us to explore different fields and set-ups and give us a feel of what we'd be doing after the course. We were placed in Bangalore, Mysore and Chennai, in different hospitals and under different specialisations. That was definitely an eye-opener. We didn't know the potential, so once we got out, we saw just how we could utilise this to make a change in people's lives, be it through speech correction, hearing aids or cochlear implants," recounts Dr. Ajimsha.
INTERVIEW
Dr. Samuel Mathew
Director, National Institute of Speech and Hearing, Thiruvananthapuram
"Nobody will go Without a job"
Careers360: What is the scope of audiology?
Dr. Samuel: Person taking up a career as an audiologist must know that nobody will go without a job. The number of graduates every year is very limited, so the job opportunities are tremendous. The demand is high. Knowledge is limited, so there are a lot of possibilities.
Today, we can correct a lot of hearing disorders. There will be need for audiologists in the school sector, in early intervention centres, and more. A lot of students migrate to countries like Canada, New Zealand, Australia and USA to find good jobs and some of them even settle down there.
Careers360: Which are the emerging fields?
Dr. Samuel: Swallowing disorders and vestibular science are fields that are coming up and getting a lot of attention now.
Careers360: What is the nature of the job? Is it very demanding?
Dr. Samuel: With a career as an audiologist, you are going to deal with people with a lot of disabilities, like children with autism or even multiple disorders. It is not an easy job. You need to have high commitment levels, and a lot of passion.
Careers360: What are the attributes of a successful audiologist?
Dr. Samuel: You could be working as a therapist, dealing one-to-one with an autistic child. You have to have patience, compassion and empathy. You have to really understand your patients' problems and try to help them in solving them.
Careers360: What kind of career progression and salaries can be expected?
Dr. Samuel: Bachelor level practitioners can draw around Rs.30-40,000 per month. As you progress through the career, you could be a therapist or an entrepreneur. As a therapist, you could definitely have an independent practice. You could work in a hospital setting, hearing aid company, academia or operation clinics. In a company, you will go up the hierarchy based on your domain skills and management skills. Or you could go deeper and deeper into research.
Careers360: What is your advice to students considering audiology?
Dr. Samuel: You have to understand it's not something you can take lightly. Your mind should be primed to find out new things.
What you read in the textbook might not be what you experience with a patient. We need minds that can ask the right questions and come to the right conclusions. It's a very exciting job. When you see the change in a patient's life, it will give you a lot of fulfilment. But you have to understand that a therapist might work days, months and years to see that change.
Somebody who is curious and wants to do research could have really big breakthroughs at the level of Marie Curie. You could be making such discoveries in this field, it is very exciting.
Emerging areas in Audiology
Cochlear implants are tiny electronic medical receivers placed in the heads of people with over 90% hearing loss. These 'miracle devices' allow sound signals to reach the brain, essentially replacing the hearing function of the damaged ear. There are only a handful of companies in the world that manufacture these devices. Advanced Bionics, where Dr. Ajimsha works as the Clinical Manager, Asia-Pacific, is one of them. His work sees him travelling across the region from Japan to Australia, India to Indonesia. He chose to work with cochlear implants after his Master's in Audiology where he found his interests lay within the technical realm of audiology. Students with a technical bent and a curiosity to explore the world can take a similar path.
Cochlear implants is among the emerging fields in audiology, agrees Prof. Joy, adding that the trend started in India in the late 1990s, but is now garnering interest. Another up and coming area is that of vestibular testing, a domain that examines the vestibular or balance aspect of the inner ear. Vertigo, dizziness and other balance-related problems can be determined this way.
Eligibility and courses to make a career as an Audiologist
To get a Bachelor's degree in Audiology and Speech Language Pathology, a student should have sound scientific foundations in physics, chemistry and biology at the 10+2 level. The four-year course consists of three years of theory and clinical learning with one year of full-time internship. Some of the top institutes for audiology include All India Institute of Speech and Hearing, Mysore, National Institute of Speech and Hearing, Thiruvananthapuram, Dr. S. R. Chandrashekhar Institute of Speech and Hearing, Bangalore, Sri Ramachandra Medical College and Research Institute, Chennai, Ali Yavar Jung National Institute for the Hearing Handicapped, Mumbai are some of the renowned institutes offering courses in audiology. At the Master's level, the subjects are divided into specialisations of M.Sc. Audiology and M.Sc. Speech Language Pathology. Further studies can earn students MPhil, PhD laurels.
"The saying 'do what you love and you will never work a day in your life' has been true for me being an audiologist. Student life was fruitful with learning experiences through lectures, clinics and research. Clinical practice of assessment and rehabilitation of hearing, balance and other related disorder helps to serve the people in need. With respect to career, the field provides ample opportunity to freshers who are well paid throughout the world," says Gopinath, an aspiring audiologist.
Job prospects of an Audiologist
Career as audiologists offers work mainly in hospital set-ups. Most hospitals have an audiologist associated with an ENT (Ear Nose Throat) surgeon. Graduates can work as occupational therapists or surgeons in various healthcare settings. Besides hospitals, there are opportunities in special schools. Even mainstream schools with an inclusive policy may have students with hearing impairments, which means an audiologist can step in to streamline such children's education and manage their disorders. Private practices are also a popular choice for audiologists.
The young domain needs a lot of educators to spread the knowledge and generate fresh, talented resources to enter the field. Audiologists with a Master's degree can find teaching positions in academic institutes. Research is another major area which is the need of the hour. How can you feel sound? Are there any other ways in which audio signals can reach the brain? Can devices be improved? These are the kind of exciting questions a researcher can tackle.
Aspirants can work in hearing aid "There is a place for everyone in audiology. An engineering and technically oriented student could develop devices, if you're a patient-friendly, therapy-oriented person, you could work in a hospital set-up, if you're research-oriented, you could work in research labs. That is something unique in this profession. You can use your versatility in different scopes. There are vast areas in which you can grow in this field and make a change in people's lives," believes Dr. Ajimsha.
Salaries and scope of jobs abroad for an Audiologist
A private practice for someone with career as an audiologist can, of course, offer lucrative returns in the long run. "Students with a Bachelor's degree can start with 15-18k per month, while Master's degrees can fetch 22-35k and private practices around 25-30k," estimates Asst. Prof. Joy, adding, "Once you get established, it's a different story, you can really take off." Many good professionals can also aspire to go abroad. The demand and pay for good audiologists is high in countries across the globe that recognise and value the services of an audiologist. This is a field where the demand, of late, has been exceeding the supply which means there are a lot of opportunities for fresh graduates entering audiology.
Audiology - A demanding job with special skills
"We need to be very good critical thinkers. We need to assimilate different information and come to a decision on a diagnosis. Empathy is a major attribute of a good audiologist. It's not easy to make a parent understand that their child is born with a hearing impairment. That's a huge task. We need to prepare them with a lot of patience and empathy," says Dr. Joy.
"I've seen parents who are very depressed, and when their child finally says their first word 'amma' or 'appa' you can see the happiness on their face. It's a very fulfilling, satisfying career," added Joy.
Working as an audiologist is as demanding as it is fulfilling. There will be times when you work with patients for days, months and years to achieve results. Dedication and complete involvement are the ingredients for success.
If you're passionate and get involved, each day you will gain a different experience and memory. You can inspire people and make significant change in their lives.