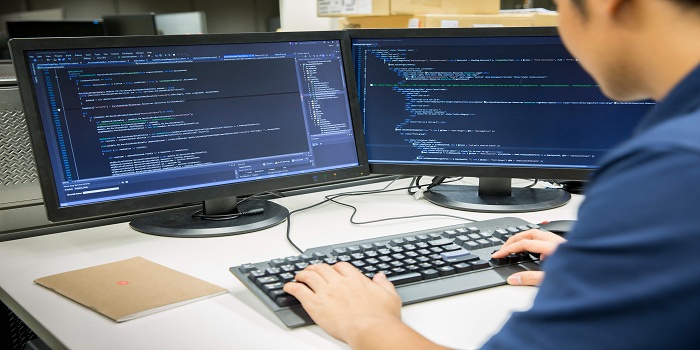 Bhanu Pratap Singh, 22 Feb 2018
With almost everything going digital, there has been an increase in the demand for software engineers in India. Owing to this, India is witnessing huge growth in engineering institutes and students wishing to make their career as a software engineer. To know more about career as a software engineer, the salary, scope etc, read the complete article below. A dramatic growth in the e-commerce industry has resulted in a demand for software engineers in the country. Over the years, the IT industry has expanded exponentially, especially with the advent of the e-commerce industry. Virtually all the businesses have a digital presence; due to this software engineers are required in almost every field. Earlier, the scope for a software engineer was very narrow as there were only a handful of fields where a software engineer could practice his/her profession. But now things have changed and sectors such as private and public banks and other financial institutions, education institutions and various e-commerce companies are all hiring software engineers.
Another aspect which makes software engineering a choice for many is the remuneration. Software engineers are one of the highest paid professionals in the country. Considering the growth which the IT industry is witnessing, the future in software engineering looks bright and promising.
"As a software engineer, you can work in almost every sector as almost all companies require software engineers to run their daily business operations. If you are of entrepreneurial nature and have enough expertise, you can start your own company after a few years, by taking up a number of small-scale projects and scale-up accordingly," says Farhan Mirza, a software engineer with Tata Consultancy Services, Kolkata.
Importance of software engineers
Our everyday tasks, even the most insignificant ones, are becoming digitalised. Software engineers are creating software for our everyday use and making our lives much easier. Software needs to be seamless in use, and creating such software needs a lot of time and effort. Software should work on all digital platforms without any glitches and for this to happen, a lot of testing takes place.
Skills required by a Software Engineer
"Being a software engineer means that you have to have an analytical mind, as well as have a solid technical foundation as your clients operation depends on you to function effectively, failing to do so might result in a business loss, which can have an adverse effect on you and your organisation," added Farhan.
Technical skills: For a software engineer, it is important to have sound knowledge of programming languages, operating systems, and hardware and software development life cycle among other computer related terminology. For a software developer, it is important that you have mastery in all the programming languages, as different companies use different languages for software development. It is important for software engineers to stay updated with the latest technology and various software tools.
Problem-solving: The primary aim of a software engineer is to be a problem solver. The coding which is done by software engineers provides a solution to the problems which are faced by software engineers. Problem solving skills enables a software engineer to find solutions to complex problems which might come his/her way.
Business skills: In today's world, there is immense pressure to perform. Any normal software engineer can develop software, but a great software engineer is the one who not only knows how to make great software but also knows the importance of looking at the software from a business point of view. This will add a lot of value to the software engineer. Business skills should be an important aspect which has to be looked into while hiring a software engineer.
Having good business skills can make or break a product, it can be the difference between a good product and a great product.
Communication skills: It is important for a software engineer to have exceptional skills. Software engineers should be able to communicate what they create to all the stakeholders effectively. A software engineer should be able to communicate both verbally and in written.
This should also reflect on what they create as a final product. Having the ability to effectively communicate what is required of a software engineer. This will help him/her in a better understanding of the product.
It is seen that there are many good software engineers, but they do not get any recognition as they are not able to communicate effectively.
Challenges for a Software Engineer
With the ever changing technology, there are various challenges, a software engineer faces. "A software engineer in India faces challenges on two fronts, technical and non-technical. Technical challenges occur due to fast-paced change happening in technologies and it can be overcome by imparting adequate training. Non-technical challenges are which accounts your relation with your manager and higher management and unrealistic deadlines for completing a piece of work with fewer resources," said Sugandha Katoch, a software engineer with Accenture.
Salary of a Software Engineer
The minimum average salary of a software engineer in India is Rs 4.5 lakhs per year. This figure can go higher depending on the experience of the candidate and the company where he/she is working in.
Scope of Career as a Software Engineer
A software engineer is in demand not just in India, but also abroad. With the entire world going digital, there is a need for good software developers. Working as a software engineer will get you the bucks you want or probably even more.