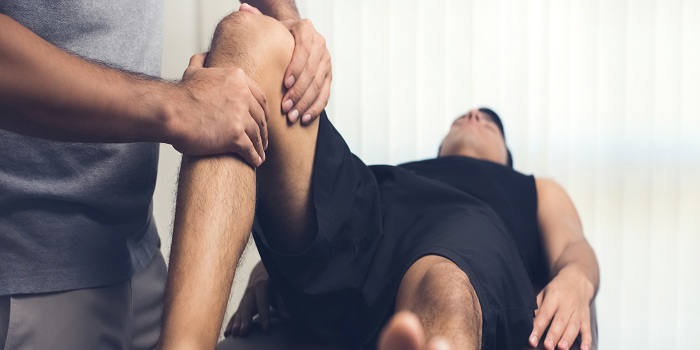 Cricket fields to classrooms, hospitals to offices - physiotherapists are improving the quality of life of people everywhere. In this article by Careers360, we list the educational qualification, eligibility to become a physiotherapist and their roles and responsibilities. Click here to read more on choosing career as a physiotherapist. Every time Indian captain Virat Kohli clutches his knee on the cricket field, the nation's collective heart skips a beat. Will he be able to play? Can India still win the match? A few stretches here, some pressure there, and a few minutes of intervention later, Kohli comes to his feet, ready to play on. A team of medical professionals retreats to the stands, away from the spotlight and into the background-- where the bulk of their work really happens. Like any intensive sport or physical activity, cricket really stretches players to their limits.
The wins are many, but so is the strain on the body. Working alongside coaches, trainers and doctors are physiotherapists who keep the players fit to play. Sports is just one of the exciting fields where a physiotherapist is needed.
But who exactly is a physiotherapist?
Simply put, a physiotherapist is a healthcare professional who promotes, prevents, treats and rehabilitates the health and wellbeing of an individual. This is made possible by combining an in-depth understanding of the human body and how it works with an active, hands-on approach to healing. "Those pursuing career as a physiotherapist adds quality to life. They have to ensure that people are useful members of society," says Dr. Karen Pavri, Lecturer, Head of the Department of Physiotherapy, All India Institute of Physical Medicine and Rehabilitation, Mumbai. Restoring function and optimal quality of life in people with illness, injury, disorders or disability is at the core of physiotherapy.
Addressing a major pain point today
The rise of diseases and lifestyle disorders which cause pain and movement incapacities has demanded physiotherapists to rise to the challenge. "This is of course an upcoming profession and the best thing about it is that you don't have to heal people using medication. There are other things to help people grow, heal and get fitter. People are suffering from knee pain, back pain, shoulder, neck pain throughout," says Samridhi Saxena, Senior Manual Therapist and Team Leader, AktivOrtho, New Delhi. The role of a person with career as a physiotherapist is not only in treatment, but also in prevention and rehabilitation.
So where can a physiotherapist work?
The profession covers a gamut of services from health promotion to prevention, treatment, intervention and rehabilitation of patients affected by diseases, disorders and injuries. Besides sports centres, teams and clubs, the demand for physiotherapists is rising in many areas. "Physiotherapy as a career in India is a good option. Physiotherapists are not only working in hospitals but finding work in many new avenues like the fitness industry, community rehabilitation, doorstep physiotherapy, corporate companies, television programmes and the sets of Bollywood movies, etc," says Dr. Sudeep Kale, elected member, Maharashtra State Occupational Therapy and Physiotherapy Council, Mumbai.
Hospitals, nursing homes, out-patient clinics and health care centres are some of the medical settings where a physiotherapist is needed. Rehabilitation facilities, fitness clubs, health clubs, spas and gymnasia can also benefit greatly with more than one physiotherapist on the team.
Schools, particularly special education schools for students with disabilities and disorders also need physiotherapists to guide students. Similarly, senior citizen centres and old-age homes often keep physiotherapists on the payroll to ensure good health and well-being of the elderly.
Nowadays, even the average workplace calls for a physiotherapist. With hectic and stressful schedules, employees in various settings have begun to feel the physical strain of everyday living. Physiotherapists can help relieve this, and improve their overall wellbeing. You can look at contractual or in-house employment options.
Providing doorstep facilities at individuals' homes is also one of the very lucrative paths a physiotherapist can take. Especially in affluent societies, such services are high in demand, and well remunerated.
Alternatively, setting up a private practice, office or clinic is also a great way to go.
Besides playing a transformative role in a patient's life, a physiotherapist can also contribute to society in other ways. They can have a part to play in developing health policies and public health strategies. They can go into academics to nurture many more accomplished physiotherapists who can meet the industry's growing demands. Physiotherapists can also take up research work to find new and better ways of treatment. From hospitals to homes, physiotherapists are needed everywhere!
Skills required by a Physiotherapist
A day in the life of a physiotherapist sees a lot of patient interaction. Good communication skills become a critical part of the job.
A supportive, motivating and empathetic manner can really complement treatment with a dose of morale boost.
Encouraging patients to commit to their physiotherapy regimes is just as much a part of rehabilitation as the therapy itself.
Critical thinking, problem solving, perseverance are some of the fundamental attributes you need to have if you want to become a physiotherapist.
Roles and responsibilities of a physiotherapist
The job of someone with career as a physiotherapist begins with the intent of promoting health and wellbeing of individuals and societies. This could range from health promotion to prevention and rehabilitation. The gamut of physiotherapy includes examination, assessment, treatment planning and preparation, delivery, instruction and advice, therapeutic and rehabilitative care. These are geared towards improving or restoring patients' movements, motor functions, physical challenges, etc.
Treatments are also designed to manage or relieve pain and other impairments brought on by injuries, diseases or disorders. In many extreme cases, a physiotherapist will have an active role to play in a patient's life on a daily basis.
At the end of the day, the goal of any physiotherapist is to restore health, maximise function, minimise disability and improve the quality of life of affected individuals to the best possible decree.
Interview
Shayamal Vallabhji
Sports Scientist & EQ Consultant,
Managing Director, The HEAL Institute
Love for sport and training a must
Careers360: What makes a career as a physical therapist attractive in today's world?
Shayamal: Physical therapy has completely transformed and diversified as a field over the past ten years. With new and exciting forms of training emerging and a range of different outdoor experiences to choose from, the role of the physical therapist has in itself pivoted. One can choose to specialize in a certain training methodology (cross fit, running, zumba, pilates, etc.) or focus his passion towards special needs populations such as post operative, children, para-athletes, etc. The field is going to consistently grow and evolve and with digital technology interventions, it's going to be more focused and result-orientated. 
Careers360: Where can a physical therapist find work?
Shayamal: Most sports therapists work as consultants but they are always in demand in gyms, schools, clubs and gymkhanas, sports teams and hospitals that have a sports medicine department. The wonderful thing about a career in physical therapy is that you can work in literally any environment, as each will present its own challenges and benefits. 
Careers360: Are there any particular courses you would recommend to advance job search?
Shayamal: Once you have a degree, I would advise you supplement your knowledge with a basic course in NLP or psychology or nutrition. These two components (nutrition and psychology) are directly correlated to the outcomes you would get with you client. Hence, supplementary knowledge here would not go to waste. 
Careers360: What are the skills, qualities and attributes of a successful physical therapist?
Shayamal: Patience, discipline, good communicator, leadership, always willing to learn and a love for sport or training. These are a must for a successful physiotherapist. 
Careers360: What does the future hold? What kind of industry growth can be expected and why?
Shayamal: The heath and fitness industry is growing around 7-8% a year in most markets and the next boom is expected to be in the wellness industry. The future is looking amazing for anyone in the health and wellness sector. 
Careers360: What would be your advice to young students considering physical therapy as a career?
Shayamal: Study hard and keep studying because our industry is fast evolving and make sure your live a healthy, active lifestyle - one that any client or sportsperson would aspire to emulate. Be an ambassador of the industry and let it resonate in everything you do.
Industry prospects and emerging areas for a Physiotherapist
"There is such a great requirement for physiotherapists in society. Private sector is generating a lot of opportunities. The emerging areas are fitness and diseases like diabetes, hypertension that require physiotherapy. Sports is already an established area, but there is definitely more progress. The need for people choosing career as a physiotherapist is growing, because physiotherapy has become important for fitness," points out Dr. Pavri.
Dr. Kale adds, "Sports physiotherapy is a major area today. Intensive physiotherapy like cardiorespiratory physiotherapy and manual therapy are emerging fields. Manual physiotherapy is a technique for various conditions of the joints and spine. This has gained popularity over the last decade in India. It works without intervention from electrical modalities. In paediatric physiotherapy, dealing with cerebral palsy, delayed development etc. is also gaining a lot of attention." Dr. Kale provides services for both the public and private sectors, an option aspiring students can also consider.
Educational qualification, courses & certification, eligibility to make a career as a Physiotherapist
"There is a lot in the field that needs to be explored. I learnt how the physiology of the body works and how exercise helps. I developed an interest in neurosciences. I want to know how certain conditions are caused and what role we can play as physiotherapists in changing that—how can we help patients integrate back into the community?" says Devanshi Doshi, who is pursing her Masters of Physiotherapy at the All India Institute of Physical Medicine and Rehabilitation, Mumbai. She has chosen neurosciences as her area of specialisation. Other fields include cardio-vascular sciences, orthopaedics, cardio-respiratory, muskuloskeleton, community rehabilitation and sports.
The minimum education requirement is usually a Bachelor's degree in physiotherapy. High school students who are studying physics, chemistry and biology with at least 50 per cent pass marks are eligible to apply for the above mentioned degree.
Having biology as a subject provides a sound foundation for higher education in physiotherapy as you will understand human body better than others. The duration of the course is typically four-and-a-half-years. Diploma or degree courses can also help enter the industry, but a Bachelor's in Physiotherapy is more favoured.
Further studies at the Master's or Ph.D. level definitely add to qualification and credibility to a career as a physiotherapist.
Select institutes for physiotherapy
AIIPMR Mumbai
Institute for Physically Handicapped, New Delhi
PGMIR, Chandigarh
Government Medical College, Nagpur
KEM Hospital, Mumbai
JSS College of Physiotherapy, Mysore
KJ Somaiya College of Physiotherapy, Mumbai
Apollo College of Physiotherapy, Hyderabad
Nizam's Institute of Medical Sciences, Hyderabad
Salary and scope abroad for a Physiotherapist
A fresh graduate can expect upto Rs.30,000 per month in hospital settings. Some organisations tend to remunerate people with physiotherapists as a career on the basis of patients they see per day.
Those who are interested in teaching physiotherapy can get around Rs.40,000 as their starting salary and those with experience can expect to earn more.
Many physiotherapists go in for launching their own private practices, charging patients per sitting or in package deals. Once physiotherapists become established and experienced, they gain a good reputation through word of mouth and for them the sky is the limit in whichever specialisation they choose to enter and practice.
"There is a lot of scope in the western world. Many graduates go abroad for higher education or jobs, as the Indian degree is valid across the world," advises Dr. Kale.
A lot of practitioners from India find jobs as physiotherapists in countries like the United States of America, Australia and the United Arab Emirates, among other countries as the demand is higher in these countries.