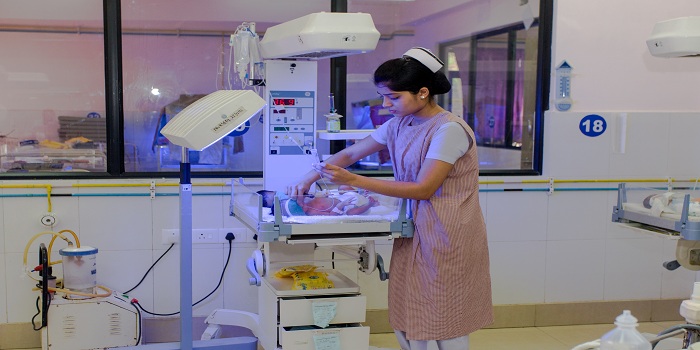 Thinking about making a career as a nurse? Are you a compassionate person? In the hour of need, a nurse provides comfort, compassion and care without a prescription. Careers360 helps you take an informed decision on choosing career as a nurse. Read the complete article below. Everybody needs healthcare. Whether it is a healthy young toddler whose developmental stages need to be monitored, an autistic girl, an injured boy, a pregnant woman, a diabetic man, or even a doctor down with the flu. At the end, a nurse constitutes the heart of the healthcare industry. In the hour of need, a nurse provides comfort, compassion and care, without a prescription.
"A nurse is responsible for preventive, promotive, curative and rehabilitative care. When patients are bed-ridden, nurses are responsible for head-to-toe-care. It is a really noble profession. You are soothing somebody's life," says Anney Avarachan, Vice Principal, Holy Family College of Nursing.
Job roles and responsibilities of a Nurse
A nurse's duties may begin even before a patient enters the picture. She is responsible for preparing rooms, ensuring the proper functioning of equipment and decontaminating instruments to create a safe and hygienic space for patients. The day-to-day activities of a nurse can include taking medical histories and performing medical examinations. Monitoring changes in a patient's condition, observing and making a record of his behaviour are also a part of the job. Nurses are qualified to administer medication and carry out therapies and treatment plans prescribed by doctors.
Anit Mariya Roy, second year BSc nursing student, believes that theory isn't everything in nursing. "You will only know what nursing is about when you go to the patients. First of all, we should understand patients, their feelings. We should give them psychological support. We have to be calm in front of them, we should support them at all times. Common sense is an important part of the job. In case of emergencies or accidents, keen observations are a must. Of course, compassion has to be there to succeed in this field," says the aspiring young nurse.
Another important aspect of nursing is providing health education. Informing patients, their families, friends and relatives about conditions, diseases and disorders is a simple but critical duty of a nurse. "We call it holistic care. It is not just care for the patient but related to family, relatives, all aspects and problems of the patient have to be taken care of," says Vice Principal Avarachan.
Who is a good nurse?
A successful career as a nurse calls for some special qualities. Beyond a medical proficiency and technical competence, a nurse needs to exhibit a unique disposition while dealing with patients, families, doctors and other medical professionals. "Good character, ability to create inter-personal relationships, politeness, and a smiling face are the key to becoming a good nurse," according to Sister Deepa Rajeev, a nursing supervisor.
Resourcefulness, time management, and energy by the buckets will keep you powering through the day in an efficient and effective way. "You should be mentally prepared, physically strong, and have inner strength and common sense. You have to identify a patient's needs and act accordingly," says Jerin Jose, a second year student of BSc Nursing at Holy Family College of Nursing, New Delhi.
From cradling newborn babies to caring for the elderly, every day in the life of a nurse promises to bring new experiences and forge touching memories. "I once got a chance to take care of Mother Theresa when she was admitted at AIIMS," reminisces Vice Principal Avarachan.
Nurses are needed everywhere
Some sort of healthcare is needed everywhere. Hospitals, of course, are the most obvious workplace, but a nurse is needed in healthcare spaces as diverse as outpatient facilities, mental health centres, rehabilitation centres, community health centres, private clinics, ambulatory care centres, old-age homes, nursing homes, and even patients' homes. Hospice organisations that take care of seriously ill patients require the caring, supportive, empathetic, dependable and gentle nature of nurses. Here, they respond to not only medical symptoms and pain but also spiritual and emotional needs of these patients.
Nurses are also present in schools, industries and companies to attend to emergencies and occupational hazards. Knowing that nurses are always in demand, one could also take up the path of teaching at academic institutes. A number of government bodies and ministries also require the presence of not just one, but many nurses. A degree is required to earn a job as a public health nurse. "For every 30 seats in government hospital jobs, 3000 people will apply," estimates Vice Principal Avarachan. These coveted jobs are well paid and offer a high degree of job security.
Eligibility, courses and qualifications to become a Nurse
As per the Indian Nursing Council, anyone between the ages of 17-35 who secures a minimum of 50 per cent marks from a recognised board in the 10+2 exams is fit to apply for courses in nursing. This is relaxed for reserved categories. For the four-year Bachelor of Science, Nursing (B.Sc. Nursing) and B.Sc. Nursing (Honours) degrees, having Physics, Chemistry and Biology in senior secondary years is a must. But rest easy; this does not close the doors to nursing aspirants from other backgrounds. They can choose to go in for a diploma course instead, which waives that criterion. A General Nursing and Midwifery (GNM) course takes three years to complete. In fact, it's easy to boost a GNM diploma to the degree-level. A two-year Post Basic B.Sc. Nursing course offers students an opportunity to climb the career ladder.
Courses for becoming a health worker mainly prepare students to work in community settings like primary healthcare centres and sub-centres. Auxiliary Nurse Midwife is another two-year course available. Different institutions and universities hold separate entrance exams for all courses. Hospitals typically hire nurses with a BSc, GNM or higher certifications like MSc, MPhil. and PhD.
On the other hand, an ANM diploma will suffice for finding work in small clinics. Teaching jobs also require a degree.
Higher education enhances career progression for a Nurse
Many nurses go in for higher education to deepen their knowledge and advance their career prospects. Specialised M.Sc. Nursing certificates add an attractive feather to their caps, giving an edge when it comes to job applications. Areas of specialisation in M.Sc. Nursing include Medical Surgical Nursing, Community Health Nursing, Paediatric Nursing and Gynaecology and Psychiatry, and many more.
These specializations are further divided into sub-specialisations. Another route for specialisations can be a diploma in the likes of psychiatric nursing, neurosurgical nursing, critical care nursing and more.
The Indian Nursing Council has announced an exciting prospect for nurses to become Nurse Practitioners. Though this course doesn't award an M.B.B.S. degree, it will train nurses to assist and practice in the absence of doctors.
When there is a shortage of doctors, such qualified nurse practitioners can step in and save the day by treating the patients.
Select institutes for nursing courses
All India Institute of Medical Sciences, Delhi
Christian Medical College, Vellore
Manipal College of Nursing, Manipal
Madras Medical College, Chennai
Tata Memorial Hospital, Mumbai
B.M. Birla College of Nursing, Kolkata
Scope of growth in hospitals and academia
At a hospital, a nurse usually begins her career as a staff nurse. Areas of work include outpatient departments, operation theatres, offices and other wings of a hospital.
With experience, he or she can get a more managerial job as Ward In-charge or Supervisor. Subsequent promotions progress a nurse's career through the positions of Assistant Nursing Superintendent, Deputy Nursing Superintendent, and finally, Nursing Superintendent. Higher posts generally require a degree rather than a diploma.
In the academic setting, a nurse starts off as a Clinical Instructor, helping students learn hands-on at clinics. Then he or she becomes a teacher. Getting a post-graduate degree under your belt opens up the path to proceed through the ranks of Assistant Professor, Associate Professor, Professor, Vice Principal or Principal.
Salaries are good and jobs are secure, satisfying career as a Nurse
The service to humankind is rewarding in itself, but a career as a nurse can be fulfilling in more ways than one.
"When you think of where you will stand after five years, the scope of nursing looks very good," thinks Jose. Government jobs are very well paid, with fresh graduates earning salaries around Rs.40,000 per month. Private sector jobs offer comparatively less, but the scope for growth with big private players can be huge in terms of compensations.
"Unlike during the earlier days, salaries are higher and jobs in India are getting better," observes Vice Principal Avarachan.
"It is a promising profession. Compassion, dedication, commitment and sincerity are needed. It really gives you joy to serve people and make lives better," beams Nursing Superintendent, Filomina Thomas.