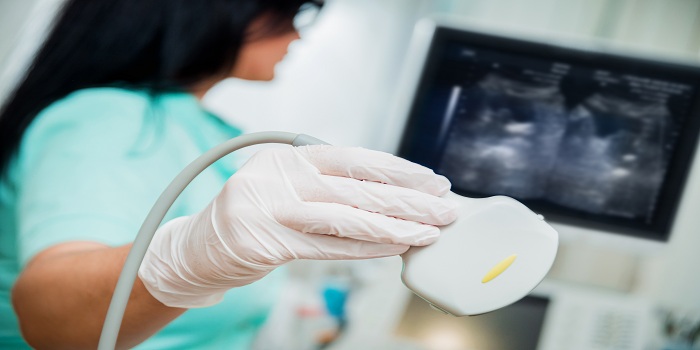 With the help of high-tech medical imaging equipment, a diagnostic medical sonographer takes a closer look at what's happening inside the human body. Career in sonography lets you choose from many specialisations. Read the complete article below to know more about career as a sonographer. Technology has become a game-changer in modern diagnosis. Equipment like ultrasound machines are the stethoscopes of today. They provide a clear window into the inner happenings of the human body and help arrive at a more precise diagnosis. It is a diagnostic medical sonographer, who wields these tools.
What is diagnostic medical sonography?
As the saying goes, a picture speaks a thousand words. In the medical context, a sonographer plays the role of a photographer. Using specialised imaging technologies, a sonographer projects high-frequency sound waves to create images of the inside of a patient's body. These sound waves are not audible to the human ear. In fact, they're so high that they're called 'ultra-sounds'. Now you know where an ultrasound machine gets its name! But how exactly does it work? You've seen it in movies a hundred times but to put it in technical terms: a gel is applied and an instrument called an ultrasound transducer is pressed to the part of the body that needs to be examined. This device emits sound pulses that bounce off internal organs and tissue, causing echoes. These echoes are received by the ultrasound machine, which processes them to create real-time images. And there you have it—a clear picture of what's really going on inside.
These images help doctors detect and diagnose a variety of conditions. "There's a difference between the general physician you go to consult and a diagnostic. A GP doesn't always know until he knows what's happening inside. It's ultimately a diagnostic who puts it down on a piece of paper and gives you the whole gamut of what's happening, and signs that piece of paper. The final diagnosis is seldom from a physician, but comes from diagnostics. It's in your hands, so you're a very important piece to the diagnosis of many patients," says Dr. Mona Bhatia, Head of Department, Department of Radiodiagnosis and Imaging, Fortis Escorts Heart Institute.
Growing demand for Sonographers
A diagnostic sonographer is usually the one to confirm the happy news for growing families across the globe, but the profession is certainly not limited to detecting pregnancy. As a diagnostic medical sonographer, one can be a part of many life-altering moments in patients' lives. As the healthcare industry grows in the modern world, the demand for sonographers is rapidly on the rise. Advancements in technology have also catapulted the diagnostic medical sonographer to a unique position—there are better diagnostic machines out there, and more and more people are required to operate them. This is the time to enter the industry and ride the tide as diagnostics goes from strength to strength.
Roles and responsibilities of a sonographer
Besides the obvious responsibility of operating the equipment itself, a diagnostic medical sonographer is also responsible for preparing and maintaining it. While performing an examination, a sonographer has to be sure that all the necessary images have been captured and that they're of good quality to aid in diagnosis. Analysing these images to write up a preliminary record of the findings is a crucial part of the job. This record is critical to a patient's diagnosis. In many ways, the future of a patient's diagnosis and treatment is determined in these very moments. Knowing that, a sonographer has to proceed with utmost care. It's on the basis of this record that a physician is able to reach a decision.
Besides this, recording a patient's medical history, preparing patients for procedures, discussing findings with the interpreting doctor and keeping tack of records can also fall into the purview of a sonographer.
Same job, different situations
Diagnostic medical sonographers go by many names—sonographer, ultrasound technician, sometimes radiologists—but their job is the same, to paint a clear picture of what is happening inside the body. Government and private hospitals have a huge demand for diagnostic sonographers, and it set to grow further. There are many private clinics and physicians' offices coming up across the country where a diagnostic sonographer is needed. Diagnostic labs and medical labs are always on the lookout for hiring more sonographers to meet the increasing daily demands.
Not a day goes by in the life of a sonographer that isn't filled with surprises, challenges and new experiences. The work itself is largely the same, but the contexts can vary a lot. One moment, you may be delivering happy news to a young mother. The very next, you could be holding your breath, waiting to see whether an old man's cancer is in remission. Yet another, you may be discussing the plan of action for a patient of kidney stone with their referring doctor. Through all these moments, a diagnostic medical sonographer is a critical piece of a many patients' experiences with healthcare.
Skills and qualities needed by a Diagnostic Medical Sonographer
Like most medical professions, becoming a sonographer requires a couple of unique skills -- dexterity in both hands, and impeccable hand-eye coordination. One hand scans the patient while the other operates the machine. This also requires ability to multi-task. Not just because both hands perform different functions at the same time, but also because all the while, a nervous patient will be asking you to explain what's going on. Interacting with them in stressful situations calls for patience, empathy and compassion. Communication skills are just as important as medical know-how. A sonographer is usually the first person to have a clear understanding of a patient's condition. Communicating that to a distressed or nervous patient takes a lot of sensitivity, empathy and patience.
One thing to know about ultrasound is that it is very operator dependent. As the operator, a sonographer needs to have a thorough knowledge of anatomy to actually be able to detect an anomaly and document it correctly. Many a times, these are too small. Only with keen attention to detail can a sonographer spot even tiny changes in an image. It's easy to miss a diagnosis if you simply don't see it. "The advantages of ultrasound are that it's easy, it's rapid, you can take it to the bedside. There's no radiation involved. But at the same time, it's very operator dependent. If you don't know something, you won't see it. You have to see it, know it, and document it. If it's not documented, it's never existed," explains Dr. Bhatia. 
To make sure you find what you're looking for, or in many cases find something unexpected, alertness and concentration are everything. "It's sometimes tricky to find the diagnosis, but it's interesting to think of each patient as a scientific quiz, and to find the solutions. You have to be very structured and systematic so you can tick off all the boxes and come to the right diagnosis," advises Dr. Bhatia, who has been in the field for many years as both a professor at Maulana Azad Medical College and a practitioner in the US and India. Bottomline is, you need to know you want to be a caregiver to succeed as a diagnostic medical sonographer.
Choose from many specialisations to become a Sonographer
Obstetrics is the most popular speciality that has garnered the most attention. Naturally, monitoring the health of a foetus and an expecting mother can be a delight to be a part of. Gynaecology is also a prominent area, especially considering the rise of reproductive health-related disorders in women today. The same goes for rise of heart disease. Echocardiography has emerged as a very pertinent field in the healthcare system today. Musculoskeletal sonography deals with joints, ligaments and tendons. The promising field holds a lot of scope, especially riding on the back of the ever-growing sports industry. Abdomen, breast, vascular sonography and neurosonology are some of the other fields in sonography.
How to grow as a Sonographer
The path to a successful career as a diagnostic medical sonographer is paved with accuracy and trust. How many times can you get a diagnosis right? How comfortable are patients around you? How many years of experience do you have? Holding a Bachelor's or higher degrees significantly improves a job seeker's scope in the booming industry.
Educational qualification, courses and certification to make a career as a Diagnostic Medical Sonographer
There are many routes to becoming a diagnostic medical sonographer. Bachelor's degree programmes, certificate programmes, Associate's degree programmes are some of the options available. All major Indian cities like Delhi, Mumbai, Chennai and Bangalore have avenues for interested students. St. John's National Academy of Health Sciences in Bangalore offers courses in Medical Imaging Technology and Medical Laboratory Technology. Medall Medical Academy in Chennai has various specialisations under Diagnostic Medical Sonography. Medical students can specialise in radiology to become a diagnostic sonographer. Nurses and other allied medical health professionals can get further certifications and specialised training to enter the field. Aspirants are advised to research and compare schools and courses for thorough understanding of education and career opportunities.
Scope in India and abroad for a Sonographer
"There is a huge requirement for more sonographers. It has become your stethoscope. We're already short of doctors, but at the same time, there needs to be a quality restriction, because there's scope for mistakes. Some say a lot of people should be allowed to enter, others say it should be restricted to radiologists and other more qualified people," says Dr. Bhatia.
Abroad things are different. The qualifications to become a diagnostic medical sonographer are fewer and easier, so there's a lot more scope to enter the industry. There are educational courses, which can improve prospects.