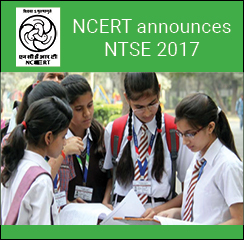 National Council of Educational Research and Training (NCERT) has announced National Talent Search Examination (NTSE) 2017 on August 3, 2016 for Class 10th studying students. They can apply for NTSE 2017 from August 3, 2016 till the last date of NTSE applications 2017. The NTSE stage 1 is scheduled to be held on November 5, 6 and 13, 2016, and that for stage 2 on May 14, 2017. Check below to know more on NTSE 2017.

LATEST - State wise NTSE Result 2018 and NTSE Cutoff 2018 declared! Also know All about NTSE 2018 here 


What is NTSE?
National Talent Search Examination, commonly known as NTSE is held by NCERT every year at two stages to identify the nurture talent among the Class 10 studying students.
JEE Main Sample Paper
Download Free Sample Paper For JEE Main
Download Now
How NTSE benefits candidates?
The Class X students who will qualify NTSE 2017 will be offered scholarships for different stages of education. There will be around 1000 NTSE scholarships to be awarded to the qualifying candidates.
What are NTSE 2017 Scholarships?
There are three NTSE 2017 scholarships to be awarded. Find the same below–
NTSE 2017 Scholarship of Rs. 1250 per month for Class XI and XII

NTSE 2017 Scholarship of Rs. 2000 per month for undergraduate and post graduate programmes

NTSE 2017 Scholarship for Ph.D programmes (amount will be fixed in accordance with the UGC norms)
How to fill NTSE 2017 Application Form?
The application forms of NTSE 2017 can be filled at state level through the online link provided by each of the state boards. Candidates applying for NTSE 2017 will also have to remit an application fee during the process.
What is NTSE 2017 selection process?
As per the selection process of NTSE 2017, NCERT is conducting the examination in two stages. While the stage 1 of NTSE 2017 will be conducted by each state/union territory (UT), NTSE 2017 stage 2 will be conducted by NCERT itself. The NTSE 2017 appearing candidates who qualify stage 1 examination will only be allowed to appear for the 2nd stage of NTSE 2017.


What are NTSE 2017 important dates?
NTSE 2017 stages

States

NTSE 2017 Important Dates





Stage I – conducted by states

NTSE 2017 applications

To be notified by states/UTs

NTSE stage 1 exam in Mizoram, Meghalaya, Nagaland and Andaman & Nicobar Islands

November 5, 2016

NTSE stage 1 exam in all other states and UTs

November 6, 2016

NTSE stage 1 exam in Bihar & West Bengal

November 13, 2016

Stage 2 – conducted by NCERT

NTSE stage 2 exam in all states and UTs

May 14, 2017
More articles to be read –
NTSE 2017 Eligibility Criteria
NTSE 2017 Important Dates
Stay tuned to school.careers360.com for more news and updates on NTSE 2017
Questions related to NTSE