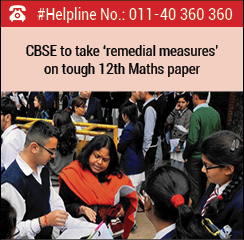 After uproar over 12th Board Mathematics paper being tough and questions being allegedly leaked on social media prior to the conduct of the exam on March 14, the Central Board of Secondary Education (CBSE) has agreed to consult subject matter experts and take remedial action before the evaluation process.

Taking into consideration the growing concerns, the CBSE said in a statement, "feedback received from various stakeholders including students, subject teachers, examiners will be placed before the committee of subject experts and the board will take remedial measures before evaluation."


The statement from the Board came out only after Members of Parliament from several parties raised the issue in the Lok Sabha on March 16, demanding a discussion.
Citing the media reports, Congress leader KC Venugopal and RSP member NK Premchandran referred most of the questions as "very difficult" and also "out of syllabus".
Referring to the feedback from students, the Parliamentary Affairs Minister Venkaiah Naidu expressed concerns over the high difficulty level of Mathematics paper and assured to request for the Education Minister Smriti Irani's intervention into the issue.
"Certain questions were very tough and even bright students couldn't answer them effectively," Naidu said in the Lok Sabha.
Hours later, the Human Resources Development Ministry clarified that it had already examined the reports of the paper being leaked to students in a few States, including Jharkhand's cities of Ranchi and Dhanbad, and found the allegations false.
After that, CBSE released its statement of "remedial measures before evaluation" on its official website.

Earlier on March 14, CBSE 12th Board Mathematics examination was held across centres in India. Coming out of the centres, most of the examinees were seen upset over the "tough and lengthy" paper. In a few media reports, the allegations of being availability of the paper to students in advance in some cities also surfaced.
Hundreds of worried 12th level students and their parents filed their petitions on change.org and pleaded the Board for lenient evaluation system for Mathematics paper. The petitions got support from all the sides, with the number of supporters growing to thousands in hours.
Students also marked their complaints about lengthy and tough Maths paper on the CBSE website and tagged their concerns in tweets to Union HRD Minister Smriti Irani.
Last year, in a similar incident of complaints, the CBSE had to review the Mathematics paper and give relaxation during evaluation of the paper.
Approximately 10.5 lakh students are appearing in CBSE 12th level Board examination this year all over the country. In 2015, the pass percentage of 12th standard appearing students was around 82%.
Stay tuned to school.careers360.com for more news and articles
First published on March 17, 2016
JEE Main Sample Paper
Download Free Sample Paper For JEE Main
Download Now
More like CBSE Class 12th
Questions related to CBSE Class 12th