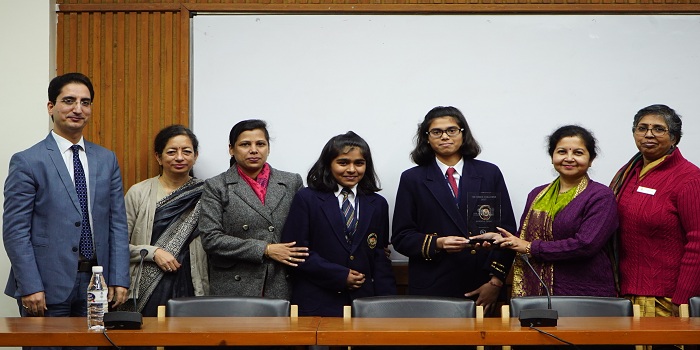 Students from Sunbeam School Lahartara, Varanasi stood first, followed by students from Learning Paths School, Mohali in 'The Green Challenge'. 'The Green Challenge' is a series on issues related to energy, the environment, and sustainability for students from grades 6–8 organized by Green Business Certification Institute (GBCI).
For 2017, "Energy" was the theme under The Green Challenge Series. The national challenge is aimed to build awareness about the impact buildings have on human health and the environment. It is a step towards contributing to goal number 4 and 7 of the Sustainable Development Goal (SDGs) – the 2030 Agenda for Sustainable Development.
Mili Majumdar, Managing Director of GBCI Pvt. Ltd during the felicitation ceremony said, "This is the first time ever that GBCI engaged with schools and teachers to launch a nationwide challenge for schools in India. The aim was to connect with these young minds, give them access to our LEED labs, educate them about sustainable living and understand how aligned and inclined students were. We are happy with the overwhelming response we received from schools and we look forward to taking this ahead as an annual challenge with schools."
Around 500 students across India participated in this challenge, out of which sixteen students from eight schools were shortlisted and selected for the national debate. The students were evaluated in three stages – project submission, the quiz, and debate. The project submitted by students was a working model, which also had to be applicable, impactful, and unique in nature.
The schools shortlisted for the debate were, Bal Bharti Rohini School (Delhi), Sanskriti The Gurukul (Guwahati), Sunbeam School Varuna (Varanasi), Sunbeam School Lahartara (Varanasi), Mayur Public School (Delhi), Indraprastha International School (New Delhi), Learning Paths School (Punjab) and Vagdevi Vilas School (Bangalore).