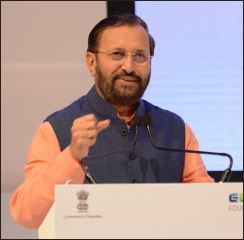 India will not have a single illiterate person in the next five years and this will be accomplished in a 'new' way, according to the Union Minister for Human Resource Development, Prakash Javadekar. Speaking at the inaugural function of the Festival of Education in Jaipur jointly organised by Rajasthan Government and GEMS Education, the minister declared that the priority of the government is to improve the quality of education and for that they are focusing on the learning outcomes of schools.
The Union HRD Minister said, "There will be no illiterates in India in the next five years and this will be done in an innovative manner in which we will train the students in our schools to teach their parents and grandparents."
Speaking about the 'No Detention Policy' which has been recently scrapped by the Centre, Javadekar said, "Due to the 'No Detention Policy', nearly 20 per cent of students were dropping out in the 9th class and year on year, there was a 4 per cent reduction in enrolment in government schools. Now there will be exams in schools at 5th and 8th standard levels and students will also get two attempts. The first attempt will be in March and the second in May."
Javadekar also pointed out that the countries which focus on research and innovation excel in the world. As per the minister, prosperity based on natural resources had its own constraints of time and only innovations and adaptations could make it everlasting.
"We are improving the quality of public schools so that both the public and private schools can compete on an even level. This will definitely improve the quality of education in the country," he said.
Praising the state government's efforts for making school education useful and relevant in Rajasthan, he said that their ideas were also being followed by other states. He added that improving the quality of education could ensure development of the country and how in the recent past, the entire nation had discussed and debated on reducing the gap between an academic degree and a certificate of skill.
Speaking about higher education, the minister said that recently the Lok Sabha has approved the IIM (Indian Institutes of Management) Bill which will give these institutes more autonomy. Other higher educational institutions would also be given more autonomy as it is a must to establish world class institutions. Javadekar also shared how the government is working to establish 20 world class universities in the country in the near future.
Addressing the festival, Amreesh Chandra, Group President, GEMS Education, India said, "We are proud to present the Festival of Education, an initiative powered by GEMS for the Government of Rajasthan that aims at taking the education ecosystem of the country to the next level. India is now the new intellectual capital of the world and within that Rajasthan is poised to be the knowledge hub."
Stay tuned to school.careers360.com for updates on School Education in India