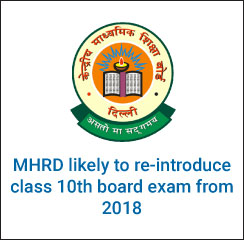 Class 10th board exams are likely to be re-introduced from the year 2018 onwards. The reintroduction of class 10th board exam will be for students affiliated to Central Board of Secondary Examination (CBSE).

However, the final decision in this regard will be taken by Ministry of Human Resource Development (MHRD) in Central Advisory Board of Education (CABE) meeting on October 25, 2016. This meeting will also be attended by various state education ministers.
Mahendra Nath Pandey, a Junior Minister in the ministry was quoted saying, "We have representation from a number of states and other representatives because the board exam is still optional in CBSE schools. A broad consensus on it already exists, but a final decision will be taken in the CABE meeting."
Apart from class 10th board exam reintroduction, MHRD is also likely to announce a new no-detention policy, according to report by Times of India. The report further reflected that as per the new no-detention policy, students up to class V will automatically be promoted to the next class.
While for students from class VI to VIII, the states will devise their plan. However, the respective states have to provide an opportunity of re-test for students who fail. Vasudev Devnani, CABE Committee Head and Rajasthan Education Minister has also ruled in favour of removing the provision of 'no-detention' and recommended re-tests. NCERT, however, is opposing removal of the 'no-detention' policy, the TOI report read.
Earlier, class 10th board exam was made 'optional' in the year 2010, replacing it with the current "continuous and comprehensive evaluation". In the current system, evaluation of students is being done through tests and grading throughout the year, which was introduced in 2010 with an objective of reducing stress on students.
What led to the idea of class 10 board exam reintroduction?
The HRD Ministry has been receiving feedback from state education boards and representative organisations of parents and teachers regarding the examination. As per the feedback, doing away with the exam has been affecting academic standards. However, the state boards and parents have admitted that the current system of evaluation has resulted in reduction of dropout rate of students over the years.
Stay tuned to school.careers360.com for more news and updates on Class 10 board exams
More like CBSE Class 10th
Questions related to CBSE Class 10th