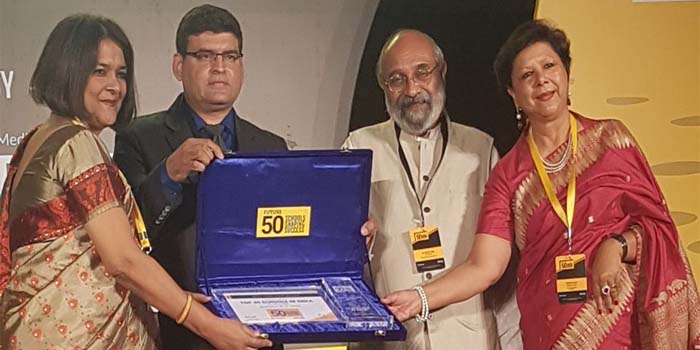 Maria's Public School, a CBSE school located in the city of Guwahati, Assam, has been identified by Fortune India as one of the top 50 schools in the country under its 'Future 50 Schools Shaping Success' initiative. Handpicked for their best practices, 50 schools from across the country will now be recognised for their progressive schooling in a year-long process of evaluation.
Talking about the achievement, Nellie Ahmed Tanweer, Founder and Managing Trustee of Maria's Public School said, "We are really making strides in achieving our goal of transforming our children into global citizens and have earned a great reputation as a trusted school. We want our reputation for excellence to be unbroken".
The future of schooling and education in India is bound to undergo significant changes as schools and students will not be defined by their marks but also what kind of students they are producing as leaders.
The "Future 50 Schools Shaping Success" conference organized in this regard by Fortune India saw participation of school principals from across the country who discussed impacts of opportunities, involvement and exposure on student learning in high schools. Going a step further, the conference also engaged teachers and principals on the important topic of how today's young learners can be prepared for future jobs.
Elaborating on the same, Alpana Phukan, Principal of the school said, "At Maria's Public School, we recognize and celebrate diverse learning methodologies, interests, talents and cultures of our students and strive to offer meaningful learning experiences. We will continue to implement learning programmes that include life skills education, global awareness and exposure, social sciences, health, sports and technology while following practices that develops the welfare of a teacher, parental involvement and community outreach".
The jury members for evaluation of the schools include notable academicians Lata Vaidyanathan, Director of TERI Prakriti School, Priyamvada Taneja, Regional Manager for Middle East, Africa and India at Fieldwork Education, Rishikesh Krishnan, Director of IIM Indore, education consultant Sumer Singh and Ruchira Ghosh, Regional Director of South Asia at Cambridge Assessment International Education.

Stay tuned to school.careers360.com for latest updates on schools