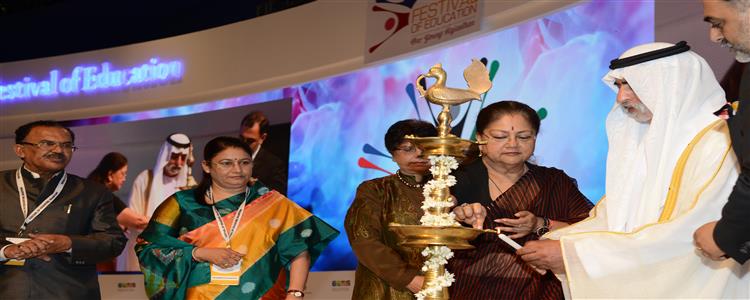 The Festival of Education managed to generate a genesis of collaborations and co-operations from both international and national delegates resulting in a pact with British Council to provide integrated support in spoken English, establishment of University of Yoga in Rajasthan by yoga artist Bharat Thakur as well as Shankar Mahadevan's promise to open his first academy in the state.
Sheikh Nahayan Mabarak Al Nahayan, Minister of Culture and Knowledge Development, UAE announced introduction of an exchange program for cultural learning and knowledge between Rajasthan and UAE whereas South Hampton University, UK is all set to work with Rajasthan in providing Wi-fi facilities in the dark areas.
Promoting young talent was one of the priorities of this festival jointly organised by Rajasthan Government and GEMS Education. Recognizing hard work and innovative thinking were a set of awards to the winners of the Big Data Challenge Competition by Higher Education Department beginning with 1st winner bagging a Rs. 1 Lakh.
Sheikh Nahayan Mabarak Al Nahayan, has said that education plays key role in personal and social development of any human being. It enables one acquire knowledge and skills which would then defines one's future. For proper development of any country it was must that every child, be it a boy or girl, be poor or rich, have urban background or rural, gets equal opportunities in exercising her right to education. He said that education had potential of enabling the world end all economic inequalities and discriminations.
Addressing the gathering of educationists and researchers, teachers and parents on this occasion, Chief Minister Vasundhra Raje said that given the geographical and demographical circumstances of the state, providing quality education to the children here it was a big challenge. Accepting this challenge, her government brought big changes in the educational set-up and made it learning based.
The CM said that with the efforts thus made the talented students to get opportunities of higher studies in medical, engineering, law, management and other such disciplines. These subjects were basic to development of humanity, she added. She said that teachers were important for making of any nation and they should adopt themselves to the upcoming changes. For this, the government was improving their skills and capabilities by providing them training for new teaching methodologies and syllabi.
Raje said that realizing the fact that mere degrees were not enough for the youth to upsurge in life, the state government had focused on skill training along with basic education. Rajasthan was amongst the top state in providing skill education to its youth. Also, two new skill universities had been established here, she said. She invited the private sector establishments to invest for development of basic infrastructure in education.
Addressing the festival, Union HRD Minister Prakash Javdekar said that the countries focusing on research and innovation excel in the world. Prosperity based on natural resourced had its own constraints of time and only innovations and adaptations could make it everlasting, he said.
Praising the state government's efforts for making school education useful and relevant in Rajasthan, he said that these ideas were being followed by the other states. He added that improving in quality of education could ensure development of the country and in recent past the entire nation had discussed and debated to reduce the gap of an academic degree and a certificate of skill.
During the inaugural function of the festival, the CM launched an education CSR portal Gyan Samkalp. She also gave prizes to the school students for their cultural performances during the function. Participants of the event and guests pledged for making efforts to ensure quality and equal opportunities of education to all.
Representing GEMS Education at The Festival of Education Amreesh Chandra, Group President, GEMS Education, India said, "We are proud to present the Festival of Education. An initiative powered by GEMS for the Government of Rajasthan that is aimed at taking the education ecosystem of the country to the next level. India is now the new intellectual capital of the world and within that Rajasthan is poised to be the knowledge hub."
Stay tuned to school.careers360.com for latest updates
Get real-time alerts on exam & colleges at your fingertips with Careers360 App!
Click Here to Install or Give a missed call on 08080944727 to get app link.