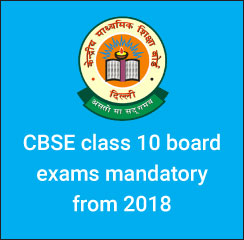 CBSE Class 10 board examination will be again mandatory from 2018 as Central Board of Secondary Education (CBSE) has decided to make the exam compulsory in all of its affiliated schools. Students may have to study an extra Indian language paper besides English and Hindi till they pass out from Class 10.

The central education board has announced the new reform for Class 10 examination, thus doing away with the policy formed nearly five years back that offered choice to students to either opt for the Class 10 final examination conducted by CBSE or performance evaluation by institutions themselves.
Further, the CBSE Class 10 board examination 'reformed' norm will include 20 per cent weightage to the school's internal assessment and remaining the 80 per cent to the written test.
A CBSE official was quoted saying, "We want strict implementation of a three-language formula – Hindi, English and another language such as Sanskrit from the list of 22 as in the Indian Constitution."
The third language paper will however, require passing marks for qualifying the Class 10 board examination.
CBSE Official Notification – Resume of Class 10th Board Examination
More like CBSE Class 10th
Questions related to CBSE Class 10th