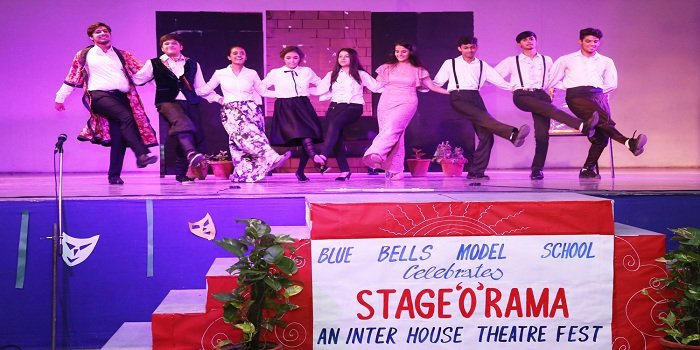 Blue Bells Model School, Gurugram organised the biggest inter-house theatre festival- 'Stage O Rama', the two days extravaganza which was an amalgamation of English and Hindi theatre where students of class IX to XII showcased their talent. The acting skills of the students generated a thunderous applause from the audience.
The theatre fest was adjudged by Mr. Debashish Mondal (NSD 2003) working with Zangoora, Ms. Hema Bisht Sharma (NSD 2005) from Jhumroo & Zangoora and Mr. Shashank Verma (Asmita Group).
The fest showcased plays titled 'Bakri', a comedy play which highlighted the importance of truthfulness and good deeds; 'Miser' which depicted how greed is destructive, 'Le Bourgeois Gentilhomme-greed', a Moliere beloved comedy featuring a rising member of the middle class who had lust for social status and higher learning and a Hindi play 'Taj Mahal ka Tender' which won the hearts of the audiences by their hilarious performance.


Ms. Hema Bisht guided and appreciated the efforts of participants by saying that the facial expressions are one of the main requisites of a good actor. A play must be extremely expressive, for facial expressions are just as important as the body movement.


The result of the two-day competition was also declared. 'Le Bourgeois Gentlehomme' was declared the Best Play in English category, 'Ashwathama Hatho Hathe'won the best play in Hindi category and the overall trophy was bagged by Mother Teresa House.


The distinguished judges along with Ms.Soumya Gulati, Deputy Director Academic Development and Innovation felicitated the judges and expressed her gratitude to them for giving their valuable time to the school.