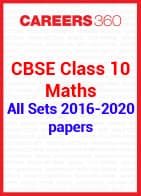 CBSE Class 10 Previous Year Paper - Maths 2016-2020 All Set
4 marked as useful
169+ Downloads
CBSE Class 10 Previous Year Paper - Maths 2016-2020 All Set
Description
Students can download this pdf file to get access to CBSE Class 10 previous year papers for Maths. This sample paper includes the detailed solution of CBSE Class 10 Maths question papers of 2016, 2017, 2018, 2019 and 2020 (All sets).
JEE Foundation Course
Start Preparing for JEE Exam with AI Based JEE Foundation Course

When you look back in life , this app would have played a huge role in laying the foundation of your career decisions.
Ayush JaipuriarEngineering Aspirant

Found everything I wanted and it solved all of my queries for which I was searching a lot....very helpful site. A must visit.... kudos to the team!
Anushka AnnieMedical Aspirant

No need to find colleges in other sites, this is the best site in India to know about any colleges in India.
Ashish KumarEngineering Aspirant