CBSE Class 10 Bengali Sample Paper & Marking Scheme 2022 (Term 1)
Description
CBSE has released CBSE 10th Class Bengali sample paper and marking scheme for the term 1 exams 2022. Students preparing for term 1 exams can download this E-book to get access to CBSE 10th Bengali sample paper and practise with various questions for exam preparation.
Courses after 10th
Know numerous course after Class 10th
Student Reviews
Showing 1-1 of 1 Reviews
Bengali sample papers 2021-22
...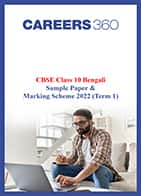 CBSE Class 10 Bengali Sample Paper & Marking Scheme 2022 (Term 1)