CBSE Class 10 Maths Syllabus 2022-23 - Download PDF Here!
CBSE Class 10 Maths Syllabus 2022-23 - Central Board of Secondary Education (CBSE) has released the CBSE 10th Maths syllabus. The CBSE Class 10 Maths Syllabus 2022-23 is available to download on the official website of CBSE, i.e. cbseacademic.nic.in. The CBSE Maths Class 10 syllabus 2022-23 comprises unit names, topics, and marks allotted for each unit.
Click here to download the latest CBSE 10th syllabus 2022-23 Maths.

Students should complete the CBSE syllabus for class 10 Maths 2022-23 at least a month before the CBSE Board 10th exams 2023. Students should start covering the CBSE Class 10 Maths Syllabus 2023 as soon as possible. The theory paper of Mathematics will be 80 marks each. Read this article to download the CBSE class 10 Maths syllabus 2023 and know the exam pattern and preparation tips.
Latest Updates for CBSE Class 10th
Stay up-to date with CBSE Class 10th News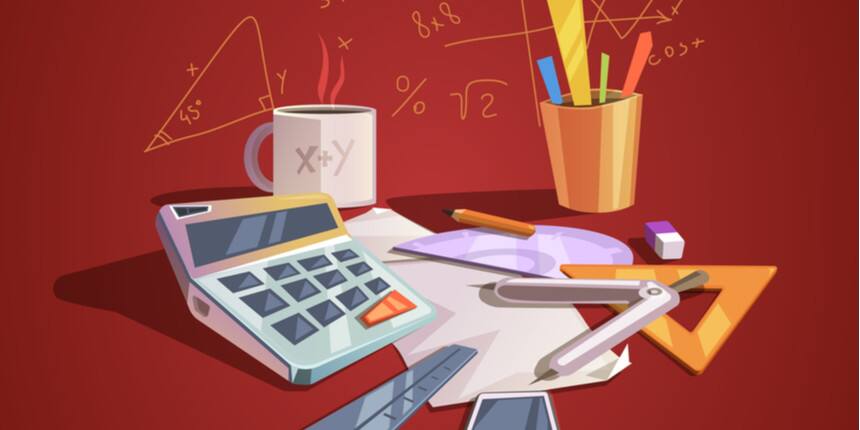 CBSE Class 10 Maths Syllabus 2022-23
Go through the CBSE syllabus for Class 10 Maths along with the important topics and marks distribution per topic. Students are advised to pay more attention to the topics which carry high weightage. Also, students must refer to the CBSE Class 10 time table to know the exam dates and timing and plan their studies accordingly.
CBSE Class 10 Maths Syllabus 2023
No.
Unit name
Important Topics
Marks
I
Number Systems
1. Real number
Fundamental Theorem of Arithmetic - statements after reviewing work done earlier and after illustrating and motivating through examples. Proofs of irrationality
6
II
Algebra
1. Polynomials

Zeros of a polynomial. Relationship between zeros and coefficients of quadratic polynomials.
20
2. Pair of Linear Equations in Two Variables
Pair of linear equations in two variables and graphical method of their
solution, consistency/inconsistency.
Algebraic conditions for number of solutions. Solution of a pair of linear equations in two
variables algebraically - by substitution, by elimination. Simple situational problems.
1. Quadratic Equations
Standard form of a quadratic equation ax2 + bx + c = 0, (a ≠ 0). Solutions of quadratic
equations (only real roots) by factorization, and by using quadratic formula. Relationship
between discriminant and nature of roots.
Situational problems based on quadratic equations related to day to day activities to be
incorporated.
2. Arithmetic Progressions
Motivation for studying Arithmetic Progression Derivation of the nth term and sum of the
first n terms of A.P. and their application in solving daily life problems.
III
Coordinate Geometry
Coordinate Geometry
Review: Concepts of coordinate geometry, graphs of linear equations. Distance formula.
Section formula (internal division).
6
IV
Geometry
1. Triangles
Definitions, examples, counter examples of similar triangles.
15
2. Circles
Tangent to a circle at, point of contact

1. (Prove) The tangent at any point of a circle is perpendicular to the radius through the point of contact.

2. (Prove) The lengths of tangents drawn from an external point to a circle are equal.
V
Trigonometry
1. Introduction to Trigonometry
Trigonometric ratios of an acute angle of a right-angled triangle. Proof of their existence (well defined). Values of the trigonometric ratios of 300, 450 and 600. Relationships between the ratios.
12
2. Trigonometric Identities

Proof and applications of the identity sin2A + cos2A = 1. Only simple identities to be given
3. Heights And Distances-Angle of elevation, Angle of Depression. Simple problems on heights and distances. Problems should not involve more than two right triangles. Angles of elevation/depression should be only 30°, 45°, 60°.

VI
Mensuration
1. Areas Related To Circles
Area of sectors and segments of a circle. Problems based on areas and perimeter /
circumference of the above said plane figures. (In calculating area of segment of a
circle, problems should be restricted to central angle of 60°, 90° and 120° only.
10
2. Surface Areas and Volumes
Surface areas and volumes of combinations of any two of the following: cubes, cuboids,
spheres, hemispheres and right circular cylinders/cones.
VII
Statistics & Probability
1. Statistics
Mean, median and mode of grouped data (bimodal situation to be avoided).
11
2. Probability
Classical definition of probability. Simple problems on finding the probability of an
event.
CBSE Class 10 Maths Syllabus 2023 for Internal Assessments
Refer to the table below to know the segregation of marks in the internal assessment of CBSE Class 10 Maths exam.
CBSE Class 10 Maths Internal Assessments Marking Scheme
| | |
| --- | --- |
| Internal Assessment | Total Marks |
| Pen Paper Test and Multiple Assessment (5+5) | 10 |
| Portfolio | 5 |
| Lab Practical (Lab activities to be done from the prescribed books) | 5 |
Students should cover the CBSE 10th Maths syllabus 2021 from NCERT 10th maths books. Most of the questions will be asked from the same. However, after completing the CBSE Class 10 Maths syllabus 2023, solve the problems of below-mentioned reference books.
CBSE 10th Maths Reference Books
Mathematics - Textbook for class X - NCERT Publication

Guidelines for Mathematics Laboratory in Schools, class X - CBSE Publication

Mathematics exemplar problems for class X, NCERT publication.
Students are usually very scared when it comes to the preparation of CBSE Class 10 maths. They need to note that it is not that difficult if you start practising it daily. Maths is the subject that can act as a backbone in scoring well in the result. Therefore, students are advised to go through the preparation tips using CBSE Class 10 Maths syllabus 2023 in this section and implement the same in their study schedule.
First of all, start the preparation with a fresh mind without overstressing yourself regarding anything. Take one day at a time and things will be sorted.

Before starting the preparation, make a strategy regarding the number of chapters you'll be completed per month. Complete the CBSE Class 10 syllabus as soon as possible.

After completing the CBSE Class 10 Maths syllabus 2022-23, refer to the CBSE 10th time table and know the date and timing of each paper and prepare accordingly.

Do not mug up theorems and formulas. Instead of trying to understand the logic behind the same and implement the same while solving the questions.

In addition to completing the CBSE Class 10 Maths syllabus 2022-23, solve the previous years' CBSE Class 10 question papers to know the exam pattern, important topics and marking scheme of Class 10 board exams.

Do not ignore any doubts and clear it right away. Seek help from teachers or friends for clearing the doubt and score well in the CBSE Class 10 result 2023.
Other Relevant Links
Frequently Asked Question (FAQs) - CBSE Class 10 Maths Syllabus 2022-23 - Download PDF Here!
Question: What are the passing marks in the CBSE Class 10 Maths exams 2023?
Answer:
Students are supposed to score at least 33 percent marks in theory and practical exams separately in order to pass the CBSE 10th maths exams 2023.
Question: Is CBSE Class 10 Maths syllabus the same all over India?
Answer:
CBSE 10th Maths syllabus 2023 is more or less similar in all the schools of India.
Question: Is NCERT enough for preparing for CBSE Class 10 exams?
Answer:
Students are advised to complete the CBSE syllabus for Class 10 Maths from NCERT first and then refer to some of the best reference books to get a variety of questions to solve.