Which Stream to Choose After 10th - A Complete Guide
Are you confused about which stream to choose after 10th? Which stream is best for future? What to study after Class 10? These are the top queries that class 10th students ask after the board exam result announcement. However, they are left perplexed by different options and opinions. More often, students opt for a stream that is the building block of their dream. Considering this basic struggle of students, we have provided tips on how to choose right stream after 10th in this article. Read the complete article to know more.
Latest Updates for CBSE Class 10th
Stay up-to date with CBSE Class 10th News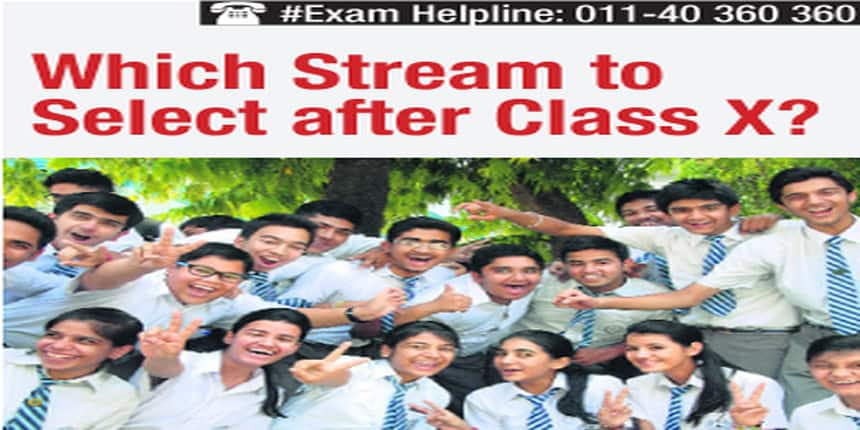 How to Choose a Stream After 10th Standard Examination?
To answer, which stream to select after 10th, different parameters must be thought over to select the right stream after Class 10th examinations. The foremost criterion is to select a stream which is your strength then match it with your interest and future scope to choose the right stream. Get the help from the given tips to know which stream is best for future in India from career perspective -
Know Your Interest- It is necessary to check whether you feel excited to study a particular subject or not. One must only select a stream that he/she gets connected with. If you are passionate about mathematical calculations and you can do do it more often, then either select the Science or Commerce stream.
Find Your Strength- After checking the interest areas, one must match their interests with strengths. Most of the time, students have an inclination towards Science, but their scorecard reflects the highest scores in Social Studies. So, selecting Humanities rather than Science, as it would be the best option for them.
Understand the Stream In-Depth- After knowing strengths and interest, one must check the future growth of that stream after 10th. Like more often, people want to be an engineer as they get respect for having a professional degree. However, in the 21st century, if you won't get admission to IIT or NIT then it is hard to get the same respect. So, while selecting any option, do check its future scope as well.
Get Career Counselling- Students can also get career guidance from the experts that are available online as well as offline. These counsellors study about different careers options and students psychology regularly to provide better guidance. If you find hard to choose the right one among stream after Class 10th
Financial Budget Check- Sometimes, students have big dreams and they have the strength to accomplish that but the pocket of their parents won't allow them to pursue the same. In this case, students can opt for a similar option with less fee.
Also, Read
Which Stream to Select After CBSE Class X?
The broad three streams after class X for students to select are- Science, Commerce and Humanities/Arts. These three streams are broadly categorized as per their course structure and subjects. Given below is the information that every Class X student must read and consider while deciding which stream to choose after 10th.
Science Stream: This field is related to Medical studies and Engineering, with subjects like Physics, Chemistry and Biology.

Commerce Stream: This stream is related to trade, commerce, business, and financial marketing. If you have strong Mathematics and financial abilities, Commerce is best for you.

Humanities/Arts Stream: This stream is the widest of all, and is related to education in subjects like History, Geography, Political Science, Psychology, Sociology, languages, Anthropology, Human Resources, Journalism etc.

Vocational Stream- Studying professional courses such as Fashion Designing, Nursing are included in this stream.
Below are the details, advantages of each stream and the educational prospects of each stream, which answers the question of which stream to select after CBSE Class 10 in a simplified way.
1. Science Stream- The Most Attractive Stream
Science has always been the most sought after stream among all the streams and the most lucrative to study , but it is not a stream that you can just study without any interest. The main subjects that are taught in Science are Physics, Chemistry, Biology, Mathematics and C++ (depending upon the school).
To a Class X student, the Science stream option gives an opportunity to pursue their future careers in Medical and Engineering related fields. The subject includes practical lab work and theory portion to be studied which requires a lot of hard work from the students.
Further, a student can select the Medical and Non-Medical field, which is differentiated by Biology subject. For every medical student, it is important to study Biology as a core subject and non-medical students must study Mathematics and Computers, along with Physics and Chemistry. This will help in identifying which Stream to Choose After 10th.
Division in Science Stream
Science Stream with Mathematics (PCM)
Science Stream With Biology (PCB)
Science Stream with Biology & Math (PCMB)
2. Commerce Stream- Best Stream for Business & Finance Studies
Commerce field is all about learning and studying subjects related to trade, business, finance, and economics. This is the most preferred stream of education by most of the class X students who wish to embark a career or profession into MNCs, Banks or even entrepreneurship. The important subjects that are taught in these fields are, English, Business Studies, Economics, Accounts and Computers.
Few competitive exams to pursue after Class X in commerce related fields are:
C.S Foundation Course
C.A Foundation Course
ICWA Foundation Course
3. Humanities or Arts Stream- Explore Creativity
As a student, if you are keen on studyinng and learning about a wide range of things, Humanities is the perfect stream. With Humanities a student gets to study History, Geography, Language, Psychology, Political Science, Literature and Journalism, and Mass Media.
If you are thinking 'Which Stream to Choose After 10th', Choosing Humanities stream can prove to be a great opportunity for your career, as the wide range of subjects offers great career options. Also, if a student aims for being an IAS officer or desire to get into other civil services, this is the best field to go for.
4. Vocational Courses- (Professional/ Short-term courses)
Apart from Class 12th studies, many students opt for short-term professional courses such as ITI courses, polytechnic diploma courses, paramedical courses. These courses fetch jobs after completion but the salary package is less. Only a few state boards teach vocational streams after the 10th. However, students have to join a professional institute after class 10th examination instead of the 12th. The duration of these courses can be of 3 months, 6 months, or 1 year as per the requirement and student's preference. Some of the vocational streams after 10th standard examinations are:
Interior Designing
Fire and Safety
Fashion Designing
Jewelry Designing
Dialysis Technician
Health/ Sanitary Inspector
Nursing
X-Ray Technician
For every Class X student selecting a stream after CBSE Class X is an important question that must be answered in a simplified way so that students can decide about what stream they must select. Follow the above instruction and decide which stream is best for future.
Read More:
Questions related to CBSE Class 10th
Showing 82 out of 82 Questions