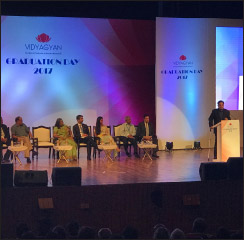 The Sitapur campus of VidyaGyan school, Uttar Pradesh, celebrated its second graduation ceremony on July 22, 2017. A total of 380 students completed their schooling this academic year, with as many as 259 of them scoring above 80 percent. Out of these, 93 students scored above 90 percent. Most students have gained admission in prominent institutions like IIT Guwahati, National Institute of Technology (NIT), the National Defense Academy (NDA) and the National Institute of Fashion Technology (NIFT) among others. Seven students have gained admission to prestigious international institutions like Purdue, Virginia Tech, Pennsylvania State University and the University of California, Davis. Other students of the second batch of VidyaGyan have secured admission in some of the top colleges of Delhi University, including Lady Shri Ram, Hindu, Ramjas and Gargi, along with other top Indian Universities and colleges like Shiv Nadar University (SNU), SSN Institutions, Lucknow University, Chandigarh University etc.
Managing Director for India & South Asia at Facebook, Umang Bedi, and the 2008 Beijing Olympics Gold medalist, Abhinav Bindra, were the guests of honour at the ceremony alongside invited dignitaries, teachers, parents and students.
Speaking at the graduation ceremony, Roshni Nadar Malhotra, Chairperson, VidyaGyan, highlighted the students' performances, saying, "2016 marked the graduation of our first batch of students and the results were great. But this year we aimed for greater success and set the benchmark higher. I am proud of what our students have achieved. They have successfully participated and won accolades at both national and international platforms. Imagine how these students will transform the lives of their families and their entire communities when they start their professional careers. Today, we give 380 future change agents to the nation who have the potential to transform India's social and economic fabric."
VidyaGyan provides underprivileged, meritorious students free, world-class education to help them transcend the disadvantages they face and compete with their urban counterparts. VidyaGyan students come from families of farmers, daily wage earners and other communities in rural Uttar Pradesh with an annual family income of less than Rs. 1 lakh. Every year, VidyaGyan handpicks approximately 200 meritorious students from a pool of 250,000 children who apply from across 75 districts of UP.
Stay tuned to www.school.careers360.com for more news and updates.
Get real-time alerts on exam & colleges at your fingertips with Careers360 App!
Click Here to Install or Give a missed call on 08080944727 to get app link.