UP Board 12th Grading System 2020 - Check Marking System Here
UP Board 12th Grading System 2020 - UPMSP determined the grading system for class 12 exams. The marksheet will consist of grades for each subject which are allotted on the basis of the UP Board class 12 grading system. UPMSP determined the grades separately for theory and practical exams. These grades are assigned to a candidate as per his/her performance in a subject. Hence, candidates need to understand the UP board 12th grading system 2020. In this article, candidates will know about how to calculate GPA through their percentage of marks obtained. UPMSP 12th class exams are conducted from February 18 to March 6, 2020, and the result is declared on June 27, 2020. Read further to get comprehensive details about UP Board 12th grading system for 2020 exams, passing marks and other details etc.
Latest: UP board 12th result 2020 has been announced on June 27, 2020. Know more about 12th results 2020 here.
- Check UP Board Result Verification 2020 for Class 12th details here.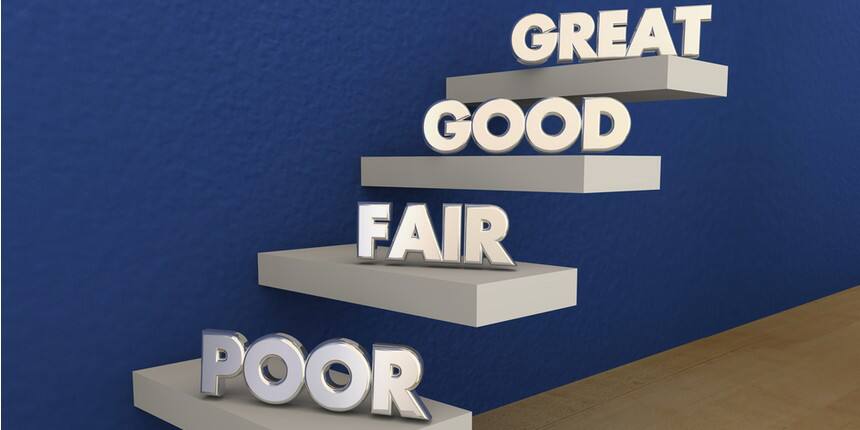 UP Board 12th Passing Criteria 2020
UPMSP class 12 exams are held for 100 marks on the basis of the CCE Pattern. According to that, the subjects which have a practical exam will be allotted 70 marks for theoretical exam and 30 to practical and internal evaluation by the school. UP class 12 Grading system for both theory and practical and CCE valuation system followed by the board are specified in the following sections:
The marks obtained in practical subjects, sports, and physical education are added to prepare the final result of UP board Intermediate.

Minimum 33% of marks need to be scored by the Intermediate student of UP Board to pass the exams.
Know about UP scholarship 2020 here.
How to calculate the UP Board GPA using percentage?
CGPA Formula = Sum of grade points obtained in subjects/number of subjects.
First of all, candidates need to write grade points for each subject using the table given below.

Now, add the grades points of all the subjects.

Divide the calculated grade point with the number of subjects, and the final value will be the overall UP Board GPA.
Example to calculate UPMSP 12th GPA
Subject

Grades

Grade Points

English

B2

7

Hindi

B1

8

Maths

B2

7

Chemistry

C1

6

Physics

B2

7

Total of Grade points

35

Divide it with the number of subjects (i.e. 5)

35/5 = 7
So, Overall UP board 12th GPA is '7' and Overall grade is 'B2'.
Calculating percentage from percentage: CGPA X 9.5= Percentage Obtained.
UP Board 12th Grading System 2020 - Theoretical Exams
Grades for theory exams are assigned on the basis of the following criteria. Candidates will have to achieve at least 'D' grade to pass the theory exam.
Also, read Best Courses after 12th.
| | | |
| --- | --- | --- |
| Range of Marks | Grade Allotted | Grade points |
| 91-100 | A1 | 10 |
| 81-90 | A2 | 9 |
| 71-80 | B1 | 8 |
| 61-70 | B2 | 7 |
| 51-60 | C1 | 6 |
| 41-50 | C2 | 5 |
| 33-40 | D | 4 |
| 21-32 | E1 | C |
| Less than 21 | E2 | C |
UP Board 12th Grading System 2020 - Practical Exams
Grades are assigned to a candidate as per his/her performance in the practical and internal evaluation by the school. These grades are mentioned in UP Board intermediate result. The grading system of UPMSP class 12 for practical exams is explained in the table given below:
| | |
| --- | --- |
| Marks in Percentage | Grade Allotted |
| 80-100 | A |
| 60-79 | B |
| 45-59 | C |
| 33-44 | D |
| Less than 33 | E |
UP Board 12th Result Details
UPMSP will declare the intermediate result in the last week of April 2020. Candidates will be able to access their results through the official website. Online marksheet will contain the UP board 12th result and marks details along with basic details of a candidate which are given below:
Candidate's name and Roll Number

Code and name of the school of the student

Mother's and Father's Name

Subject wise marks and grades secured in theory and practical

Total marks and overall grade

Qualifying status
Questions related to UP Board 12th
Showing 6 out of 6 Questions